The latest craze in entertaining is the charcuterie board. A charcuterie board is a serving board featuring prepared meats and often cheeses and other items. Whether a party or an evening with friends, a charcuterie board full of fresh meats, cheeses, fruit, vegetables, bread, nuts. . . that people can graze on, is very on trend! Here are a few charcuterie board books that I found on Amazon.
*This post contains some affiliate links. Please see my full disclosure statement.
I think I like the idea of a charcuterie board because it gives you the opportunity to be creative in your display. Because of the popularity, I thought I would bring back my post about how to make your own bread board for today's Home and Decor Encore. Even though my original post was for a bread board, the DIY instructions can also apply to a charcuterie board as well. Whether you serve bread or meats and cheeses on a board, you need the board to be food safe!
Welcome to Home and Decor Encore
It's Friday, and that means it's time for some fresh ideas from the Home and Decor Encore Team! My blogging friends and I are sharing some of the top posts from our blog archives! We've all been blogging for quite a few years and most of our newer readers have likely missed some great content from the early years! So, we're breathing new life into these posts by sharing them with you today!
In today's posts, Lori of The Stonybrook House shares DIY concrete pavers, Laura from Duke Manor Farm shows how to paint a backsplash, Cristina from RemodelaCasa shares a DIY outdoor serving cart, Christy from Our Southern Home shows how to make a no sew lampshade, and my post showing you how to make a bread or charcuterie board. To view each post, just click on the BOLD TITLE above each photo! And, please pin from the original blog post and not the photos on this page!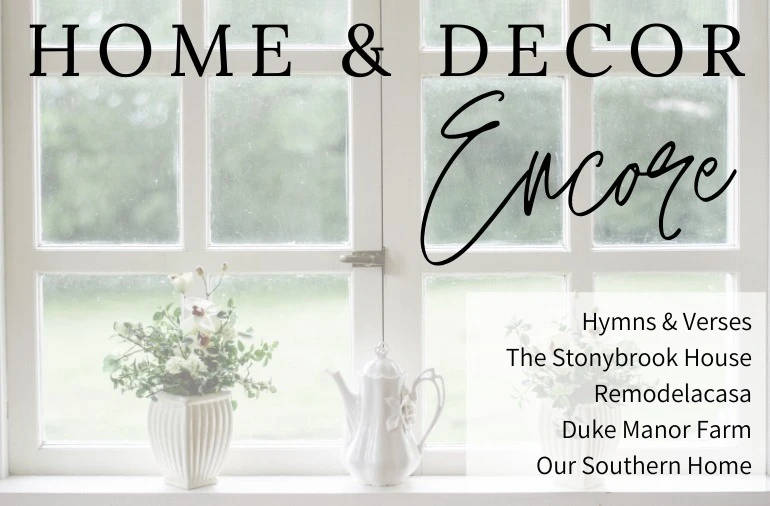 HYMNS & VERSES | HOW TO MAKE A BREADBOARD
THE STONYBROOK HOUSE | DIY CONCRETE PAVERS
DUKE MANOR FARM | HOW TO PAINT A KITCHEN BACKSPLASH
REMODELACASA | DIY OUTDOOR SERVING CART
OUR SOUTHERN HOME | DIY NO SEW LAMPSHADE