I am so excited to share this post today! It's a small space Mark and I have been working on for our four month old granddaughter! This vintage style nursery and playroom will be for all our grandchildren to use some day. But, for now, it's Daphne's space! And, since I've never had a little girl to decorate for, I've had so much fun working on this room! Now, this isn't a full reveal. We still have a lot of projects that we are working on, but I did want to share one wall that we have pretty much complete.
*This post contains some affiliate links. Please see my full disclosure statement.
Vintage Style Nursery and Playroom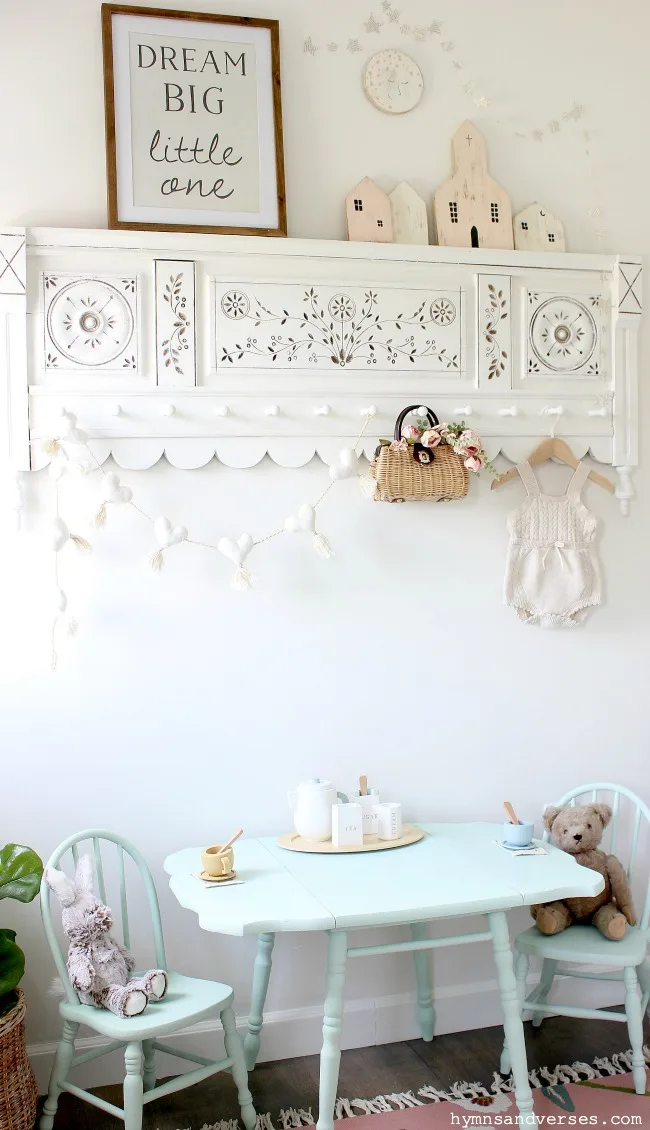 The first thing I knew I wanted to bring into this space was the shelf and peg rail that we made from an old carved headboard. I loved the natural wood look, but decided to take a chance to see how it would look painted white. And, I love it!
On the shelf I used a little wooden scene that I purchased from the Etsy Shop, Charm and Olive. These little houses are full of amazing detail, and I love the soft colors that she uses. And, the book page star garland is so sweet! The Dream Big Little One framed print is a printable that I designed and had printed as an 11 x 17 on card stock and put in a frame that I had. You can download the printable from the Free Printable Library.
The little wicker "pocketbook" was mine as a little girl. I'm so thankful that my mother kept some special things like this. It will be a few years before Daphne will be able to use this, but I thought it looked pretty with some flowers hanging on the peg rail. The heart garland was from Target this past Valentine's Day. And, the little romper is also from Target! Now that my photos are taken, baby girl can finally wear it!
A Vintage Table and Chairs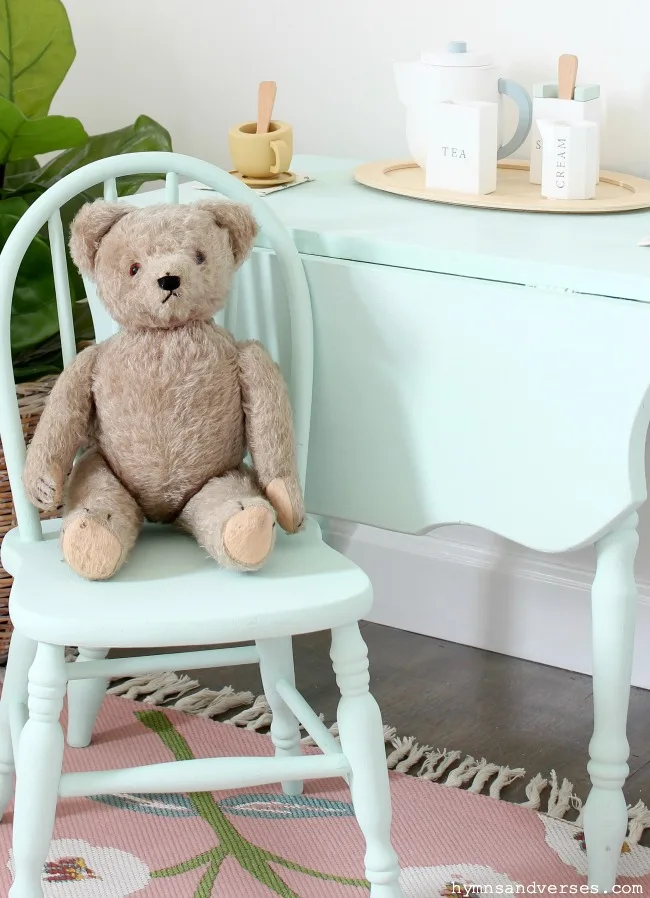 The little table and chair set is a recent antique shop find. I picked it up right before we entered quarantine. I just couldn't pass it up because of it's drop leaf style. I've never seen a vintage child's table quite like it. The set was originally painted a mint green, but I was afraid it may have contained lead. So, I painted it with a similar shade of chalk paint and gave it a good clear coat finish for protection. The vintage teddy bear is from my family as well. I can't wait to go out shopping (in a store) to pick up some stuffed toys for this space. Because, this old mohair bear probably isn't child safe and is fragile.
Here you can see the table with the leaves folded down. The little wooden tea part of the Hearth and Hand by Magnolia line at Target. But, it's no longer available. I picked it up years ago on clearance and stored it away for the day that I would have a grandchild. The toys in this line are all classic and made of wood. The pink floral area rug is also from Target. It's actually an indoor/outdoor rug. I saw it and loved the shade of pink and thought it would be perfect in this space. If it gets dirty or there is a spill, it can be taken outdoors to be cleaned and hosed down!
More projects for this space
Like I said earlier, we have more projects that we are working on for this space. We are turning the closet into a cozy reading nook. And, there's a crib that needs some bedding. And, Mark wants to make a storage shelf similar to this one. So, I'll have more to share as we get more of these things completed! We can't wait for our granddaughter to use this vintage style nursery and playroom for naps and playtime!