I'm here today to share a quick treat for the you and the girls in your life – a Chocolate Sugar Scrub! This time of year, our skin is so dry and a sugar scrub is just what you need to refresh your skin and leave it silky smooth! Of course, you can buy a sugar scrub at most stores, but why not make your own – it's so easy, all natural, and less expensive! And, a decadent chocolate sugar scrub is a sweet treat for the senses that won't make you cringe when you step on the scale!!
We had a spa night for the ladies at our church this past weekend and it was so much fun! This was one of the "make and takes" for that evening, but I didn't get a chance to make one. So, I decided to whip up a batch for me and the girls in my life and to share with you – of course! When I was mixing this up, it smelled soooo good!
Chocolate Sugar Scrub Recipe
1/2 Cup RAW Sugar
1/2 Cup White Sugar
1 TBS Cocoa Powder
1/4 Cup Coconut Oil
1/2 TSP Vanilla
If you'd like to print the recipe card, it's available to download and print in my FREE Printable Library.
These cute jars are from Michael's in the dollar bins (they were actually $1.50 each), but you could use small mason jars or any kind of jar or container that has a lid with a seal. I made pretty labels for the top of each jar and tied the latch with thick red and white baker's twine that I had on hand – but you can pick this up from your local craft store.
I made the labels red and white because I'm going to use these as little Valentine's Day gifts. But, I also made them in a chalkboard design in case you don't want to use the red and white. I printed mine on sticker paper, but you could print them on plain paper and use glue to attach the label to the lid.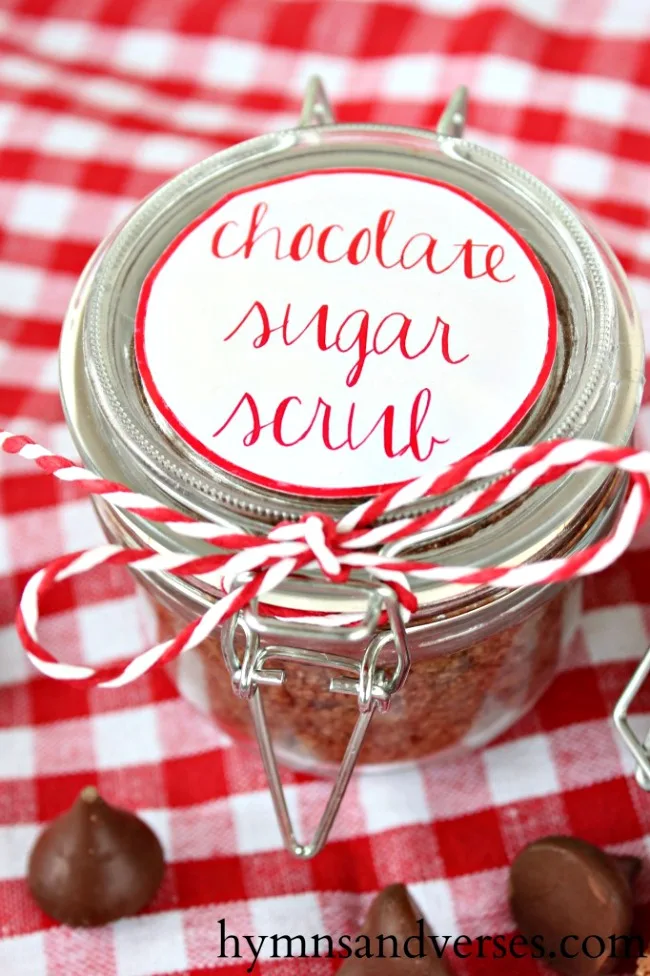 I hope you'll give this DIY Chocolate Sugar Scrub a try!