Yay, it's Friday. I have been so excited to share my fun evening of shopping at the new PA Cost Plus World Market. It was a shopping experience for all the senses – a live jazz band playing in the store, the scents of candles, soaps, and all things lovely, beautiful merchandise displayed artfully, and the tastes of yummy treats prepared before our eyes! World Market pulled out all the stops for the grand opening of the new Montgomeryville store! If you live in Lancaster, it's a little over an hour drive and well worth the trip! You are gonna love it!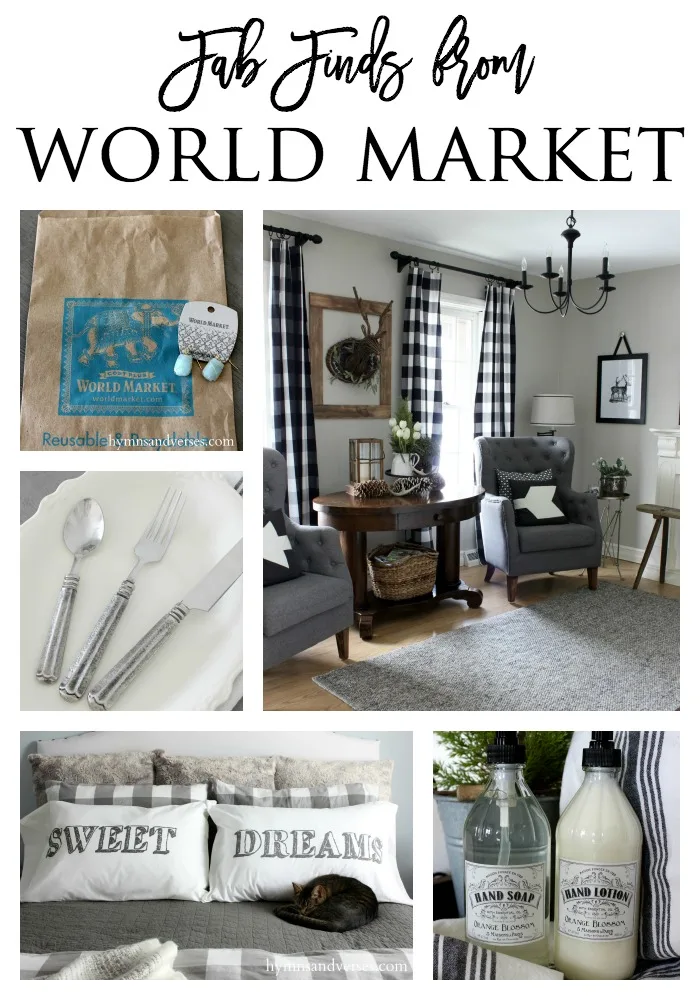 I wanted to show you a sampling of the wide variety of items you can purchase at World Market. So, we'll start with my BIG purchase – this gorgeous Light Gray Emilie Flatweave Sweater Wool Area Rug.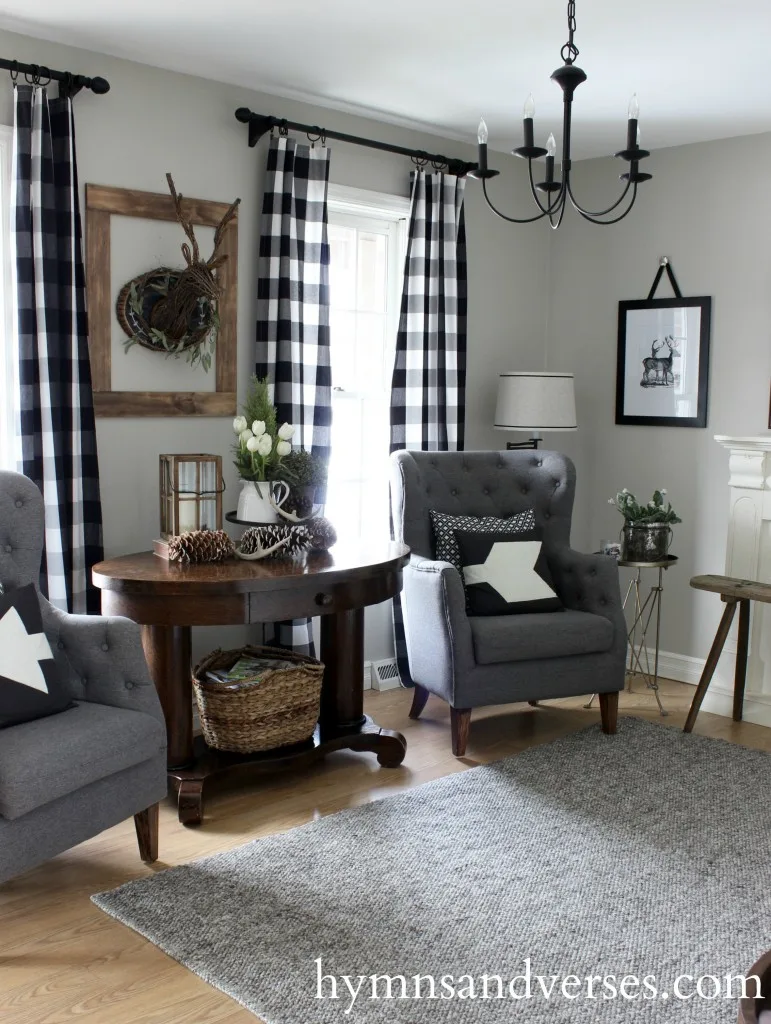 Did I NEED a new rug for the living room – no. But when I saw this rug, I knew it would look so awesome in my living room. The colors are spot on and the quality is soooooo much better than what I currently had in the space. Here's a closer look.
Don't you agree – it's perfect in my living room and I'm so glad I brought it home (well, to be completely honest, I didn't bring it home that night. I actually went back with the hubs the next day and brought it home! I had taken my son's small Mazda and I didn't want to struggle trying to get it to fit in there!!!) Now, even though I said this was my BIG purchase, I'm not saying this rug was super expensive. It is very reasonably priced for a wool rug and the quality is amazing! There was a large selection of rugs and I may be heading back to Montgomeryville for another rug for my screen porch this spring!
My next purchase, is this Danieli flatware. I've been looking for some new flatware that is a heavy weight and would work well with my farmhouse/cottage style. Well, this flatware fits the ticket! I love the look of pewter finish! I started my collection eight sets of the basics – dinner fork, knife, and spoon. I'll be adding the salad forks and soup spoons on my next trip!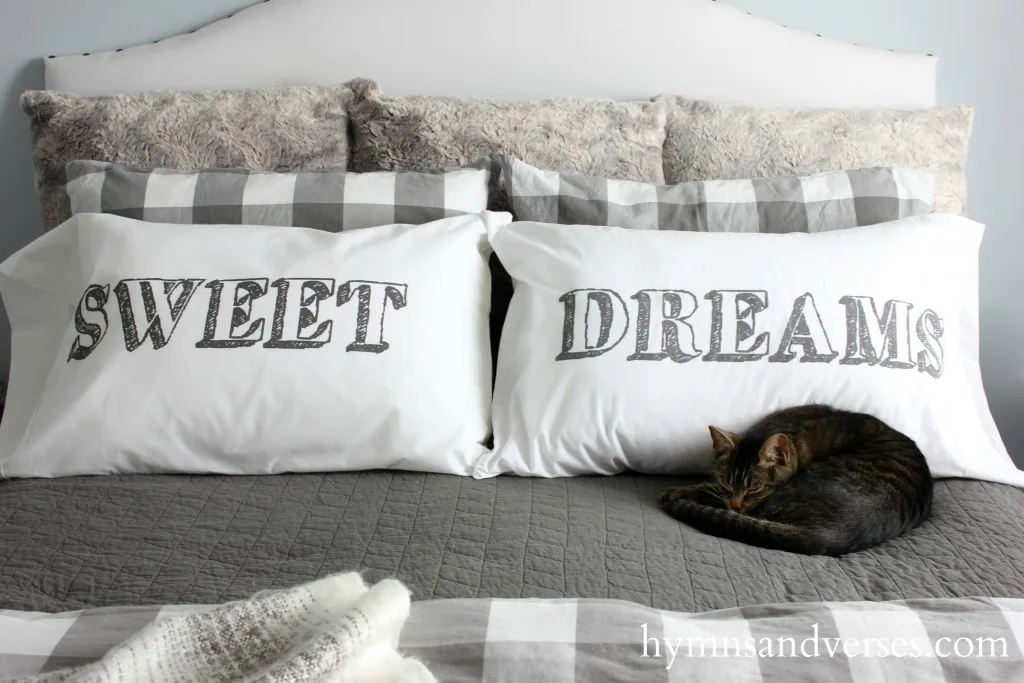 So how about this for some cuteness! Yes, Sadie is loving my new Sweet Dreams pillow cases from World Market. I grabbed my camera when I saw her snuggled in for a long winter's nap!! They have many more fun pillow cases with messages!
Okay, I admit it – I love to buy soaps and lotions with a pretty container! But, they also have to have a pretty scent! I fell in love with the gorgeous Paris style label on this hand soap and lotion set! The classic label and then that scent – orange blossom – sooooo good! I just found the set online HERE and it also comes in a body butter – adding that to my list for the next trip (my list is growing – better start saving!!!).
These adorable small Hipster Gift Bags landed in my cart! They are absolutely perfect for my boys who are the epitome of hipster and love their music and vinyl collections! I'm saving these for a special gift or may even use them at Easter? All I know is – these bags screamed – Josh, Caleb and Seth and had to come home with me!!
And, finally, I couldn't resist a little something for me! I rarely do this, but their jewelry and accessories are gorgeous and I fell in love with these Aqua Stone Gold Wire Wrap Drop Earrings. Priced at just $14.99, they were a nice treat for me and I can't wait to wear them this spring and summer!!
I hope I've given you a good representation of the variety of fun and useful items you can find at World Market! There's so much more – artwork, delicious candies and chocolate, furniture, home decor of every kind . . . just visit the World Market website to see all they have to offer! I know I'm so happy to now have this store in Pennsylvania, but if you don't have a store within driving distance, you can always place an order online!
Thanks so much to World Market for sponsoring this post. All opinions are completely my own.
Sharing today at:
Stone Gable Savvy Southern Style