Doesn't time fly between Thanksgiving and Christmas! It's like we're on warp speed, and I just want time to slow down! I want to savor and enjoy Christmas in my home and heart more! One of the places that I like to slow down is in our bedroom. Yesterday I had a lazy day doing just that! I would do some things that needed done and then I'd retreat to my bedroom for a little break to snuggle with Sadie! I found myself repeating this pattern throughout the day, and I didn't let myself feel guilty about it! Sometimes we need a day like this – at least I do! Having a cozy retreat in your home is important. A place to get away from it all and just be! You know I love to decorate for Christmas and I really like to give my bedroom some special Christmas touches each year. This year I made a bold choice and decided to reupholster our gray, buffalo check headboard with a pretty, red Christmas plaid! I know it's only going to be "appropriate" for the Christmas season, but why not! It took Mark and I about 30 minutes tops and I love it! I'm also thinking about getting a vintage-style iron bed in the new year. But, even if I don't, I can always reupholster the headboard with a new neutral fabric in January! That's the beauty of a DIY upholstered headboard like mine! You can see the tutorial to make one HERE.
*This post contains some affiliate links for your convenience. Please see my full disclosure statement HERE.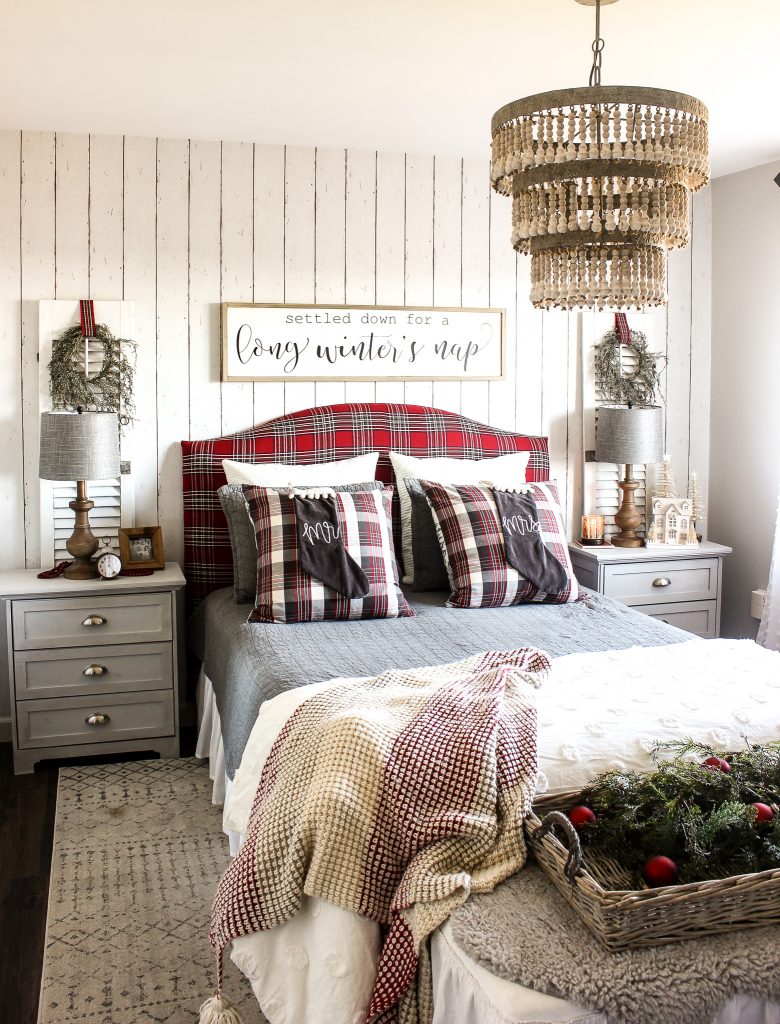 Above the bed, I hung the same sign that I made last Christmas for this space – "Settled down for a long winter's nap". I think this sign could be kept up through the winter months! The gray quilt with matching shames I've had for a few years, but you can still purchase them HERE. For the colder winter months, I like to keep a comforter at the foot of the bed to pull up if needed! I got the duvet cover in the fall, and I love the textured polka dot pattern. The wide wale corduroy euro shams are an Amazon find and they are so well made for such an inexpensive 26″ x 26″ pillow cover. They come in a LOT of colors too! The plaid pillows are from Pottery Barn a few years ago and I found those cute Mr. and Mrs. velvet stockings at one of my favorite local shops!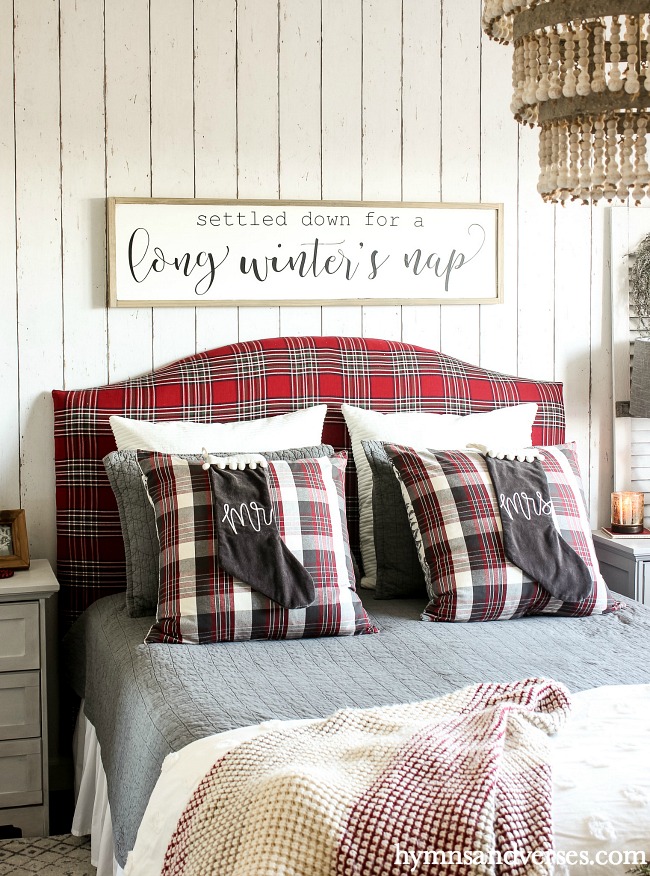 I also like to have a Christmas tree in our bedroom! Those twinkle lights are dreamy at nighttime! This year I used this small flocked tree that I found at Target and added a few vintage Shiny Brite ornaments and a strand of battery operated LED copper wire lights. It's just enough twinkle to not be too bright!
Another thing that I like to do on a cold winter evening is retreat to this space, light a candle, and read or watch a show on my phone or Ipad before bed. It helps me unwind from a busy day. This past month I've been enjoying a new candle brand that I am so excited to share with you – Light Your Way Candle Co.
My middle son, Caleb, started this little candle making business in the fall and it's been so fun to see him find this creative outlet! Caleb is mixing his own scents and all of the candles are 100% natural soy for a clean and extended burn. I'd love it, and so would Caleb, if you would stop by his little Etsy shop and show him some love! Even if you don't purchase a candle right now, mark his shop as a favorite for the future! Candles are always a great gift and at just $10, these candles are perfect stocking stuffers! If you order today, Caleb will get your candle to your door in time for gifting!
Light Your Way Candle Co.
Nothing smells better than a hot cup of coffee in the morning! Now you can smell it any time of the day with our hazelnut cappuccino. Replenish with our rich coffee scent blended with nutty notes of decadent chocolate minus the actual caffeine jitters.
Accented with subtle hints of clove and vanilla, let your body rebuild with floral overtones atop a citrus blend mixed with relaxing lavender. Rejuvenate the mind with a splash of lemon and lavender.
The scent of olive tree and a burst of lemon sunshine prepares the air to be cleansed with a spicy blend of geranium, thyme, and rosemary essential oils; revealing a warm, woody base. This uniquely wonderful fragrance is great for eliminating household odors, calming a stressed mind, and creating a sense of balance.
Sprinkled with a hint of lavender afternote, you'll want to get caught in this earthy downpour of fresh scents meant to cultivate and stimulate the mind.
Alleviate your senses with all the sweet smells of the overgrown honeysuckle vines without the bees!
A clean inviting fragrance with peony, water lily and lavender warmth paired with light wood tones inspiring a sense of calmness, peace and relaxation.
For a limited time only, enjoy this seasonal candle that reminds us of Christmas morning and quality time with loved ones.
And, I couldn't leave without showing Sadie all snuggled up in her window perch! She opened one eye to see what I was up to, but didn't move!! She was just too cozy!
Thanks for stopping in today to see my cozy Christmas plaid bedroom! I have more Christmas to share in the next few days!!! I hope you can take a few moments to yourself today to be cozy, relax, and reflect! Be Merry!!!
Sharing today at: