I'm so excited to share this cozy spot that we created for our granddaughter. This closet reading nook is so fun and you may even find me hanging out there with a good read!
It's time for July's instalment of the cozy living series hosted by Jennifer at Town and Country Living. I was hoping to share this post earlier in the week, but just couldn't pull it together. But, it ended up working out for the best since this little closet reading nook is the definition of cozy!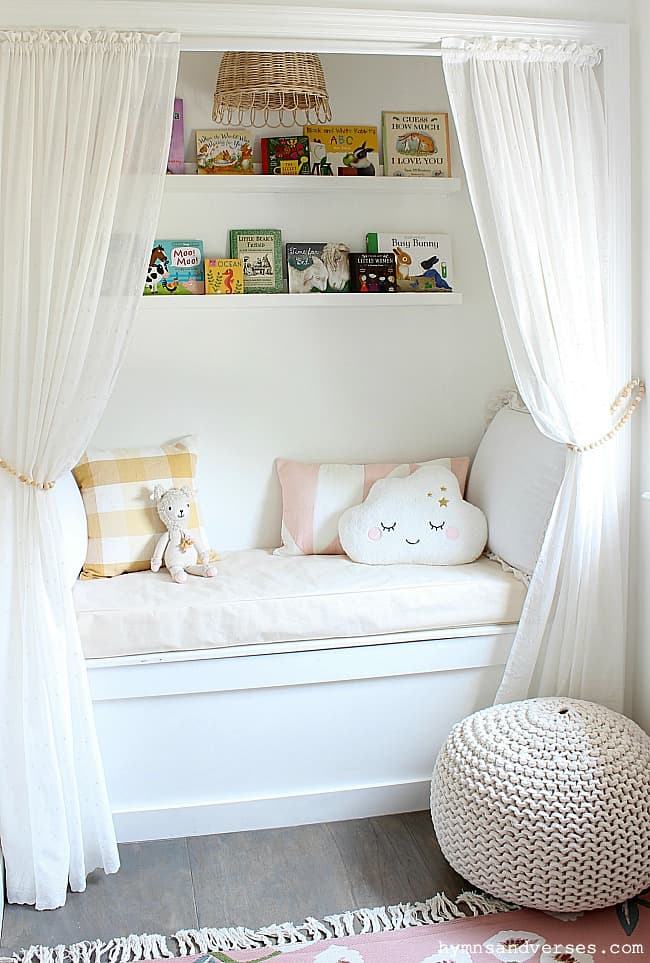 *This post contains some affiliate links. Please see my full disclosure statement.
If you've been following me for a while, you may know that this room used to be my youngest son's bedroom. This was a standard closet with typical builder grade bifold doors when we moved in about 20 years ago. Over the. years, this room has seen some incredible transformations! First, it was a baseball theme for my then 9 year old son. Then, as he got older, it had a loft bed and a bold paint color. Finally, it became my youngest son's space as an older teen and it was a total hipster haven! Now, the boys are grown, and I'm making over this space for our first grandchild. This is my first time to decorate for a little girl and I'm loving every minute!
closet reading nook
Mark built a base inside the closet that has a lid that can be lifted to reveal storage inside. Almost like a giant toy box! And, then I made the cushion on top, that can be pulled off to open the lid. Because this room is so small, the hidden storage is a big bonus! I'll be sharing all of the details for the build and the cushion soon. Mark also made some easy ledge shelves for books. I had him place the shelves a bit higher on the wall so even an adult (me) can sit in the nook and not hit their head.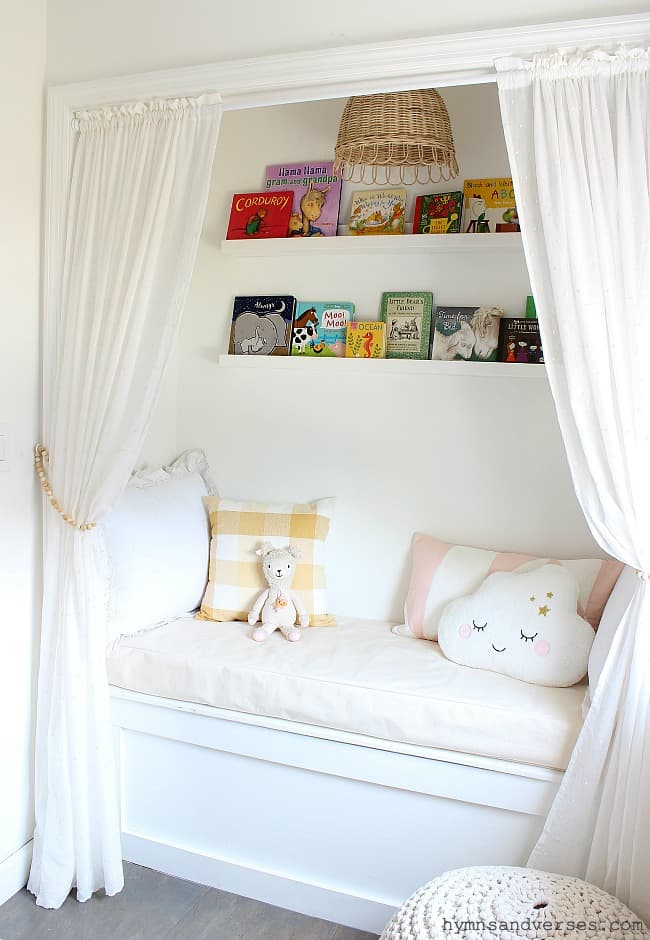 lighting
Inside the nook, Mark installed a bright light for reading, but I also wanted to add a hanging pendant light that could provide some soft light! I picked up this basket on a recent trip to Ikea because I loved the scalloped detailing. Then, I used a thin piece of twine to hang it from a hook screwed into the closet ceiling. I purchased these puck lights with a remote that can be dimmed and hot glued it to the bottom of the basket. And, it couldn't be cuter!

I purchased this tension rod (in white) to hang these curtains on either side of the opening. And, I made my own curtain tie backs by stringing wood balls with thin twine and tied the ends together to form a loop. They are held up with a cup hook screwed into the wall. The curtains are a soft white and have pretty embroidered dots and a lace edge at the bottom. They are perfect for this space!
COZY PILLOWS
There are two euro pillows on either end of the nook with ruffled shams that I had on hand. And, the pretty yellow buffalo check pillow is still in stock! The small llama toy is one that I purchased for Daphne before she was born. It's from Cuddle + Kind and is Lola the Llama. Cuddle + Kind is a great company that makes these adorable heirloom knit toys and with every purchase they provide ten meals to children in North America and around the world.

The other side of the nook features a pink and white quilted lumbar pillow that I made and this sweet cloud pillow. It's so inexpensive, but the quality is amazing! As I'm writing this, it's getting dark outside and all I want to do is climb into the closet reading nook with a good book!

And, now it's time to see what my cozy living friends are sharing this month! I so look forward to seeing what everyone shares each month, and I hope you do too!

Creative Cain Cabin / Hymns and Verses / It All Started with Paint