While many people are off to the beach or lake on this extended weekend, I'm looking forward to a lazy holiday on my cozy porch!
And, since this is the first Saturday of July, I'm joining my friends for Cozy Living Saturday hosted by Jennifer at Town and Country Living. At the end of my post today, you'll find links to more cozy living inspiration!
Cozy Porch for Summer
My screened porch is usually where I begin and end my days. For me, it's a place to wake up while listening to the birds chirping and watching Sadie try to catch them! And, then I like to end my day sitting on the swing watching the glow of the lightening bugs in the yard. And, lately it's also a place to spend time with my granddaughter! We have picnics on the porch and she has some toys out there too, like her ride on bunny.
But, more than any toy, she loves to swing – on the same porch swing that I used swing on with my grandmother!
This year I wanted my porch to have a vintage feel. My vintage metal glider and chairs set the mood, but I brought in some textiles in subtle green and yellow that reminded me of something my grandmother would have had on her summer porch many years ago.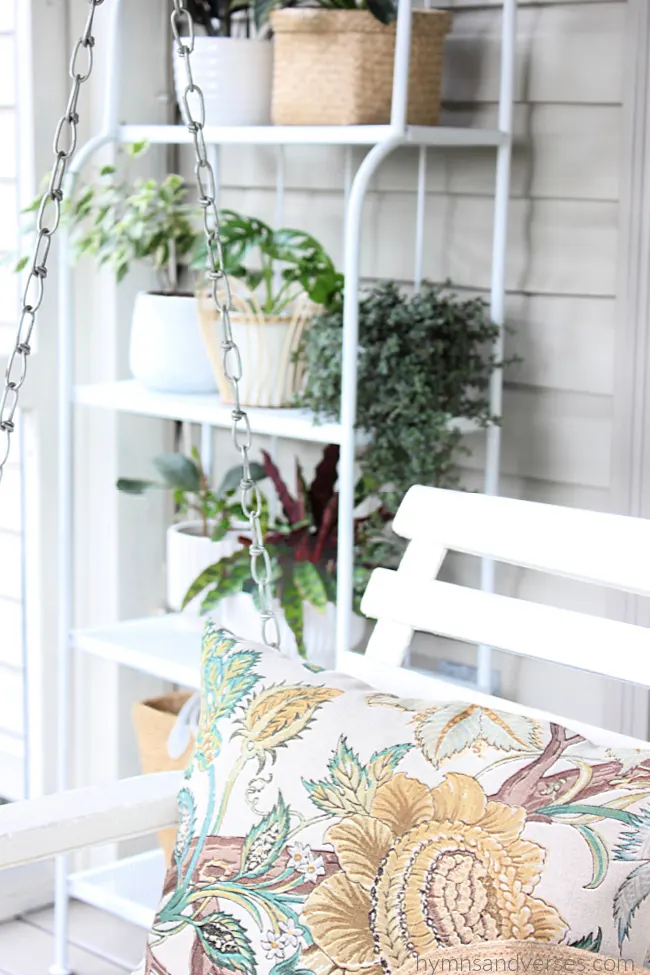 I also brought all of my house plants out to the porch for the warmer summer months and they always thrive out here. The baker's rack that holds a lot of my smaller plants got a facelift with a can of white spray paint in a matte finish.
The other furniture pieces on the porch, including the swing, all got a fresh coat of paint earlier this spring. And, I decided to paint the tops of the two vintage accent tables with a sunny yellow paint called Heirloom Yellow by Magnolia Paint.
I did pick up a few new plants for the porch: this hardy banana plant and the Boston fern. I was surprised to learn that this banana plant can grow to be quite large and can survive planted outdoors here in the northeast. For now, I'm just going to keep it on the porch.
Above the glider, I hung this print of a vintage painting called "The Dinner Horn (Blowing the Horn at Seaside)" by Winslow Homer, 1870. I had it printed and mounted on a thin piece of plywood. Then, to make it waterproof, I painted on two layers of Mod Podge and added a simple frame.
The large palm in the corner is a Majesty Palm that I picked up at Wegman's of all places. And, I fell in love with this large Shasta daisy plant that I found at a local nursery at an end of the season sale. The large blooms are gorgeous!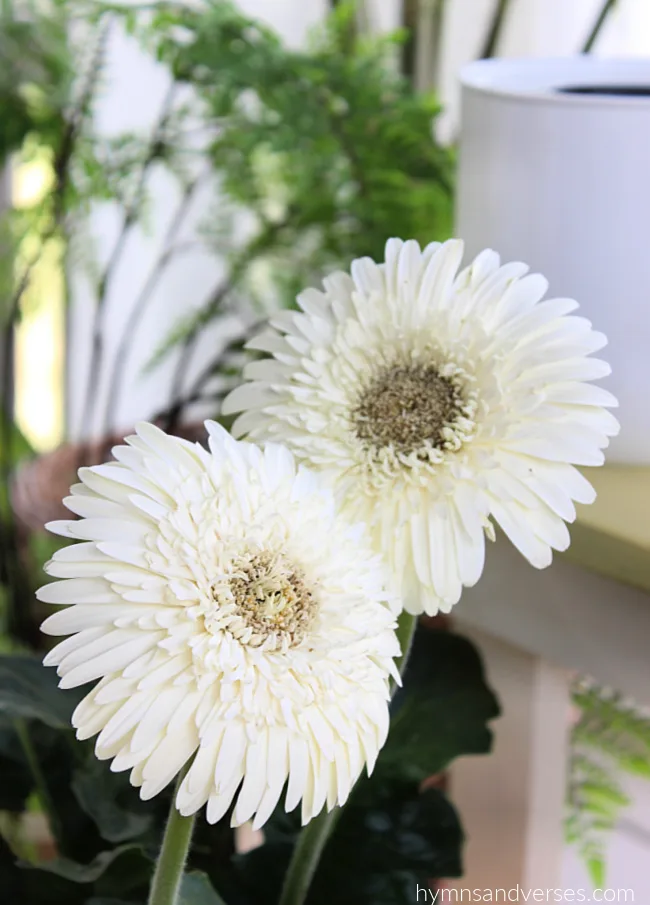 As I'm writing this, I can hear a neighbor is setting off a fireworks display! And, that's my cue to go watch from the best seat in the house . . . the porch swing!
July Cozy Living Inspiration
Hymns and Verses / A Stroll Thru Life / Vinyet Etc.
Finding Silver Pennies / Town and Country Living