A few weeks ago, I was at one of my favorite local shops and saw the most amazing corn shock wreath hanging on the wall. It was made with real corn shocks and was big and full and a bit unruly. I fell in love! I couldn't find a tag anywhere on the wreath, so I found an attendant and asked how much? The wreath was $58!!! For a wreath made out of corn shocks from a farmer's field! Yikes!!! I looked at the wreath and decided I would save my $58 and make my own.
*This post contains some affiliate links for your convenience. Please see my full disclosure statement HERE.
Supplies to Make a Corn Shock Wreath
Corn shocks
(I purchased 3 small bunches from the local farmer's market) About $3 a bunch.
A wire wreath frame. I purchased an 18 inch green wire frame, like THIS, from AC Moore.
Wire paddle like THIS.
Scissors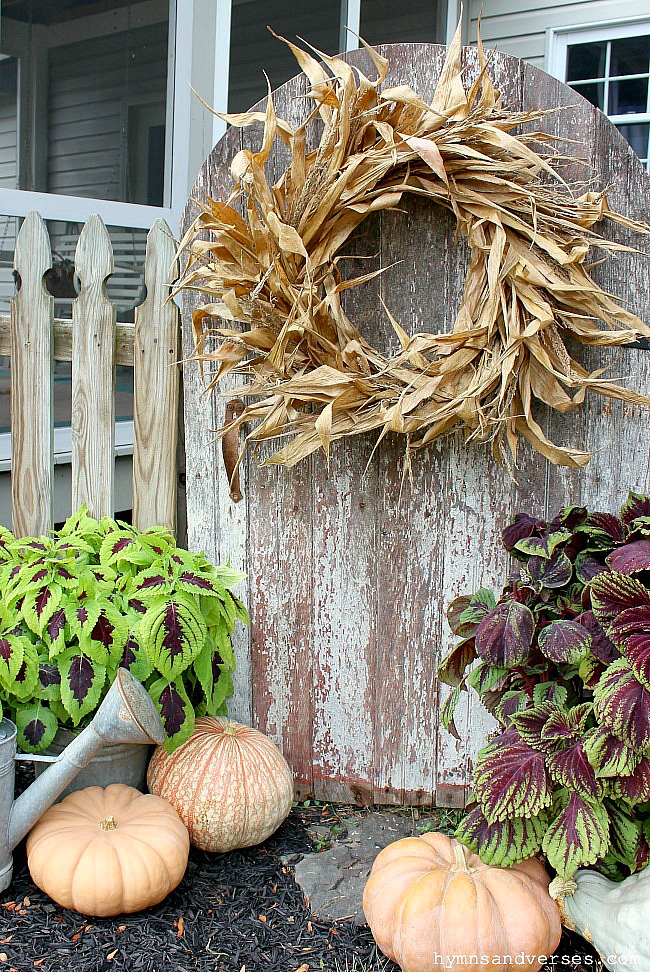 How to make a corn shock wreath
STEP 1
Cut the corn husks and tassels off the long shocks. I cut my pieces about 12 inches long. The longer the pieces, the more unruly your wreath will be.
STEP 2
Attach the end of the wire from the paddle to the wire wreath form (keep the paddle on the inside of the wreath form). Gather a bunch of about 8 or 9 pieces that have been cut to size. Lay the bunch inside the rounded wire frame. Now, wrap the wire around that bunch several times.
Step 3
Gather another bunch and attach it the same way, but overlap this bunch to cover the wire from the first bunch. Continue on this way the whole way around the wreath. The end of the final bunch should be underneath your very first bunch. And, you don't see any of the wires! How easy is that!!!
I even made a video showing you just how easy it is!
I decided to hang this wreath outside on my garden gate. This is the first time you're getting to see my rustic garden gate. I found it at one of my favorite salvage shops this summer. I fell in love with the arched shape, chipping layers of paint, and rusty handle! Mark used some picket fencing and created a little secret garden beside the screen porch. We didn't do much with the actual garden this summer because of the high temps and humidity, but I've been so anxious to share the gate with you!
But, I think it makes the perfect backdrop for a fall outdoor display with a corn shock wreath. If you like this DIY fall wreath, you might like to see my Anthropologie Inspired Fall Wreath or my Real Oak Leaf Wreath.