Happy Monday! I hope you had a great weekend! We had a wonderful time in northern Pennsylvania at my niece's beautiful fall outdoor wedding. And, yesterday we spent the day at the PA Grand Canyon. It is beautiful there! If you follow me on Facebook or Instagram, you can see some photos I took while there. Today I'm sharing my family gallery wall and picture ledge in a little more detail. If you saw my Fall Home Tour last week, then you saw the gallery wall in that post.
This is a project that has been on my "to do" list for a while. A family gallery wall that I can change up with new or seasonal photos was what I hand in mind. I scoured Pinterest to gather inspiration for this family gallery wall.
I was inspired by a chunky, wood floating shelf designed and built by the Shanty 2 Chic sisters. If you don't follow them, you should! They create the most amazing designs and build them. Their tutorials are easy to understand for even a beginner builder. Click HERE for the link to their video tutorial and plans for this floating shelf.
This post contains some affiliate links for your convenience. See my full disclosure at the bottom of this page.
I am a visual person and Mark is the detail man! Here's how a build project conversation goes: Me: "Here's what I want (showing the picture from Pinterest). I want it about this big (arms spread wide open). Mark: Tape measure in hand, he patiently adjusts the length on the wall until I say "that's perfect"! He has a lot of patience! Mark built the floating shelf for me and mounted it on the wall where I wanted it. It's stained in a mixture of Minwax Classic Gray 271 and Minwax Dark Walnut 2716.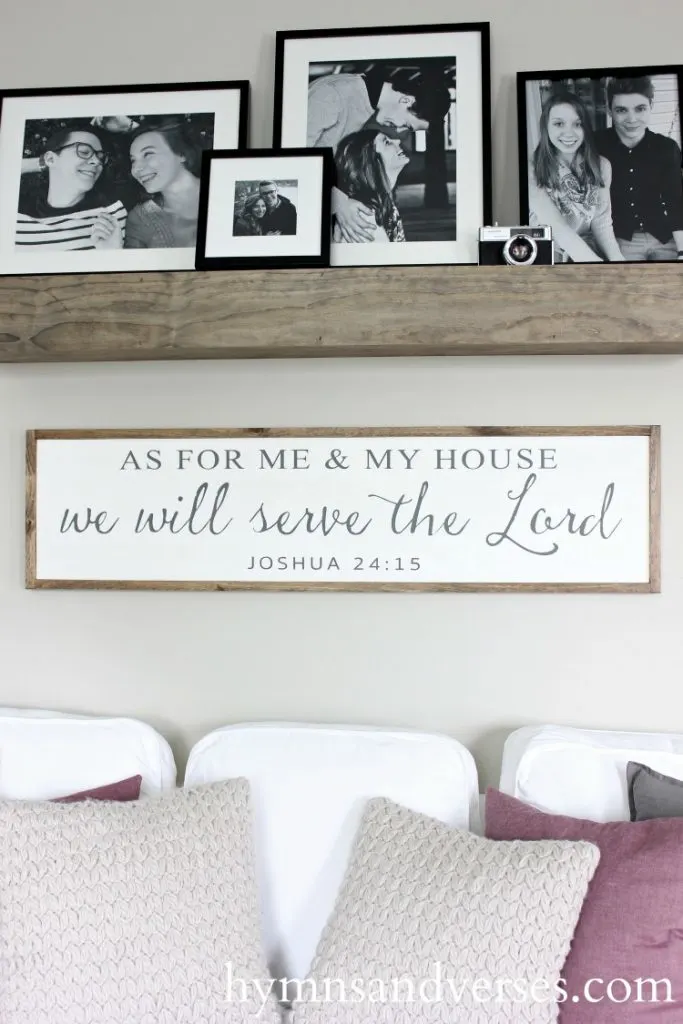 For photos, I used some favorite pics of the boys with their girls! These girls are part of our family and we love them so much! They are mostly candid photos, but I was really pleased with how they turned out when I had them enlarged at Costco. The frames are the Ribba brand from Ikea. I wanted all the frames to all be uniform and the Ribba frames were the most affordable option that I could find. I am not a gallery wall expert, but putting the tallest frame in the center and staggering the sizes towards the outer edges seemed to work well for me.
The final element of the gallery wall is the Joshua 24:15 wood sign "As for me and my house, We will serve the Lord." The sign measures approximately 12″ x 48″ with a 5/8″ frame. The background is white with charcoal lettering. The frame is stained. I am selling the sign in my Etsy shop. If you are interested. You can see it HERE.
Thanks for stopping by today. Before I go, I want to tell you about the Fall Ideas Tour happening this week. 28 bloggers have teamed up to share elements of their fall decor. Each day has a different theme as shown in the graphic above. Below are the links for Monday and Tuesday.
MONDAY – MANTELS
TUESDAY – TABLE SETTINGS
I'll be back on Wednesday to share a DIY Fall Cornhusk Wreath for WREATH DAY. Hope to see you then!