Last fall we woke to find water all over our kitchen, powder room, and especially in our basement. It's taken us quite some time to get everything repaired. At the time it seemed like a disaster, but one good thing that came from it was a DIY kitchen makeover that we had been wanting to do for some time. We began working on the kitchen after Christmas, and we are so happy to say that it's finally finished! So, today, I'm here to show you all the details!
*This post contains affiliate links for your convenience. Please see my full disclosure statement.
kitchen before
Here's a before photo of the kitchen.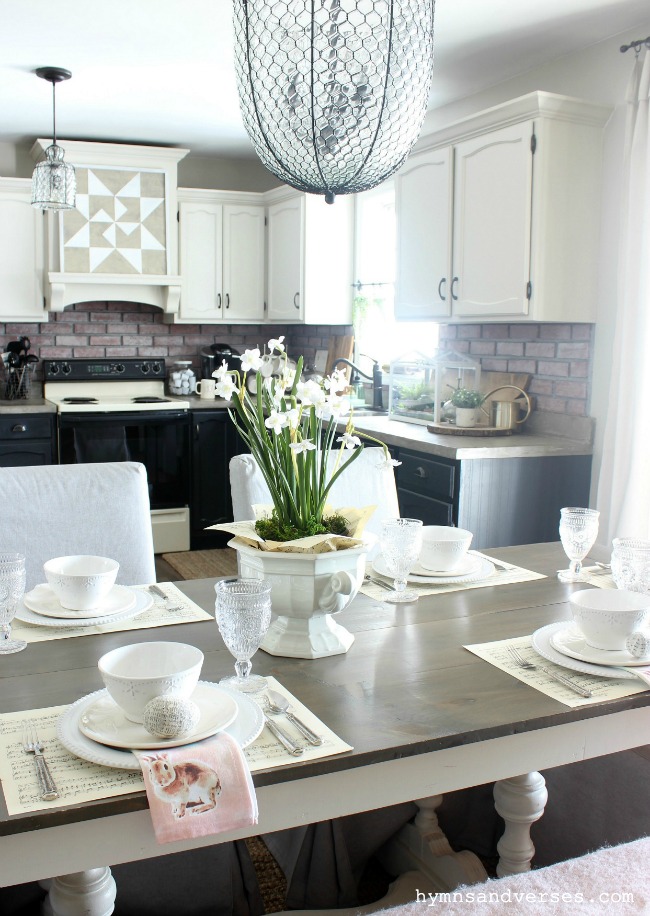 DIY kitchen makeover projects
all products in bold are linked
Painted the kitchen cabinets – Base Cabinets – Benjamin Moore Advance Black
Upper Cabinets – Benjamin Moore Advance Simply White
Painted the brick backsplash and added thin brick to the ceiling behind the range
Purchased a new range
Installed a new range hood
Replaced existing cabinet door hinges with hidden hinges
Brass cabinet cup pulls and handles
Farmhouse sink and faucet
Schoolhouse pendant light over the sink
Kitchen island and stools
Painted entire kitchen and dining room – including trim – Simply White by Benjamin Moore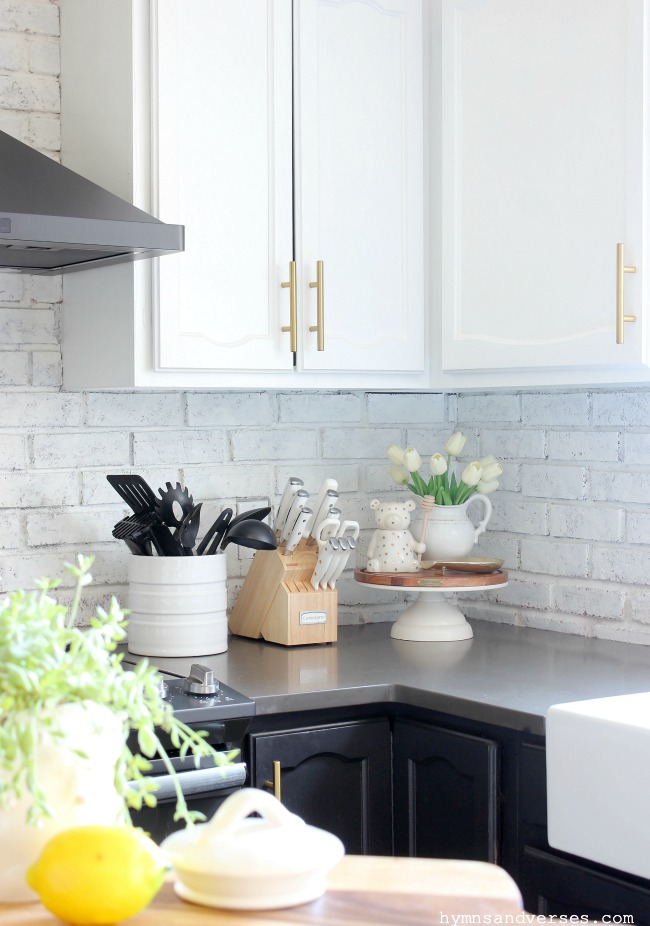 We purchased our new range on black Friday and I started to paint the cabinets before Christmas. But, we began in earnest after Christmas. We ordered the kitchen countertops from Ikea in January when they were on sale for Ikea Family Members. I choose the Dark Gray Marble Effect – Piatra Gray. To purchase custom countertops from Ikea, you first place your order in store, then a fabricator from the countertop company comes to your home to create a template for the countertops. About a week later, the installers come to your house to install the countertops. We're very happy with these quartz countertops! We priced quartz countertops locally and could not beat the Ikea sale price.
Painting
At this point, my main project was repainting the kitchen cabinets. I had painted them initially in 2012, so it was time for a refresh! For the lower cabinets, I kept the color the same. They are Benjamin Moore "Black". I use the Advance paint line in satin, which provides a more durable finish. The upper cabinets had been painted in Edgecomb Gray. They may have appeared to be white in photos, but they were definitely a light gray/taupe shade. Since I was repainting them, I decided to go brighter with the upper cabinets and painted them in Benjamin Moore "Simply White". You can compare the photo below with the Simply White cabinets to the photo above with the Edgecomb Gray upper cabinets.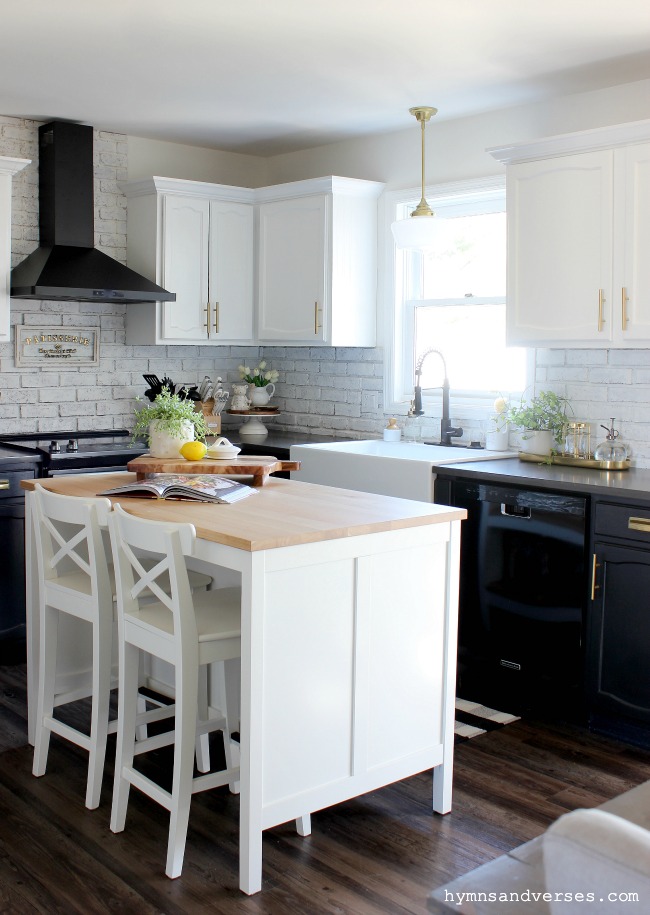 Previously, I had white washed the brick backsplash (as seen in the first photo). I really wanted to brighten up this space, so I painted the brick with Benjamin Moore "Simply White" matte finish. To keep the color palate cohesive, we used "Simply White" on the walls and trim as well. For the trim, I used the Advance paint in a satin finish. For the walls, I used a matte finish. So, even though it's the same color, it varies just a bit because of the different finishes. The walls in the kitchen and dining room were previously Benjamin Moore "Revere Pewter".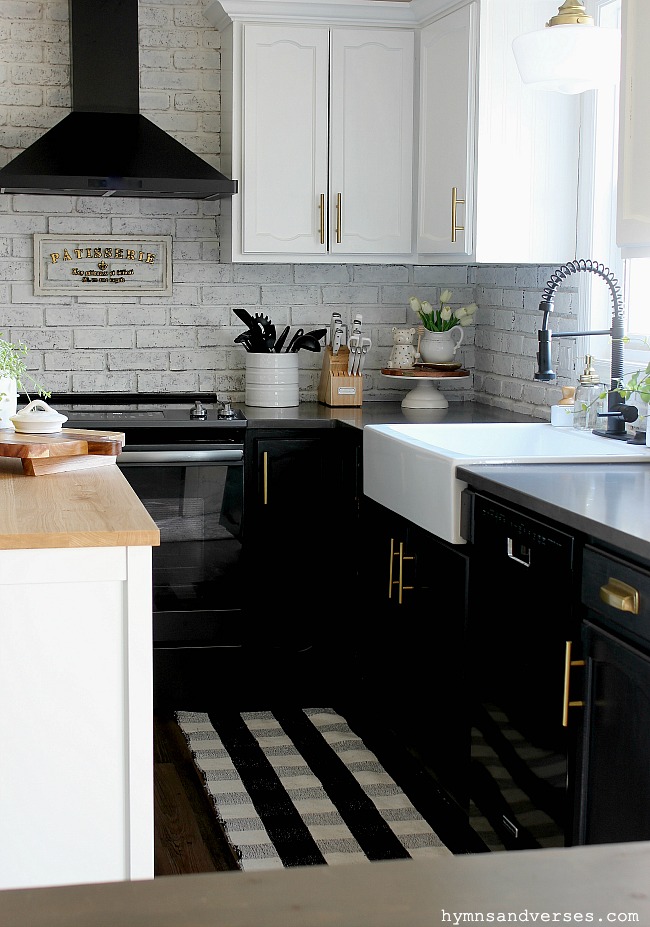 INSTALLING THIN BRICK
When we first moved here, the one thing that I wanted to change was the brick backsplash. But, it grew on me and when we discussed removing the brick and installing tile, I decided to keep the brick! We did need to purchase a few boxes of the thin brick so we could extend it up to the ceiling behind the range. And, we also needed to add a row and a half of brick around the countertop area because our previous countertop had a backsplash and our new quartz countertops do not.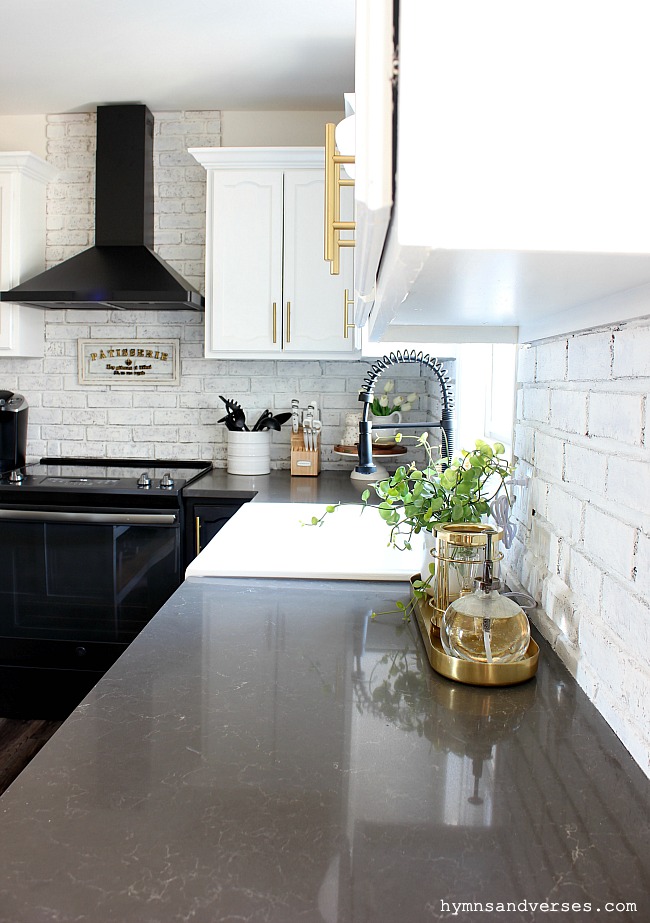 BRASS ACCENTS
I shared last week how we changed the kitchen cabinet hinges to hidden hinges. And, then we installed the new brass cabinet pulls and handles. The schoolhouse light pendant over the sink came in an oil rubbed bronze finish, but I used Design Masters Gold Medal Premium Metals spray paint to give it the look of brass. This is truly the BEST "brass look" spray paint! Trust me, I tested several!!! It's easy to update the look of a light fixture with spray paint. Because this fixture came unassembled, I just painted it before adding the glass globe.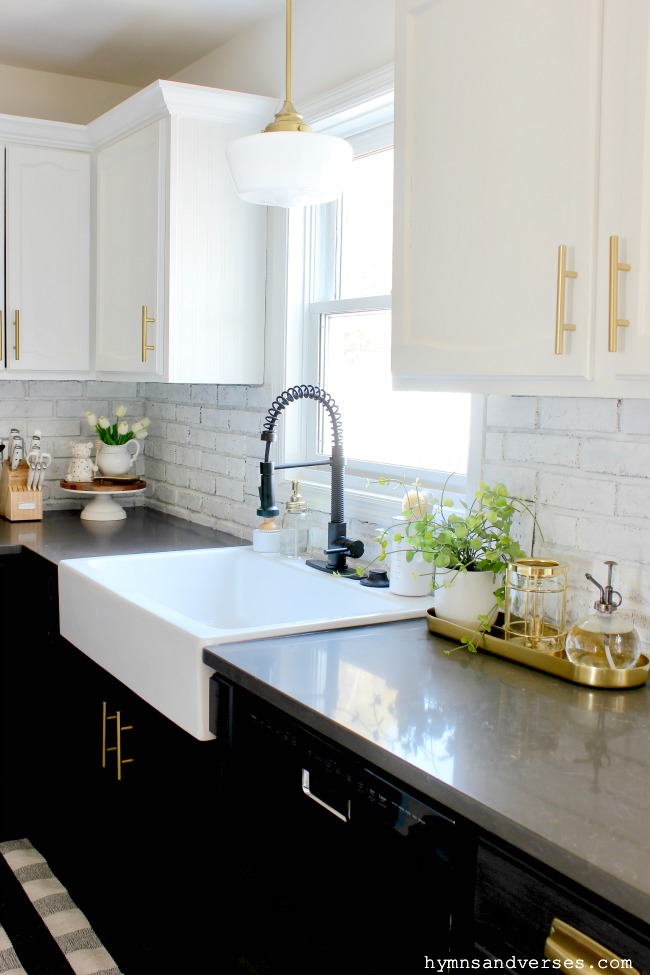 RANGE HOOD
I didn't have a new range hood in my original plan for this DIY kitchen makeover, but our previous range hood was purely decorative. It didn't have a fan or a light. So, I was ready to have something that looked good and would function as well! I looked into various styles of range hood and decided that a matte black hood would be a nice contrast with the white cabinets and tie in with the black lower cabinets.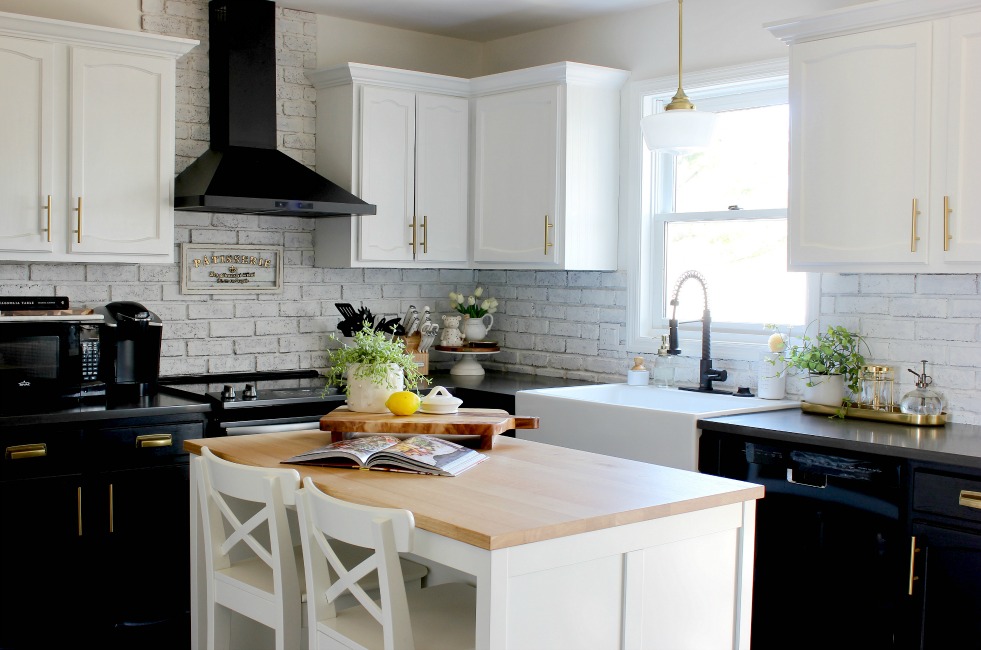 IKEA ISLAND AND STOOLS
The new island was another Ikea purchase. We talked about Mark building the island, but in the end, we were both ready to see this project wrapped up. So, we drove to Ikea last week and picked up the island and the two stools. I was drawn to this particular island because it has open shelves on one side and seating on the other side. And, the size is perfect for our small space. Mark usually isn't a fan of pre-fab furniture, but as he assembled the island and chairs, he kept saying how solid it was, and he was pleased that it was made of wood and not particle board. Now, all of my pots and pans, serving platters and larger bowls are stored on the island's open shelves. I love how accessible they are now!

DIY PEG RAIL SHELF
With the new island and the storage it provides, I am going to sell the kitchen cart that Mark made a few years ago for this space. Mark felt the wall would be too bare. So, I decided to give him one last little project! Liz Marie of Liz Marie Blog recently shared some DIY peg rails in her kitchen with a tutorial. So, I showed that to Mark and he whipped up this one for the wall where the kitchen cart had been. I used it to hold my glass canisters of flour, sugar, oats, and brown sugar. And, hung my favorite linen apron, cutting boards, watering can, etc. from the pegs! Not only is this functional, but it really makes the space cozy too!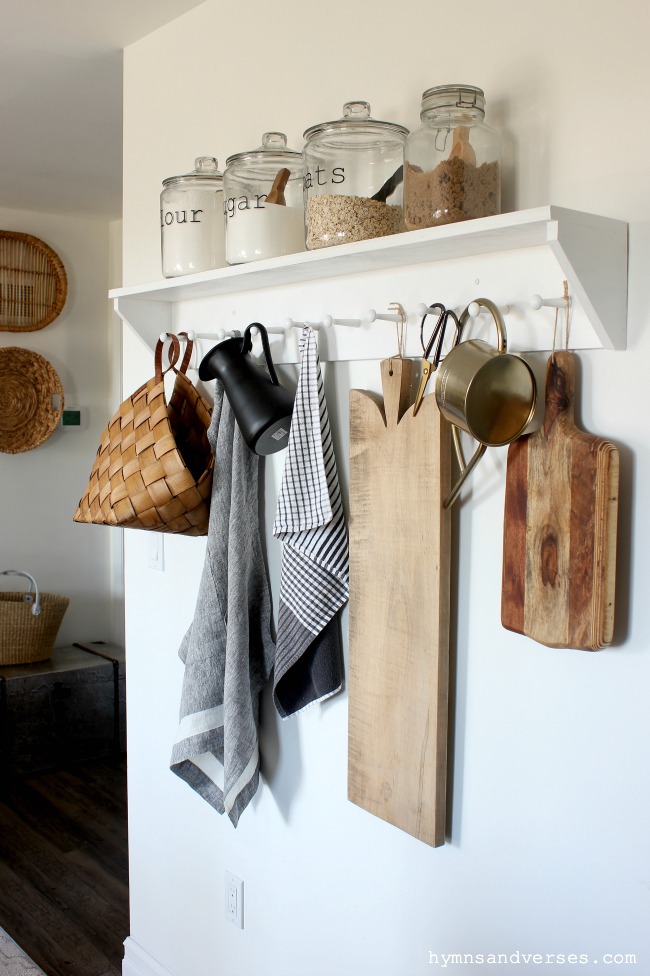 I know this is a longer post than normal, so thanks for hanging in there with me! I hope you liked seeing all of the changes we made in our DIY kitchen makeover! If you have any questions about any of the products or how we did something, please feel free to ask! Now, we're on to our next project – transforming our son's old room to a small nursery/playroom for our granddaughter!