First, thank you so much for all of your kind comments on our kitchen reveal! It means the world to me that you take the time to visit and leave a comment! Today, I'm going to share some of the accent decor that I used in the kitchen with the sources.
*This post contains affiliate links, meaning I get a commission if you decide to purchase through my links (at no additional cost to you). You can read my full disclosure statement HERE.
The accent decor you add to a space can really change the look of a space. Imagine our kitchen with more industrial accents. It would really change the overall look! As I shared in my kitchen makeover post, I decided to use touches of brass/gold to give the space some warmth. So, let's take a look at those accents now. After each photo, I'll share the sources for the corresponding products (if they are available to purchase online).
Brass Accents in the Kitchen
Cuisinart Knife Block with White Knives
Magnolia Hearth and Hand Cake Stand
Mine has gold dots, but I love this new floral one.
Glass Jar Soap Dispenser with Brass Lid
Brass Edison Bulb Scent Warmer for Wax Melts
Glass Plant Spritzer (similar)
Raised Dot Canister – I got this at Hobby Lobby. I can't find it online, but it is still available at my store.
Footed Cutting Board – I got this at Home Goods. I tried to find something similar online, but they were all so expensive. This one was under $40.
This is a new-to-me cookbook and I'm loving it so far and has beautiful photos throughout!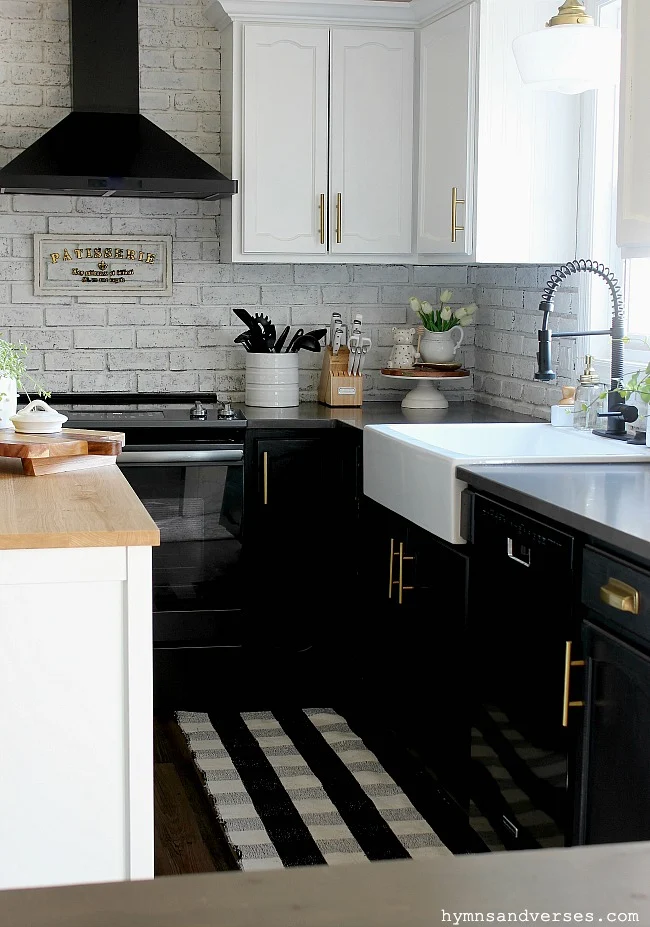 Black and White Buffalo Check Rug
This set of three is similar to what I have. Mine would be the largest size.
I love this apron! Mine is from Magnolia Hearth and Hand and is no longer available. But, I found this one on Amazon that is the same style and comes in a variety of soft colors. I like this style so much because of the criss cross back that you just slip over the head! And, I don't feel like an old lady when I wear it (ha, ha)!
My black pitcher is from Ikea and it seems they no longer carry it. But, I found this similar one at Target.
Small Brass Watering Can
This was from Target and is sadly no longer available.
I love the grain in olive wood cutting or charcuterie boards. I picked this one up at HomeGoods, but found this similar one on Amazon.
The wooden scoops in the canisters were from Target's Hearth and Hand line and are no longer available. I made the vinyl words for the canisters on my Silhouette cutting machine.
I hope you find this kind of source post helpful.