Hi, Friends! It's been a little while since I've posted and I've missed you all! In the time I was away, I filed my taxes (seriously getting an accountant next year), participated in my neighborhood yard sale, celebrated Easter with my family, bought a bicycle, cleaned up my porch for spring, and did some yard work! This time of year I have a hard time keeping my mind on projects inside my home! It's just so beautiful outside! Sadie and I have been out on the porch every morning and evening enjoying the beautiful weather! Today, I thought I'd show you what's blooming here at my house. Outside my screen porch area I have some early blooming spring perennials that are looking their very best right now! These perennials are easy to grow and aren't terribly invasive, which make them winners in my book!
Early Blooming Spring Perennials
Bleeding Heart
Lamprocapnos spectabilis
My bleeding heart is the traditional pink color, but you can also find bleeding heart plants with white blooms. There is also a fern leaf bleeding heart with rosy pink flowers. But my favorite is the traditional pink with white tip bloom! This particular plant is one that self-seeded from my original plant! It's in a good spot right outside my screen porch, so I've left it grow!
Perennials come back year after year and typically get bigger and stronger with time! Here's my original bleeding heart plant today. It will get even larger with more blooms in the days and weeks to come. Because this spot gets morning sun, but afternoon shade, it lasts longer than most bleeding hearts. It will look nice well into July and even the foliage looks good through August. This is right beside the back door to the garage door with a cat door, so our outdoor cats can go inside in bad weather and that's where we keep their food and water.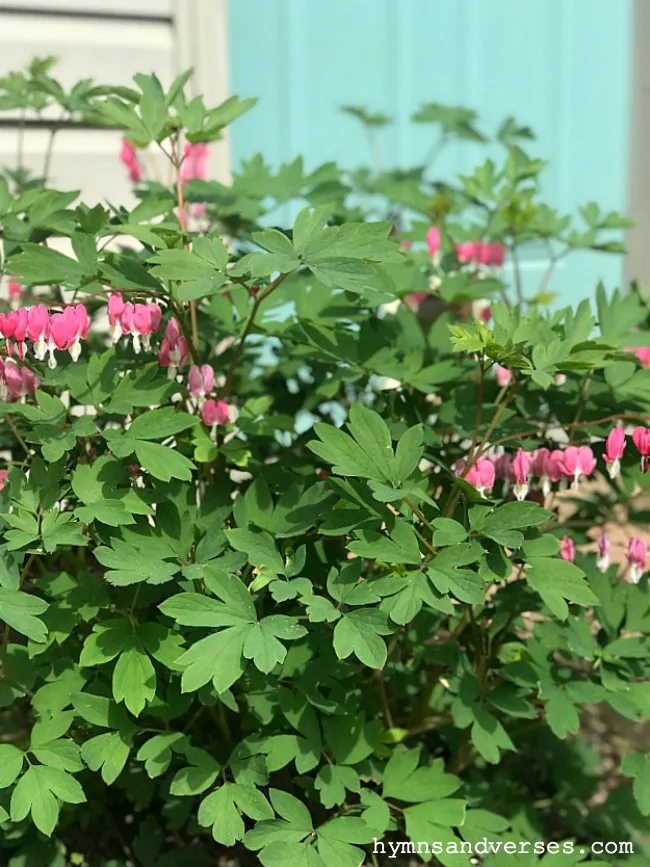 Solomon's Seal
Polygonatum
Solomon's Seal or King Solomon's Seal is a shade-loving perennial. The long stems grow in an arch shape with pretty variegated leaves. They have dangling white flowers that hang underneath the arched stems!
Solomon's Seal is a native woodland plant in the northeast. I like to use these long stems from my Solomon's Seal to bring some green indoors in the summer months. They look so pretty in a simple vase of water. Look who I spied having a nice long drink this morning while I was out taking pictures!
Forget-Me-Nots
Myosotis
I've tried to grow these pretty blue flowers many times over the years! My friend, Cindy, has loads of them at her house and each spring she would dig some out for me to plant and I would inevitably kill them! Well, I just didn't have them planted in the right spot!!! A few years ago I tried them behind my house in the area surrounding the screen porch and they love it here!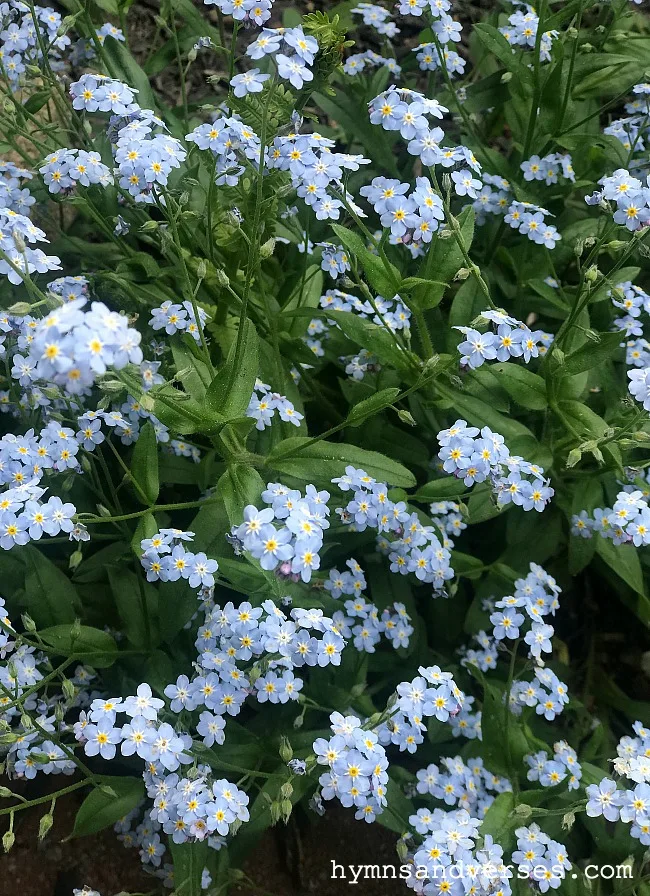 Of course, if I had bothered to check online, I would have discovered sooner that Forget-Me-Nots like the shade! They are at their best this year and have spread some. If some spread where you don't want them, just pull them out. I haven't had that problem yet and I've had these for about four years now.
A pot of Forget-Me-Nots is a great teacher gift with a sweet note from your student or a seed packet of Forget-Me-Nots with a gift card would also be lovely!
Grape Hyacinth
Muscari
Grape Hyacinth is a bulbous perennial. I love their bright blue blooms that resemble a bunch of grapes! These small and delicate flowers grow in clumps of grassy green goodness!
I just wish they had a longer bloom and I wish I had more of them! I've had small grouping of them for many years and they haven't spread much at all. I guess I just need to get some more! This bunch is planted near one of my variegated Hosta plants. I need to divide my Hosta this year, they are huge and need to be broken up into smaller plants.
Woodland Fern of Fiddlehead Fern
These ferns are from my grandmother's garden. I call them woodland ferns, but recently found out that they are known as Fiddlehead Ferns – the fronds begin as tight curls and unroll. Like Hosta, ferns love the shade. I have a lot of these ferns and end up pulling some out each year. Right now, they are mostly in a small gated shade garden area on the other side of the screen porch. I really want to create a small "secret garden" in this space. Right now, it's full of periwinkle ground cover and these ferns.
The ferns get so big that the outside cats love to come into this space and curl up underneath them in the summer months! I'm still putting together ideas for this little space, but I'll be sure to share it all with you! Below you can see the very ends of the ferns uncurling!
The best part of growing perennials is that you can share them! If you have too much of one plant, dig some up for a friend or neighbor! Almost all of my perennials are from family or friends! I've gotten some from local nurseries, but it's so much more fun and meaningful to say "I got this plant from my friend . . . "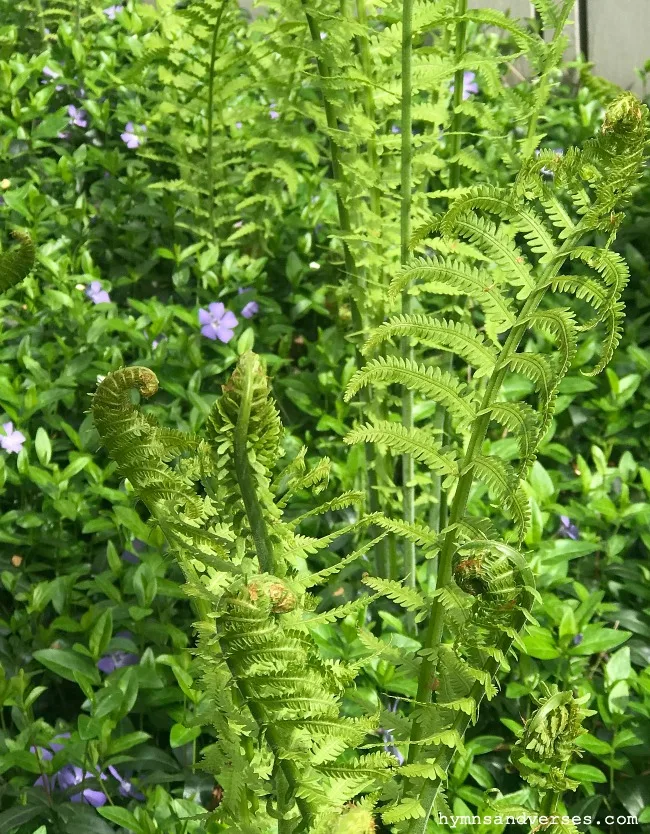 Do you have spring perennials growing at your home? If so, what are your favorites? And, please let me know if you have any questions about growing perennials. If I don't know the answer, I have several friends who are my "go-to perennial experts" that I can ask!
I love spring anywhere, but if I could choose I would always greet it in a garden. — Ruth Stout
If you like this post about growing spring perennials, you might also like:
How to Prune a Weeping Cherry Tree