Today I want to share a bit about perennials that work well in a cottage garden. I think a cottage garden is one that is more free form with less structure. Where flowers intermingle with one another! This style of garden is perfect for perennials that self sow or spread from year to year.
When we purchased our home about 15 years ago, I was anxious to create some cottage garden flower beds and plant perennials. I was fortunate to have a very good friend who shared a lot of her plants with me. Her mother and some of my neighbors also shared from their gardens – so many of what is now growing in my flower beds were free! That's the beauty of a perennial – they are springtime's gift that keeps on giving!
Once the transplanted perennials get established, they are easily dug up, divided, and moved to another location or shared. If a perennial doesn't seem to do well in one area of your garden, move it somewhere else. It may be a plant that likes less direct sunlight, more sunlight, or even shade. When I started growing perennials, I purchased a lot of reference books that helped me learn about different plants. But, now with the internet and Google, you can find information about a particular plant much more quickly.
What is a Perennial?
A perennial is a plant that will come back each year. Usually, stronger and with increased growth each year. There are perennials that take a while to get established – and by a while, I mean possibly years. An example of one perennial in my garden that has taken some time to get really established and thrive is this Lenten Rose. I've had it at least five years. For the first couple years, I wasn't sure if it was going to make it – now it's like a small shrub and full of flowers at bloom time.
There are perennials that grow like weeds and are called invasive. An invasive perennial can be controlled. You will need to pull out the plants by the roots and toss them, or better yet, dig them out and gift them to a friend or neighbor. I have some very invasive growers in my flower beds and each year I pull up as much as I leave behind. An example of an invasive perennial is the Pink Evening Primrose.
Many perennials self seed and you may find a tiny new plant growing in your garden the following spring and it may not be right next to where the original plant is located. This year I found two new starts of one of my favorite perennials – Bleeding Heart. Once the new plant has some growth, you can safely dig it up and move it to a location of your choice.
The basic colors in my flower beds are pink, purple, and yellow. I really like that combination. Here are some plants that I think work great in a cottage garden!
Print this list of Cottage Garden Perennials
to take to your local Garden Center!
Growing a perennial garden takes patience and you will learn by doing. There are some plants that I've tried multiple times in my garden that took me a long time to have success. My friend has gorgeous blue forget-me-nots in her garden and has given me so many over the years. I've tried them in several spots, and I finally found a spot that they like!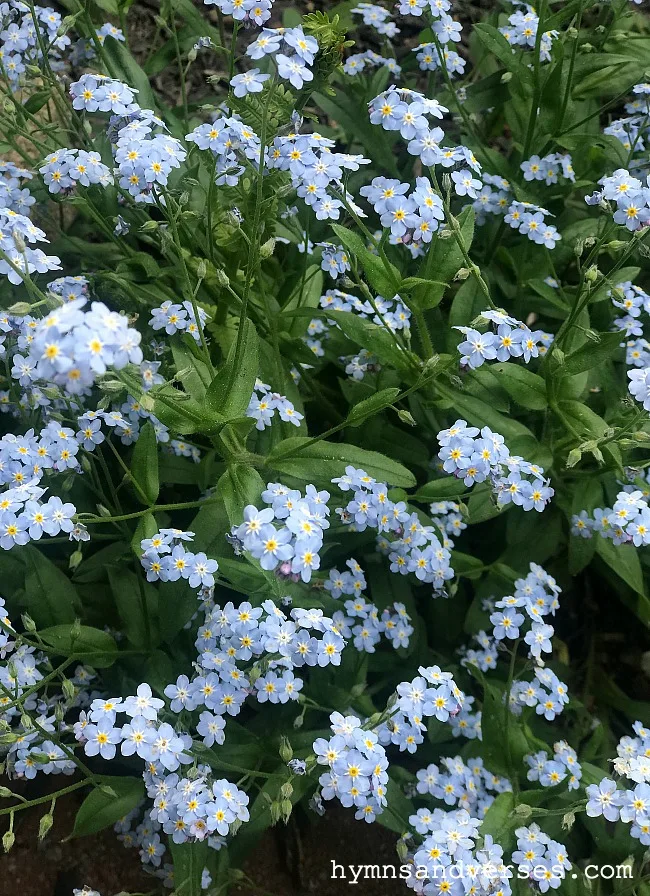 I feel like I could go on and on sharing all that I've learned over the years about growing perennials — but for today, I'll end here! Feel free to ask me any questions about the plants I grow in my garden! I'm not an expert, but can share what I've learned. Thanks for stopping by!
If you like this post, you might also like: