I've started to notice some butterflies in my flower beds and it gave me the idea to create some DIY butterfly artwork for my mantel. This paper craft butterfly art is so easy, it just takes a little time. It's a great project to work on when you are watching TV!
This post contains some affiliate links. Please see my full disclosure HERE.
Here's what you will need to make this fluttering, 3D butterfly art
Butterfly Template (below)
Download the butterfly template at the end of this post and print it on cardstock on your home printer. Cut out one of each size of the butterflies on the template.
Trace around the cardstock butterflies with a pencil onto the pages of an old book.
Fold the paper butterfly wings where you would see the printed dashed lines on the template. This gives the butterflies dimension.
Now for the fun part! Attach the butterflies to the artist canvas using glue dots. Roll the glue dot with your finger to remove it from the backing paper, so the dot ends up in more of a narrow straight line – perfect for attaching to the narrow body of the paper butterfly. Layer some larger butterflies with smaller butterflies to create more dimension. I didn't do this with all of the butterflies because I thought it gave more visual interest with just some of them being layered.
Attach the paper butterflies from the lower left hand corner of the canvas to the upper right side of the canvas. Vary the direction slightly as you place the butterflies on the canvas, so they aren't flying in a straight line. I continued adding butterflies going off the canvas and onto the mirror layered behind the canvas, across the mirror, and then onto the wall. Then, I gradually reduced the amount of butterflies from left to right. See photos below.

This paper craft project is fun and so affordable. It's not hard to do, but does take some time since you need to trace and cut out a lot of paper butterflies. If you have a Silhouette or Cricut cutting machine, you could use it to do the time consuming cutting work for you! I do have a Silhouette, but I did end up hand cutting the butterflies by hand. Crazy, I know! You could also use colored paper and it would look fantastic using the same color, but varying shades, and going from dark to light to create an ombre effect.

butterfly template
Just click and drag the image to your desktop and print it on your home printer.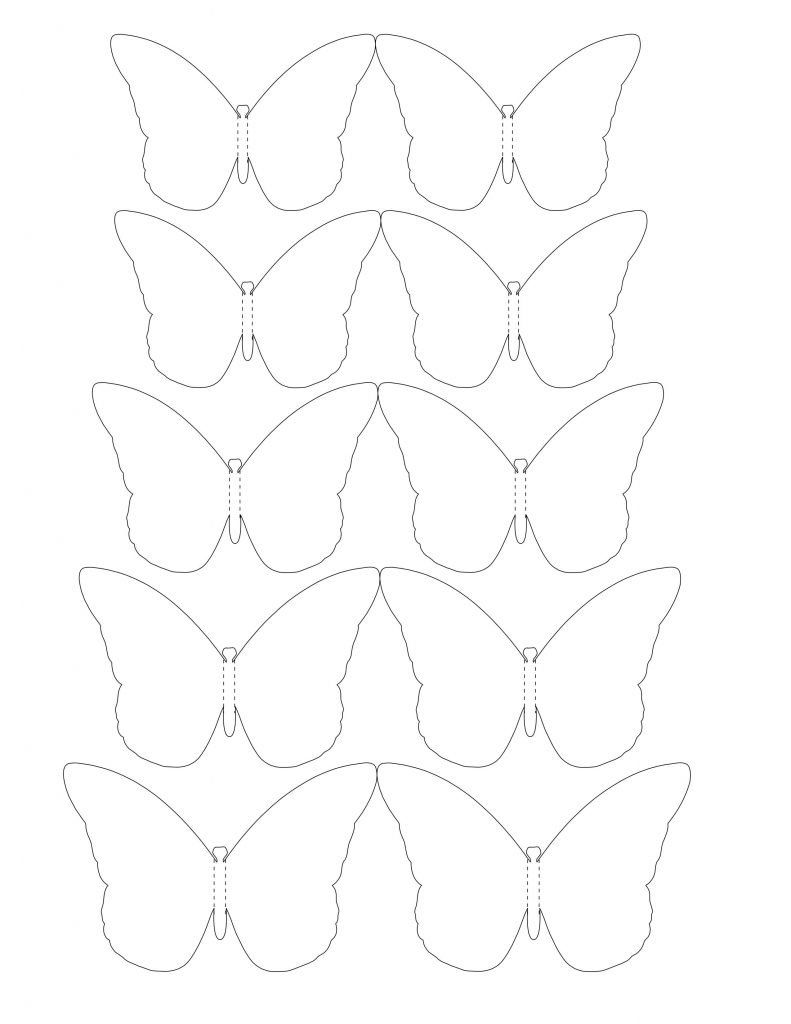 I hope you enjoyed this little DIY art project for summer! Please take a minute to share it with your friends on Pinterest, Facebook, or Instagram!

Here are a few more paper craft DIY projects to try!
DIY Pinwheel Tutorial and Template
Sheet Music Poinsettia Flowers