It's the end of May and for me, it's a favorite time of year because my peonies are blooming!!! Peonies are an old fashioned favorite that remind me of both of my grandmothers, who had mounds of these gorgeous blooms each year! My peonies are some of the first flowers I planted when we purchased this home about 20 years ago, and I would love to add more varieties soon. Today, I thought I'd share the tips for growing peonies that I've learned over the years!
This post contains some affiliate links for your convenience. Please see my full disclosure page HERE.
Peonies love the sun!
Make sure you plant your peonies where they will get full sun!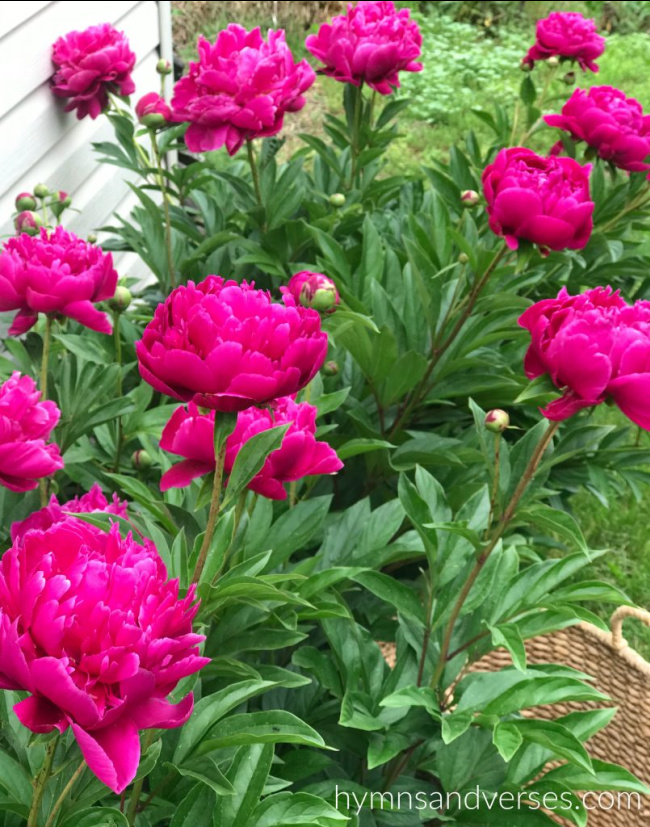 Peonies are perennials.
A perennial is a plant that comes back year after year and are my favorite! You plant once, and reap the reward of pretty blooms each season!
New peony plants take some time to get established.
If you get a peony plant from your local nursery and it doesn't bloom this year, don't be discouraged. Peonies just take some time to put on their best show. The best time to plant is early spring or fall. I've planted all of my peonies in the early spring.
Peonies attract ants!
Those pesky little critters absolutely love peonies, which is why you should plant your peonies a little bit away from your house entries. The side of the house would be fine, which is where I have my pink peonies. My fusia pink peonies are on the side of our garden shed, which is at the back of our yard. If you cut your blooms to bring inside, just give them a shake to remove the ants. If some still linger once inside, dunk the bloom head into some water and rinse those critters down the drain!
Peony bloom time is short.
Peony bloom time is sadly very short – like a week or two. But, they are oh so gorgeous and worthy of having just for that small window! Peonies are the perfect flower for a May wedding. My friend's daughter got married around this time three years ago and we made her bouquet and attendant's bouquets with peonies from our gardens and other flowers. Those bouquets were gorgeous!
Dead head finished blooms.
When your peonies are finished blooming for the season, just deadhead (clip off the faded flowers) with your garden pruning sheers. The peony foliage will stay nice throughout the summer. In the fall, just trim the foliage down to ground level. True story – my father used to run his riding lawn mower over my grandmother's peonies in the fall and they came back more beautiful year after year! They are a strong plant and hard to kill!!!

Where to get peony plants.
If you are looking for peonies for your garden, you can find them at a garden center, of course. But, why not ask a friend or family member who has some established peonies to divide their established plant and share with you. I love that a lot of my flower garden plants were given to me by friends and neighbors! If you transplant a divided peony, just make sure you water well daily for a week. I have found this product to be really helpful with transplants.
Peonies may need support.
Peonies mature to be tall and the flowers can be quite large. So, you may need to support your peonies with garden twine or a support like this or several of these for individual stems. I use the individual supports because I usually only have a few stems that fall over. It really depends on your plant.
I hope you've enjoyed this post all about growing peonies! I'd love to hear if you have any peonies growing in your garden and what color/variety they are! And, if you have a question about growing peonies that I didn't cover, please don't hesitate to ask it in the comments section and I'll be sure to get back to you!

Here are more gardening posts you may like:
How to Prune a Weeping Cherry Tree
Easy to Grow Cottage Garden Perennials