Planting peony flowers is a rewarding and affordable gardening activity that can bring any garden to life. Peonies are known for their vibrant colors and sizes, with some varieties growing up to three feet wide and six inches tall. They make excellent cut flowers for bouquets, as well as for outdoor decorations. Planting them isn't overly difficult, but it does require some attention to detail along with adequate sunlight, nutrient-rich soil and plenty of water. With the right care, these beautiful plants can last for decades, providing you with a lifetime of enjoyment in your garden.
Growing vibrant and healthy peonies takes special care and attention to the conditions in which you are growing them. Peonies thrive in cooler climates with cold winters and warm summers.
When planted in a sunny spot, they need at least 6 hours of direct sunlight, otherwise they won't be able to produce large blooms. Excellent soil drainage is also important for optimal growth – waterlogged soils can lead to root rot or even death of the plant.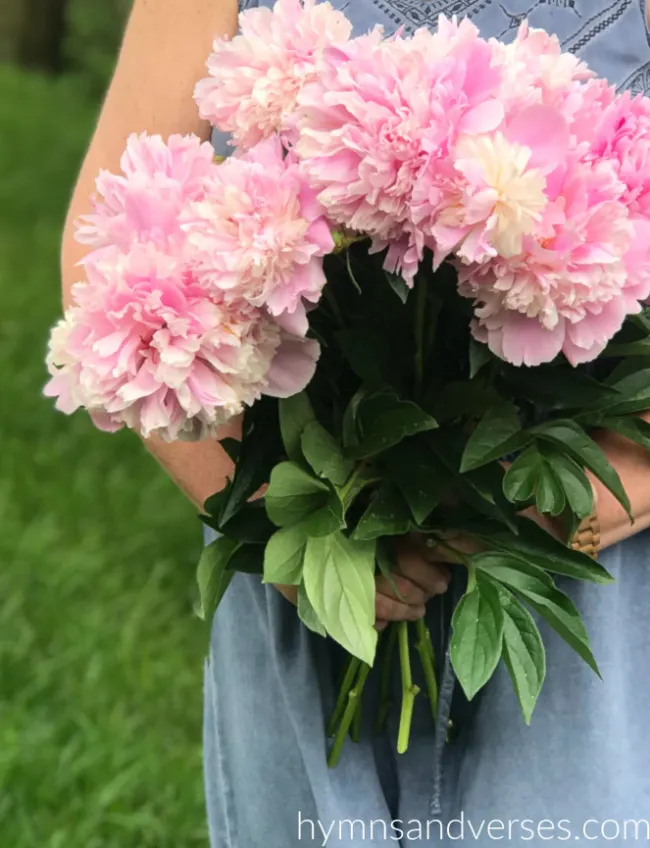 WHAT ARE THE TYPES OF PEONIES?
There are multiple types of peonies – herbaceous, intersectional, tree, and lactiflora.
Herbaceous peonies are most common in gardens and come in a variety of colors and sizes. Herbaceous peonies are a beautiful flower that come in an array of colors from pink to white, yellow, and even red. They can range anywhere from 2 to 4 feet tall and will bloom for two weeks each spring. These hardy perennials can live up to 40 or 50 years when planted in conditions they love. A herbaceous peony will often have a more intense scent than other varieties.
Intersectional hybrids are a relatively new type of peony, bred from herbaceous and tree peonies. These peonies may also be called Itoh peonies since they were first bred by Toichi Itoh of Japan.
Intersectional peonies have striking double flowers with multi-hued petals and can bloom for up to six weeks each spring. These plants can reach heights of 4 to 6 feet tall, although some cultivars are only 1 to 2 feet tall.
Tree peonies can reach up to 5 feet and they have larger blooms than herbaceous peonies. Tree peonies typically bloom for two to three weeks in the spring and are very long-lived plants, surviving for 50 years or even longer. A tree peony can take up to five years before it blooms, so patience is required when planting them.
Lactiflora peonies are a group of herbaceous peonies that were developed in China in the 19th century. They have large, single- or semi-double blooms with many petals and come in a wide range of colors.
Lactiflora peonies are typically shorter than other types of herbaceous peonies and only grow to around 3 feet tall. These plants bloom for up to four weeks in late spring and can live for up to 50 years when planted in ideal conditions.
No matter which type of peony you choose, these lovely flowers will add color and beauty to your garden.​
PEONIES ARE PERENNIALS.
A perennial is a plant that comes back year after year and are my favorite! You plant once, and reap the reward of pretty blooms each season with a little care!
DO PEONIES LIKE FULL SUN?
Yes, peonies do like full sun. In order for them to produce large blooms, they need at least 6 hours of direct sunlight per day. They grow best in cooler climates with cold winters and warm summers, so if you're located in this type of environment, make sure to choose a spot with lots of exposure to the sun.
With the right care and attention to detail along with adequate sunlight, nutrient-rich soil and plenty of water, your peonies can last for decades and provide you with a lifetime of enjoyment in your garden.
Make sure you plant your peonies where they will get full sun!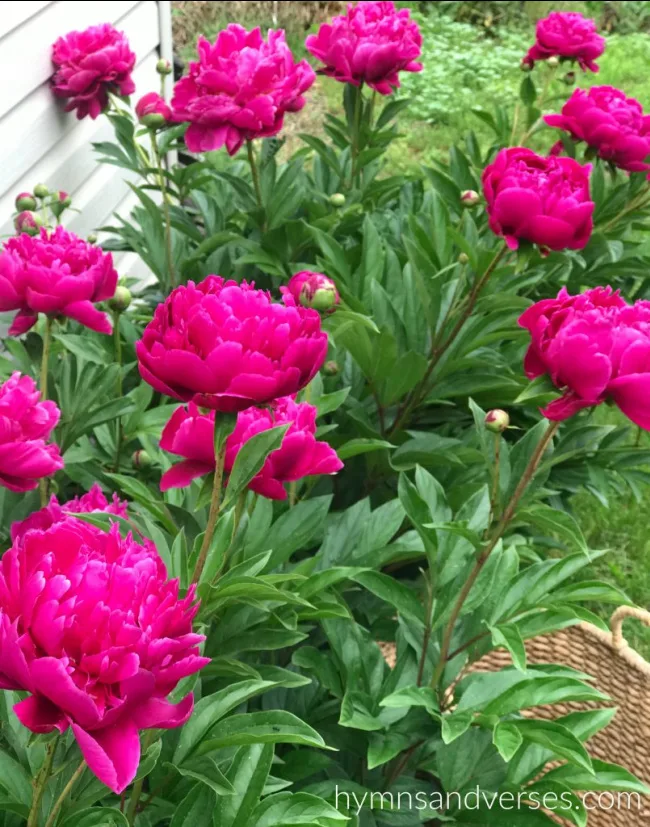 WHERE TO PLANT PEONIES
When it comes to planting peonies, make sure you choose a location that will provide them with all the elements they need for success. They thrive in rich, deep loam soils and need sunlight.
When planting peonies, make sure you give them plenty of space. They need about 2–4 feet in all directions to spread their peony roots out and produce large blooms. When picking your spot, keep in mind that they need more than just sunlight.
They will also need good air circulation and some shelter from strong winds. If they are planted in a low air circulation area, this can cause stagnant air which is a breeding ground for fungal diseases and other diseases for your plants.
WHEN IS PEONY SEASON?
Peonies usually bloom in May and June, but the exact time depends on where you live and the variety that you are growing. In colder climates, it might start late as the weather is warmer and more consistent.
WHEN SHOULD I PLANT PEONIES?
If you are planting a new peony bush, it's best to plant them in the fall so they have time to get established before next spring. Then you can look forward to blooms in late May or June!
However, it is important to pay attention to what variety your nursery or peony place is selling. They offer different types of peonies that have an early bloom season, a mid season bloom or even late bloom varieties.
PEONY BLOOM TIME
Peony bloom time is sadly very short – like a week or two. But, they are oh so gorgeous and worthy of having just for that small window! Peonies are the perfect flower for a May wedding.
My friend's daughter got married around this time three years ago and we made her bouquet and attendant's bouquets with peonies from our gardens and other flowers. Those bouquets were gorgeous!
The bloom time that you get from your peonies will also depend on which variety you planted- early bloom, midseason or late blooming. If you get some of each variety, you can increase your bloom time.
HOW TO PLANT PEONIES
When planting peonies, remember to dig a nice deep hole and loosen up the soil at the bottom. I usually go for a 2 foot deep and 2 foot across sized hole in well-drained soil that will get plenty of sun. Place your plant in the hole so it is level with the soil surface and backfill with native soil. I also recommend placing them in the hole with the eyes facing up.
Once planted, water your peonies generously so that their roots have adequate access to moisture. Keep the weeds down by hand weeding. Be careful if using mulch to help prevent weeds, you don't want to smother your peonies.
Finally, make sure you divide and replant your peonies every few years to ensure they remain healthy and happy. This will also help produce more beautiful blooms for you in future seasons! While it's not absolutely necessary or required to have healthy plants with large flowers, I have found it has helped me do so. You can choose to do this, or leave them as is.
WATER YOUR PEONIES DEEPLY.
Peonies should be watered deeply once a week to ensure that the root systems are well hydrated and healthy. When it's hot and dry, water even more often. However, do not overwater or you risk causing root rot. Always make sure that your planted peonies are in a good drainage area so the water doesn't pool up and cause problems.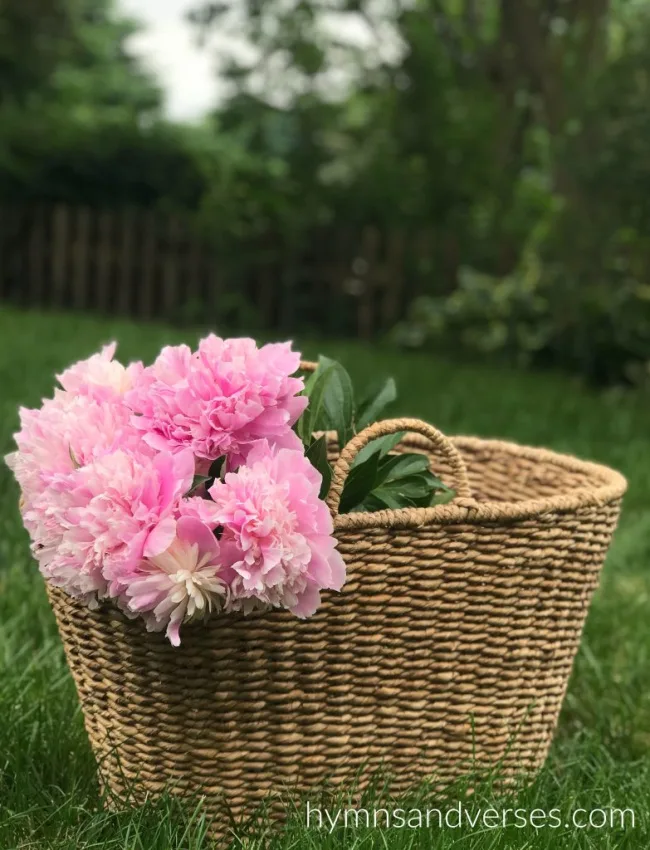 NEW PEONY PLANTS TAKE SOME TIME TO GET ESTABLISHED.
If you get a peony plant from your local nursery and it doesn't bloom the first year, don't be discouraged, that's quite common and is to be expected, instead, just get excited for the peony blooms you'll get next season. Peonies just take some time to put on their best show.
The best time to plant is early spring or fall. Most experts will say that you should plant your peonies in the fall with an expected bloom time during the next spring growing season, but I have had success with spring planting as well.
WHAT DO PEONIES ATTRACT?
Peonies are known to attract butterflies, bees and other pollinators. The bright, colorful blooms of peonies make them a very attractive addition to any garden or landscape. So if you're looking for something that will attract pollinators to your garden, peonies are a great choice!
They also provide food for birds, which is an added bonus. Just be sure to plant them in an area that gets plenty of sun so they can bloom and attract these beneficial creatures.
You may also find that peonies attract ants.
Those pesky little critters absolutely love peonies, which is why you should plant your peonies a little bit away from your house entries. But, those ants are sooo bad. They're all over the peony flower buds to enjoy some nectar, but in exchange for some nectar they are helping the peonies from other bigs that might want to ruin them.
The side of the house would be fine, which is where I have my pink peonies. My fuchsia pink peonies are on the side of our garden shed, which is at the back of our yard. If you cut your blooms to bring inside, just give them a shake to remove the ants. If some still linger once inside, dunk the bloom head into some water and rinse those critters down the drain!
WHAT ARE PEONIES SUSCEPTIBLE TO?
It's important to know what your peonies are susceptible to so you know what to look out for, how to prevent them and what to do if your peonies succumb to any of these plant diseases.
Peonies can be affected by fungal diseases such as botrytis blight, powdery mildew and rust. They are also susceptible to bacteria and viruses like aster yellows or phytoplasma.
Keep an eye out for peony wilts, leaf spots and blights that can cause foliage discoloration or even kill your peony plants completely.
DEAD HEAD FINISHED BLOOMS.
When your peonies are finished blooming for the season, just deadhead (clip off the faded flowers) with your garden pruning sheers. The peony foliage will stay nice throughout the summer. In the fall, just trim the foliage down to ground level at the base of the plant.
True story – my father used to run his riding lawn mower over my grandmother's peonies in the fall and they came back more beautiful year after year! They are a strong plant and hard to kill!!!

WHERE TO GET PEONY PLANTS.
If you are looking for peonies for your garden, you can find them at a garden center, of course. Most garden centers sell peonies as bare root peonies. You can also purchase the bare root peonies online for a lower price. For best results, remember to buy your peonies in fall or early spring, as this is when they are dormant and shipping won't cause them any extra stress.
But, why not ask a friend or family member who has some established peonies to divide their established plant and share with you. I love that a lot of my flower garden plants were given to me by friends and neighbors! If you transplant a divided peony, just make sure you water well daily for a week. I have found this product to be really helpful with transplants.
PEONIES MAY NEED SUPPORT.
Peonies mature to be tall and the flowers can be quite large. So, you may need to support your peonies with garden twine or a support like this or several of these for individual stems. I use the individual supports because I usually only have a few stems that fall over. It really depends on your plant.
WHY DIDN'T MY PEONIES BLOOM?
This typically happens for two different reasons. If your plant didn't get enough sunlight it may not bloom. Be sure it gets at least 6 hours of sunlight when choosing a spot to dig the planting hole. If it's a new plant, remember that it is common for your brand new plants to take a year, two, or even three years to become mature plants that will bloom beautiful peony flowers. Also, be sure not to plant the eyes of the flowers too deep. You want to plant the eyes of the flowers no deeper than two inches of soil.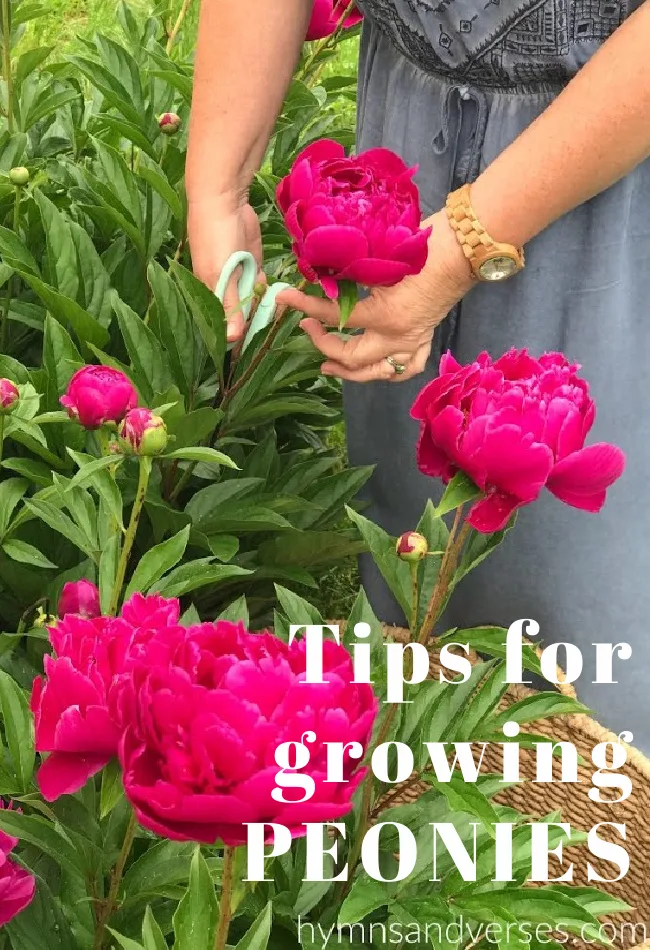 OTHER TIPS FOR PROPER PEONY GROWING CLIMATES
Knowing which growing zone you're in will help determine if it is even possible to grow peonies in your area. Zone 8 is the warmest zone that will actually let you grow peonies. Warmer climates like Florida, Southern California and the majority of the South are NOT ideal climates for the peonies to grow in.
Colder climates may not result in as much height of growth in your peonies.
Make sure you have moist soil for your peonies, but don't drown them out.
DO I NEED TO DO ANYTHING TO MY PEONIES FOR WINTER?
Yes, you can choose to take certain steps in the fall or winter months.
You should dig them up and store them in a cool place with lots of air circulation such as a basement or garage.
Make sure you cut back all dead foliage from your peonies before storing them away for the winter. This will help prevent any mold or rot from forming on the roots in storage.
You should also keep the soil moist when you store them away for winter, but not wet enough to drown them.
If you choose not to dig up and store your peonies, make sure to cover them with mulch or compost during cold months to protect them from freezing temperatures.
I hope you've enjoyed this post all about the best conditions for growing peonies! I'd love to hear if you have any peonies growing in your garden and what color/variety they are! And, if you have a question about growing peonies that I didn't cover, please don't hesitate to ask it in the comments section and I'll be sure to get back to you!
Here are more gardening posts you may like:
How to Prune a Weeping Cherry Tree
Easy to Grow Cottage Garden Perennials