Today I want to show you how a brought some fall accents into my mainly black and white powder room. I typically don't go overboard decorating my baths for seasons, but I love this little powder room so much, that I just had to give it some autumn warmth! I did that by bringing in some small brass and gold accents.
I found this fringe hand towel at Target and thought it would look great for fall. It's more of a cream color and that adds just a bit of warmth to the black and white space.
The same day I found the hand towel at Target, I spied this small brass pinecone. I knew it was just the right size to sit on the pedestal sink without being in the way! I sat it atop a tiny leather book, "The Psalmist", dating to 1843. The leather has gold embossing and gold tipped pages. It's a piece from my family with names in the front! I love it and use it often in my decor.
This cat print is one of a pair that I purchased when I was first married. These cat watercolors are special because they were painted by one of my mother's college friends. I've searched online to try to find more artwork by this artist, but unfortunately, I haven't found any sources. They are just notecards that I popped into these inexpensive black and gold frames from Walmart.
Here's the other one. I sat it on the top of the toilet tank. Aren't these just perfect for Fall!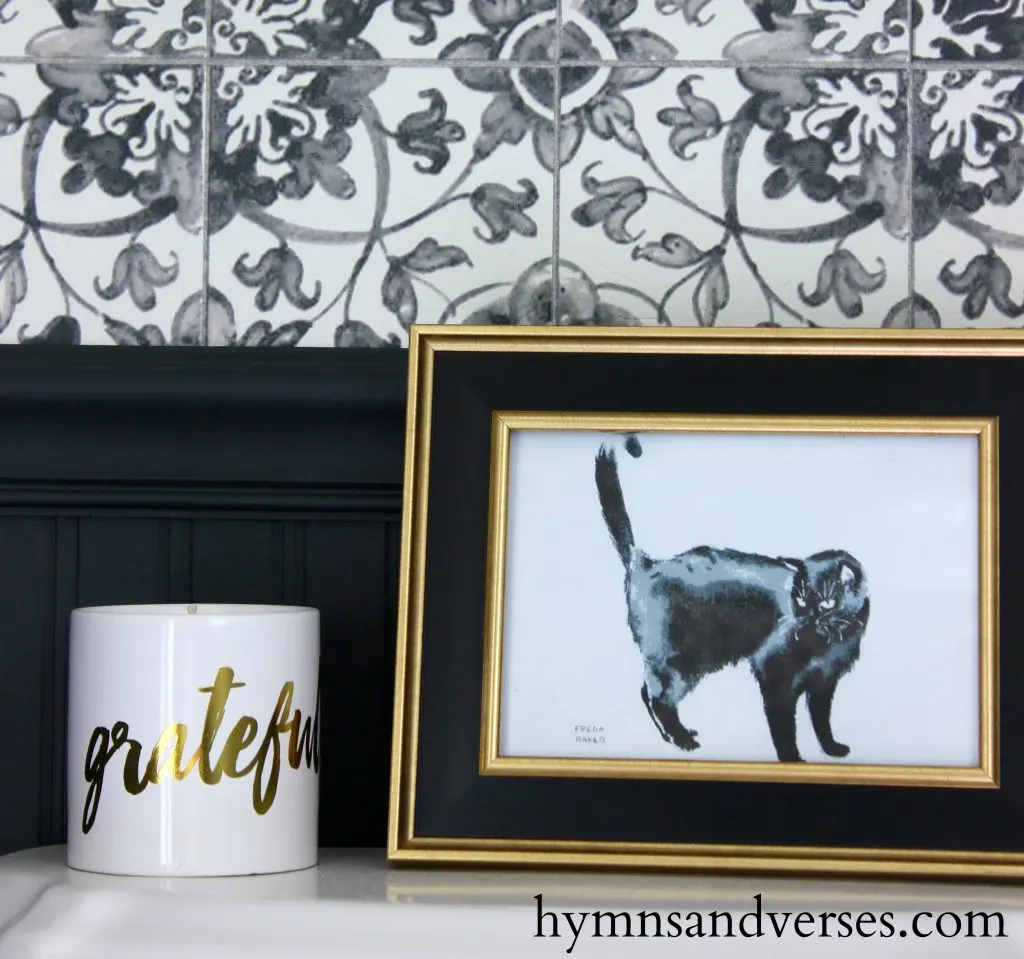 The pretty Grateful candle with gold script is also from Target! All of these little accents were inexpensive, but really do add just a hint of autumn warmth to this black and white space! You don't have to go all out when you decorate a bathroom or powder room. Keep it subtle with just a few seasonal touches! If you missed my full powder room reveal with a source list, you can see that post HERE.
Sharing today at: