I was in my local Target the other day and spotted a few new Hearth and Hand items that I really loved! When I got home, I decided to see what was new in the Hearth and Hand collection online and found more items that I want to get for Fall and Thanksgiving! As time has gone by in my home decor/blogging journey, I've become much more choosy when I purchase anything for my home. I want to get things that I actually use and use more than one time! I'm sure you wonder, "where does she keep all of this stuff"! Well, that's becoming a problem!!! So, I have become more intentional with my purchases.
Before I buy something I ask myself a few questions:
Will I use this in my everyday life?
Is this something I will still like next year?
Do I have a place to store this?
If the answer is no to any of these questions, it doesn't go into my cart! I just don't have room in my modest home to store everything that I might want in the moment and usually those things aren't things that I need! So, with those questions in mind, here are some items from the Magnolia Hearth and Hand line for fall that I really do love and will probably purchase for my home!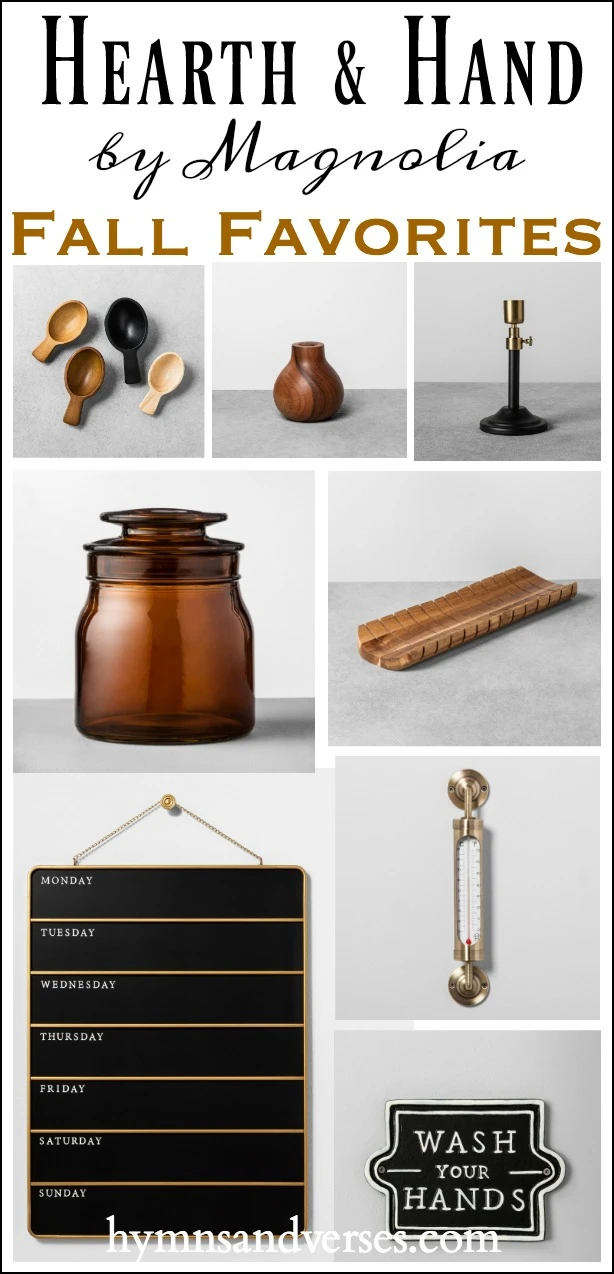 *This post contains affiliate links for your shopping convenience. Please see my full disclosure statement HERE.
Hearth and Hand Kitchen and Dining
Measuring Spoons – Something we all use and I really like the style of this set! Prettier than plastic or your basic metal set!
Placemat – I like having pretty sets of placemats for everyday! I love this style that is perfect for any decor!
Live Edge Cutting Board – Cutting boards wear out and I like this live edge style!
Glass Sugar Container – Something I need and I like the simple utilitarian style of this one!
Glass Creamer – Same goes for this creamer!
Set of 4 Wood Scoops – I have been looking for small scoops for my glass flour, sugar, and oats canisters! These are perfect!
Wood Bread Board – I love the cutting guides for this bread serving board! Practical and beautiful!
Wood Mini (Salt) Bowls – I think set of small wood bowls is versatile and the different wood colors makes this set unique!
Salt & Pepper – I purchased this salt and pepper set last fall when the Hearth and Hand line for Target launched and I still love it!
Red and White Dish Towel Set – I'm thinking about going back to red and white decor for winter and I love the red and white buffalo check and ticking of this set!
Set of 4 Gingham Napkins – I have two sets of these napkins! They are perfect for my dining room!
Set of 4 Striped Napkins – I also like this set of napkins and will probably get them as well, because I do like to have a variety of cloth napkins!
Hearth and Hand Home Bathroom
Library Single Hook – I'm doing a bathroom refresh next month and I really like these hooks for hanging towels, robe, etc.
Ready to Flush Wall Plaque – My little boys aren't so little anymore, but this would have been great when they were little!!! A nice reminder that looks good too!
Wash your Hands Wall Plaque – Same as above! Just a pretty reminder!
Amber Glass Canisters – I am loving the vintage look of these amber glass canisters! I am getting these to store qtips, cotton balls, etc. in my bathroom!
Wire Bins – Part of my bathroom refresh is going to be organization – under the counter and in the linen closet. I really like these wire bins because you can see the contents!
Orange Amber Hand Soap & Lotion – This may be considered frivolous, but I really like that this soap and lotion matches the amber canisters!
Vanity Mirror – This is something on my list to buy. I need a makeup mirror and love the look of this one!
Hearth and Hand Decor
Adjustable Candle Holders – These candle holders come in two sizes are adjustable, and I love the black and brass!
Small Wood Vase – This vase is teeny tiny, but that's why I love it! It is large enough to be noticeable, but the size makes storing easy!
Faux Cedar Stem – I love real cedar branches for fall and winter decorating. These faux stems look good and last year to year!
Brass Wall Mounted Thermometer – I've had this on my wish list for a while for my screen porch!
Hearth and Hand Office
Desk Utensil Organizer – I have this in my office and love it for holding pens, pencils, markers, the scissors and stapler shown.
Tape Dispenser – I have this dispenser in my office and love it! It is functional and looks nice on my desk!
Scissors – These scissors are heavy and well made. I really like the large handle too!
Stapler – Another utilitarian piece that looks good! I have this one too!
Document Box – I really need a box like this to hold my dad's important documents that I still have, as well as business paperwork. This is on my list to buy!
Chalkboard Wall Calendar – A large weekly wall calendar is another item that's been on my "to buy" list! And, this one would look so perfect in my office! Yes, it's pretty pricey, but I saw it in store and it looks good and feels sturdy!
So I hope you liked seeing my picks from the Hearth and Hand line! Every single item is either something I already have or something on my list to buy! And, most are items that are very affordable! I have to be honest and say that I don't love every item in the Hearth and Hand line and am always selective in the items I purchase! Some things I feel are priced too high, while others I feel are very affordable! So, as with anything, buy what you love and will use in your own home!
And if you haven't yet read Chip and JoAnna's books, they are both so good and inspiring! I highly recommend them! And, I love the cookbook!
I hope you have an amazing weekend! I'm going to be busy doing projects around the house and my current plan for next week is to share my porches all dressed up for fall and my office! I had planned to share my office today, but something came up last minute, so I've pushed it to next week! Thanks for all of your sweet comments on my cozy fall bedroom that I shared earlier this week! If you missed it, you can see it HERE!
Read about my trip to Magnolia Market in Waco, TX in these posts!
Visiting the Silos at Magnolia Market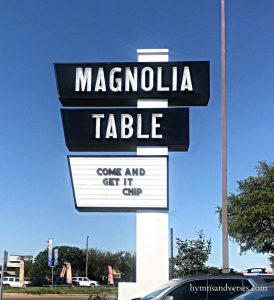 Eating at Magnolia Table
What to see in Waco, Texas
I've been sharing more and more over on instagram and would love it if you'd come over and follow me there!