Fall is officially on it's way! With the changing of seasons, comes a different way of decorating! The cooler temperatures and shorter days trigger a change in how I want my home to feel. For the cooler months, I want my home to be cozy! And, I especially want a cozy bedroom for fall! Warm, comfortable and snug! That's how I want my bedroom to feel for fall and winter! "Snug as a bug in a rug". So, how do we make a room cozy? I think there are some elements that are easy to add to any space that can bring out the cozy factor!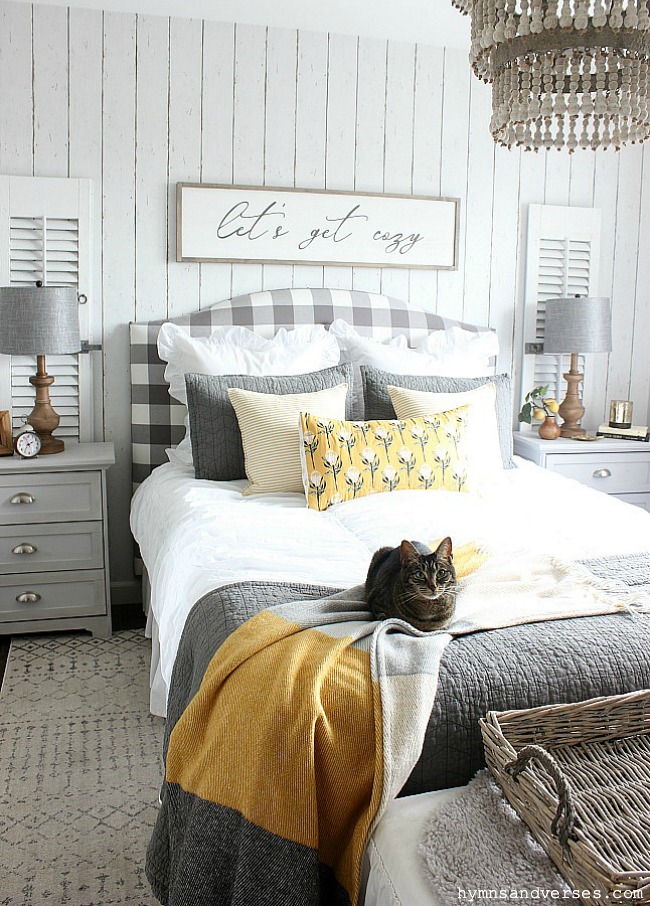 blankets
For my bedroom, I wanted to add in some accents of mustard yellow to the existing gray and white. First, I found this amazing color blocked throw at HomeGoods with all three colors! It has a pretty fringe on the ends and the price was right at under $20! I love to shop at HomeGoods, TJ Maxx and Marshall's because you can find great decor items at excellent prices! I like to have a throw at the end of my bed in case I head to this cozy spot during the day to read. Sadie loves to be cozy in our bedroom and especially loves to sleep on whatever throw blanket is on the bed!
pillows
I think pillows make any space feel more cozy! But, I don't like to add to my already huge collection of pillows. So, I try to only purchase pillow covers or, better yet, make my own pillow covers. Once, I had the blanket in my cart, I browsed the pillow selection, but didn't see anything I liked. Then, I went to my favorite aisle in these stores, the table linens! I've shared before how I love to use table linen fabrics to make pillow covers, and I found a set of gold and white ticking napkins that were 20″ x 20″ – the perfect size for an accent pillow! The set of 6 cotton napkins was just $4.99! Now, you really can't beat that for two pillows (and I could have made 3)! I have so many down and feather pillow forms, so making a pillow cover is a no brainer for me and it couldn't be easier!
Now that I had two subtle accent pillows with gold and white ticking, I knew I wanted a more bold patterned lumbar pillow to add to the bed. I didn't see anything more at HomeGoods, so I headed over to Target. I found this pretty gold quilted pillow sham on clearance for $13.99! To make it fit my lumbar pillow form, I just turned it inside out and sewed new seams with my sewing machine. Then, cut away the excess. Sew simple!!!

lighting
Another element of cozy is lighting. I prefer to have dimmers on my overhead lighting, especially in the bedroom. And, it's nice to have some accent lighting with either a lamp or wall sconce for reading at night.

Natural Elements
On our dresser, I brought in some more mustard yellow with these pretty branches I found at Michael's . . .

and this faux golden pear branch from Pottery Barn. And, I also added a few white pumpkins – the larger one is faux and the smaller is real!!!

I used the pretty pears branches in two spots in the bedroom and that golden color really pops!

I also brought some warmer wood tones into the room. Warmer wood accents are coming back and replacing the cooler gray wood tones that we've seen so much over the past few years! And, I have to say that I'm loving these warmer wood tones!

So, that's my cozy bedroom for fall! I hope I've given you a few ideas to make your own cozy bedroom for fall!!!