Happy Friday! Today I'm here to introduce something new here at Hymns and Verses. It's a Feature Friday offering from me and some of my blogging friends – Home and Decor Encore.
At this new Feature Friday offering, we will share some posts from our blog archives. We are going back and updating these posts with new photos and fresh content! We've all been blogging for quite a few years and have content that many of our readers have never seen! In these older posts we shared great ideas, but we've come a long way in the way we write and our photography skills have definitely improved over the years.
So, we are going to update these posts and bring them back to share with you! Today, I want to introduce you to the amazing group of ladies who will be sharing each week! I know you are going to love each of these talented ladies!
The Home and Decor Encore
To visit each of these ladies, just click on their name and blog heading below!
As you can see in the above photo, Lori knows how to DIY! She built everything shown in that photo! And, she is an amazing teacher! On her blog, The Stonybrook House, she shares detailed tutorials for DIY home updates and furniture builds! Lori takes the fear out of doing a project yourself. She even hosts classes in her home where she teaches local women how to use power tools and make a take home project! If you don't already follow Lori, I know you are going to love seeing her weekly posts! Lori is also a fellow PA blogger that I recently reconnected with, and we have been having the best time working together on this new Feature Friday project!
You may recognise Laura from the monthly Cozy Living posts that I share here each month! And, Laura and I have been sharing in the same seasonal home tour group for a few years! Laura's lives in the Kentucky countryside, and I love seeing the latest happenings at Duke Manor Farm! From the animals, gorgeous landscapes, and home decor projects – you are gonna just love seeing more of Duke Manor Farm each week!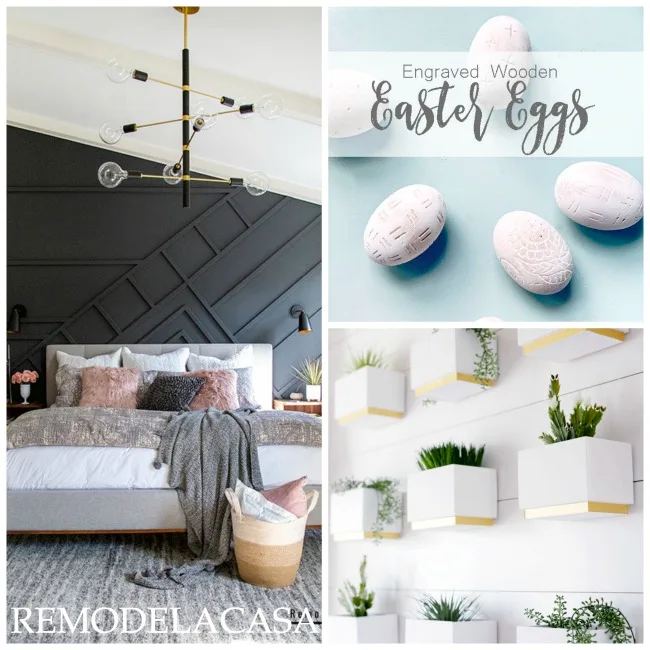 Like Laura, Christine and I have been in the same home tour group for some time! And, like Lori, Christine is another amazing DIY blogger! On Remodelacasa, Christine shares full room makeovers, diy projects, smaller craft projects and gorgeous seasonal home decor! I'm totally obsessed with her bedroom seen in the photo below! I know I can't wait to see what Christine will share each week for our Feature Friday Home and Decor Encore!
Kristi of Making it in the Mountains is our Canadian blogging friend! She lives in northern Alberta and shares renovations to her lovely home! You may recognise Kristi since she also shares in the monthly Cozy Living group. You can see a sampling of Kristi's romantic style in the photos above! In addition to home decor, Kristi also shares DIY projects, recipes, and more. I'm so looking forward to seeing more from Kristi in the weeks to come!
I hope you are going to love this new Friday feature! We're all looking forward to sharing our first Home and Decor Encore posts next week! See you then!