Happy Monday! It's been a wonderfully cool and breezy day here in Pennsylvania! It feels like fall! Last week I shared my fall home tour. Here's another look at my living room. On either side of my fall mantel are wall charts using a feather printable. I put these wall charts together in under an hour.
Here's what you need to make these feather wall charts:
1 x 1″ wood cut to the size of your posters
First, have each feather printable enlarged as 18 x 24″ color poster print at your local Office Depot. My prints are typically ready for pick up the same day.
Next, stain your 1 x 1″ wood pieces. I used
Thompson's spray stain in Traditional Brown
. I like to use this spray stain for small projects like this because it's so convenient. You just spray it on and wipe it down.
Apply hot glue to each piece of wood and attach it evenly along the top and bottom edges of each poster print.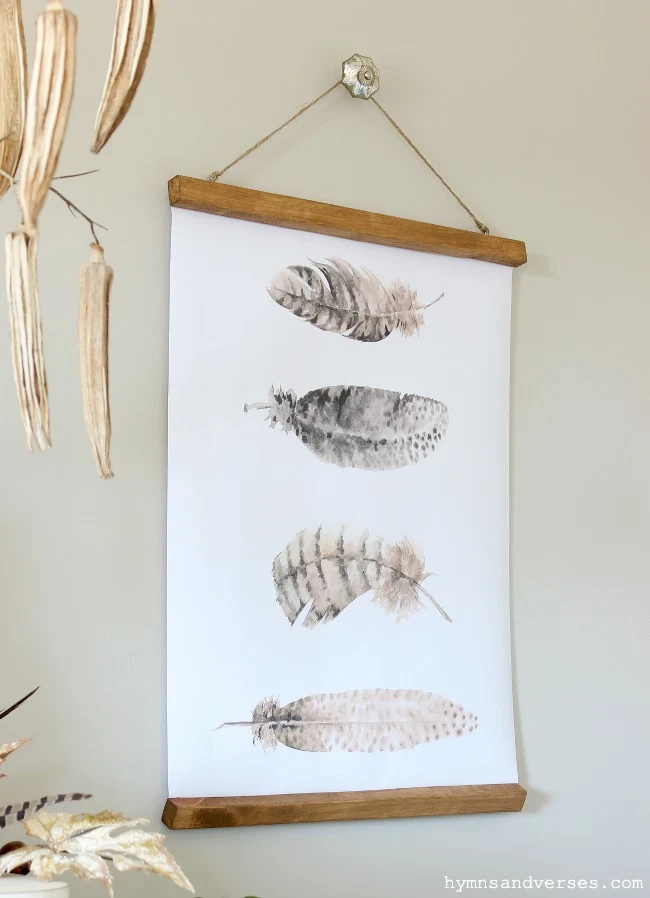 Screw two eye screws into the top pieces of wood about 1 1/2 inches from each side. Make a twine hanger by tying twine to each eye screw and hang! Wasn't that easy!!! I hung mine from mercury glass drawer knobs that I picked up at TJ Maxx.
These wall charts are an easy and inexpensive way to bring art into your fall home! The feather printable pages are available in my FREE Printable Library! Thanks for stopping by today! I'd love to hear if you've used these feather prints in your own home!
And, here are a few more fall printables for your home that you may want to check out!
Abundance Fall Word Art Printable
Great is Thy Faithfulness Printable
We Gather Together Fall Printable