Happy Mother's Day! My gift to you today is some gorgeous and Free vintage art that features mothers! These beautiful pieces of art are all in the public domain, meaning they are free to download and print.
As I was curating this collection, there were so many pieces of art that I wanted to include, but wanted to keep the size reasonable! Maybe next Mother's Day I'll do another collection like this!
I've added all of the art to my Free Printable Library. And, I've kept the collection together in one PDF file. So, when you download the entire file, you will get all 11 of these images. Then you can choose which you want to have printed. Also, I kept all of the sizes in a large format. Meaning, they can be printed in a larger size without losing resolution. And, you can see how to resize public domain art to fit any frame in this post.
Free Vintage Art Featuring Mothers Collage #1
Now, I'd like to share a bit about why I chose the pieces in the collage shown above. The first image in the upper left hand corner of the mother holding a baby is probably my very favorite. It's titled Mother and Child by American artist, Gary Melchers (c. 1906).
The next image of a mother watching her baby is called The Cradle by French artist, Berthe Morisot (1841 – 1895) This one spoke to me because it brought back memories of watching my own newborns sleep.
In the middle row, the first image is a mother holding her little child playing the piano. I have a photo of myself with my firstborn playing the piano and that makes this piece of art special to me. It's titled At the Piano by Swedish artist, Mina Carlson-Bredberg (c. 1890)
The next image in the middle row is a mother entertaining her baby with a fan! I love everything about this piece, even the caned sofa! It's titled Master Baby by English artist, William Quiller Orchardson (1832-1910).
The photo on the bottom left is so sweet. It reminded me of when my little boys would bring me flowers, usually dandelions, when they were little. It's called Marjorie and Little Edmund by American artist, Edmund Charles Tarbell (c. 1928).
And, the bottom left photo is another of mother watching over her sleeping child. This piece reminded me of all the times I sat and watched over my kids when they were sick. It's titled Mother at Her Child's Bed by Norwegian artist, Christian Krogh (c. 1884)
Collage #2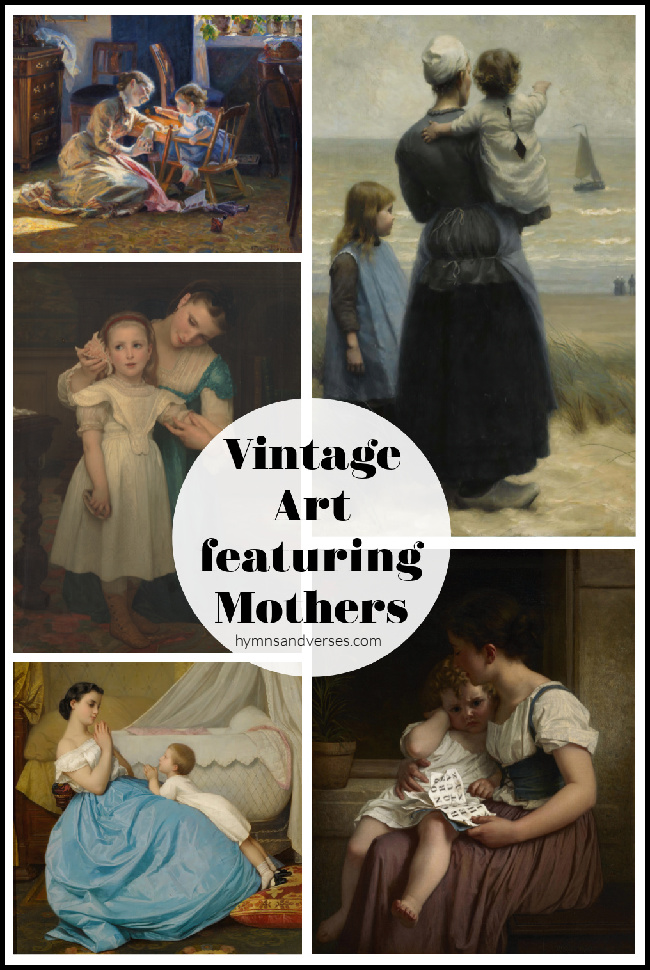 The first piece of art in this collage features a mother playing with her little girl. This one reminded me of my daughter-in-law, Sarah, and her daughter, Daphne, my granddaughter. It's by Danish artist, Viggo Pedersen and is titled Sunshine in the Living Room (c. 1888).
On the top right is titled Looking out to Sea by American artist, William Edward Norton (c. 1888). I just love this piece. Maybe because of the American subject matter, maybe because the subject is likely on a coast here in the Northeast, and possibly because it made me think about how brave and strong women had (and have) to be when their husbands work at sea.
The piece in the left middle row features a mother holding a conch shell to her daughter's ear. It brought back memories of being at the beach as a child and listening for the ocean sounds in a conch shell. It's titled Indoors by French artist, William Adolph-Bouguereau (1840-1905).
On the bottom right is a piece that, to me, looks like a son negotiating with his mother! I've seen that angelic, pleading look many times from my boys! It's titled La Priere (The Prayer) by French artist, Auguste Toulmouche (c.1858).
Finally, on the bottom right is a piece titled, The First Thorns of Knowledge by French artist, Hugues Merle (c. 1864). I love the little frustrated look on that curly headed boy!
I hope you enjoy this Mother's Day collection of vintage art! It was so fun for me to put it together for you and I'll be using one or more pieces in my own home soon!