Today's the day – the day I get to debut my French Country front porch! It was all inspired by a sad French chair that no one wanted at the local auction! The chair was dirty and worn, tattered and torn – from year's of use. Even tho she had seen better days, I decided to bring her home. You can see how I made the chair into a French country planter overflowing with glorious petunias
HERE
.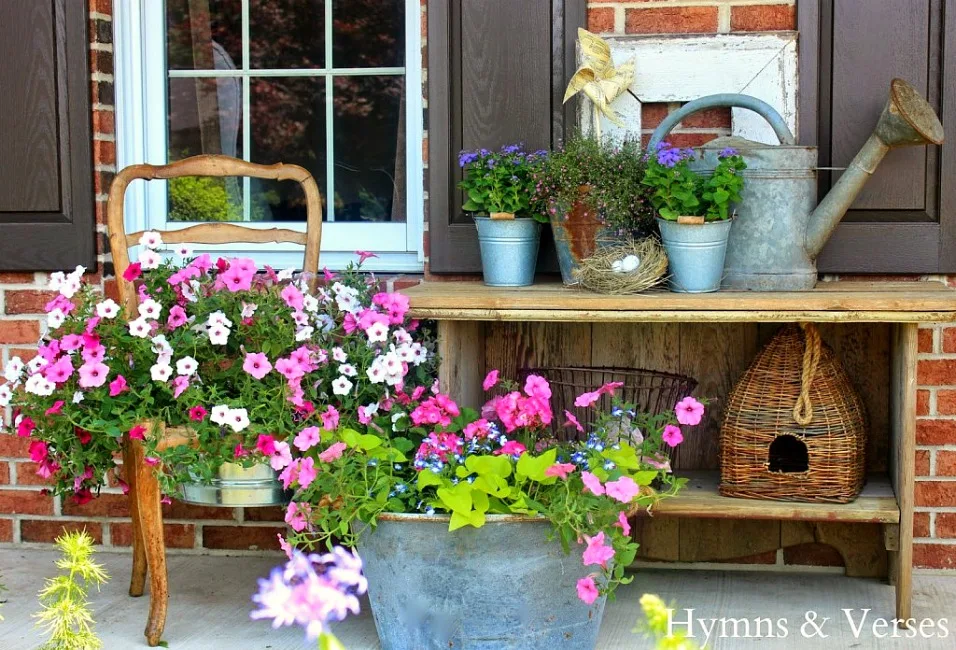 I found the vintage look oval tin tub at HomeGoods and added potting soil and complimentary plants from the garden center to add to my French country vignette. I love the contrast of the lime green potato vine with the bright pink flowers!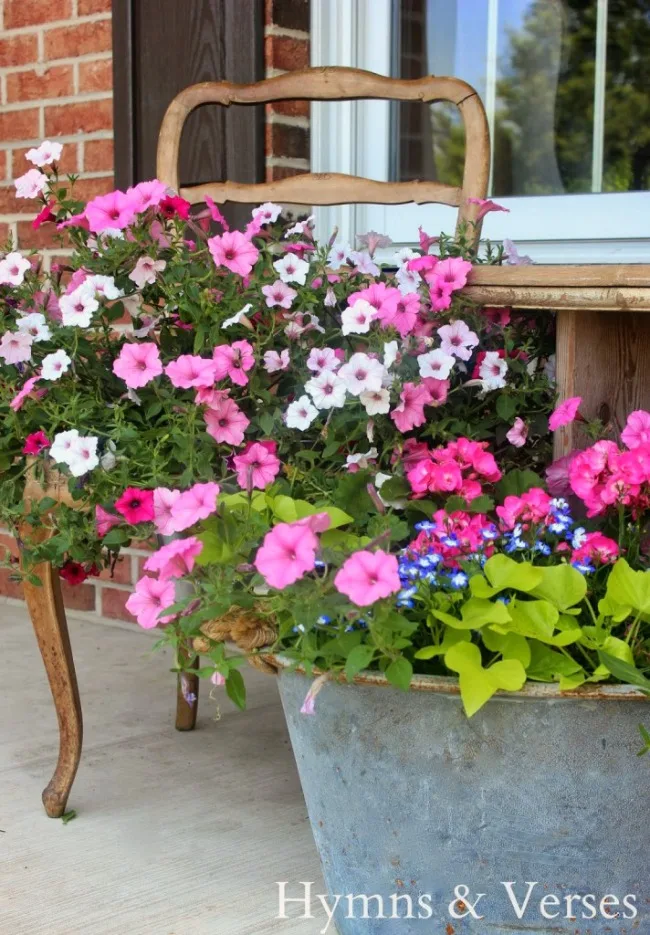 Easy to grow pink wave petunias will continue to fill in and tumble out of the tin, as will the potato vine.
The beautiful chair was joined by a match made in
heaven
– or at a junk stand by the side of the road. The French country style half table . . . half potting bench . . . not sure what to call it, was found in two separate pieces. The half tabletop with those gorgeous French curves was laying on the ground and the base frame was nearby. Put together, they look like a small French country style potting bench. I got the tabletop for free and the base was $20.
French Country Accessories
Apart these two pieces were worthless, but together they became the perfect piece to go with the French country chair.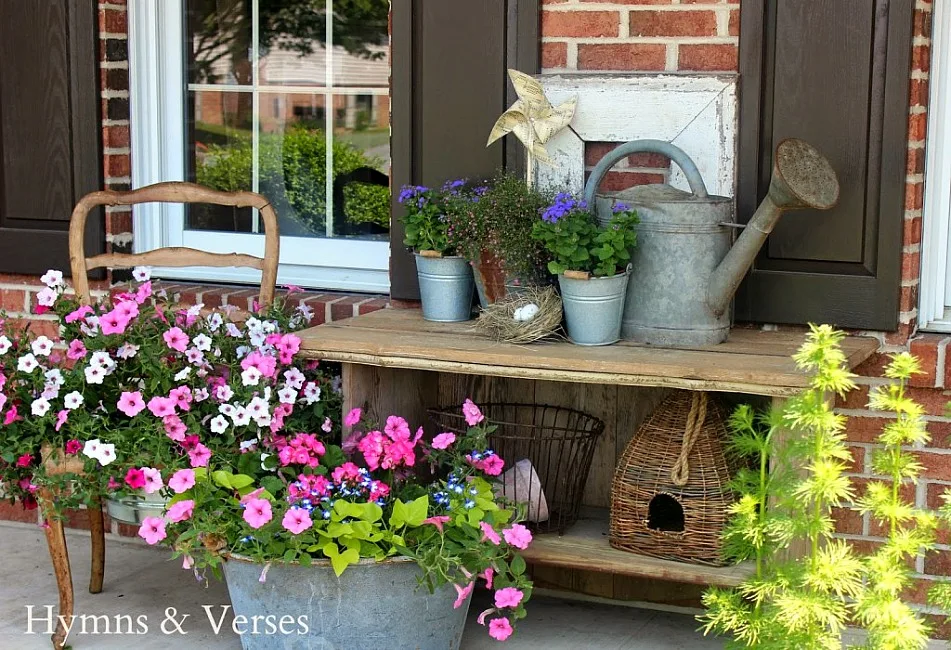 I made a few trips to my potting shed to pull out some accessories to add to the vignette – a vintage watering can I found at a local antique shop, small tin buckets filled with more greenhouse flowers, a chippy barn wood frame, and a bird nest. On the lower shelf is a beeskep and a vintage egg basket from the farm where I grew up filled with clay pots.
DIY Pinwheel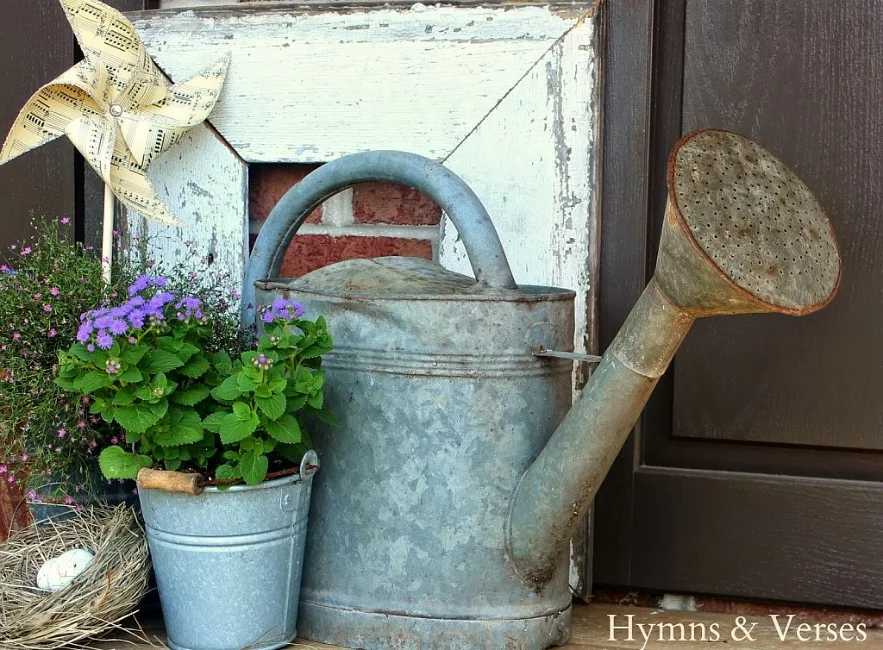 I also made a pinwheel out of sheet music to tuck into one of the tin bucket planters. If you'd like to make your own vintage sheet music pinwheel, you can find the tutorial and pinwheel template
HERE
. If you like it – Pin it! Thanks!!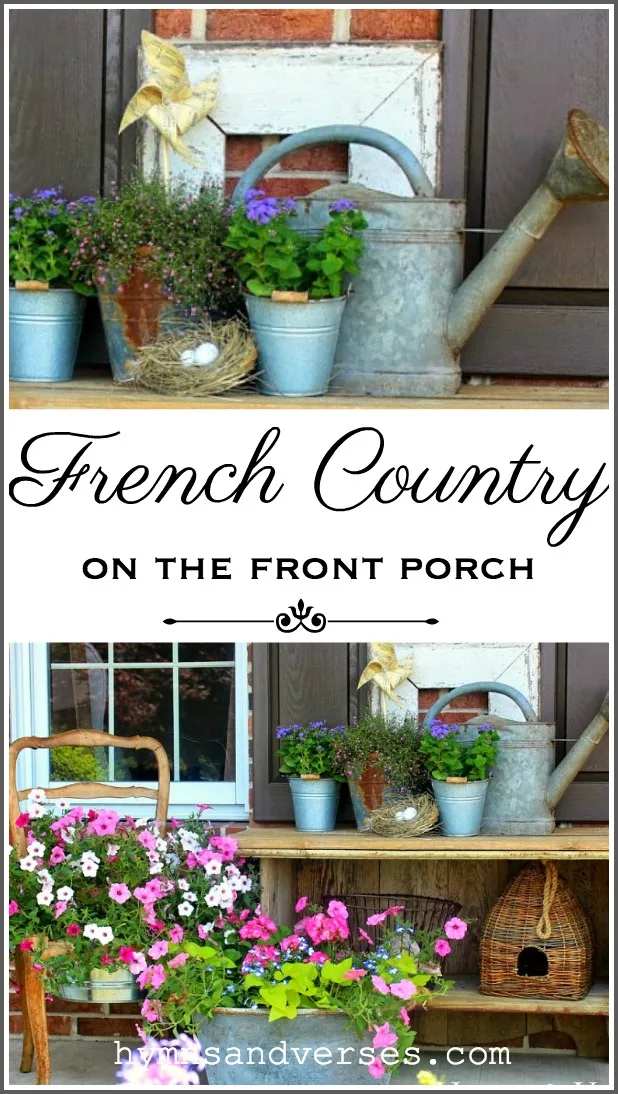 So is your home "summer ready" or are you looking for more inspiration? Here are a few of my favorite summer posts!