Today I'm going to show you the products I used to paint the French nightstand I found at a local auction!  This easy silver metallic paint technique gave me the shimmery silver finish I was hoping for!
I found this French nightstand at a local auction and thought it would be a perfect piece to makeover for our master bedroom.  Sorry for the poor before picture – it was taken with my iPhone at the auction.  This piece was sticky and icky, but I knew it could be made beautiful with a little paint.  I envisioned this piece with a lustrous silver metallic finish and was determined to make it happen.
As you can see – this piece of furniture was in desperate need of a makeover!  Whenever you buy a used piece of furniture, the first thing that must be done is clean, clean, and then clean some more!  This little nightstand was pretty disgusting.  There were papers and receipts from it's prior owner in the drawers!  Put on some gloves and clean the entire thing – inside and out first with a vacuum and then with a good cleaner.  Once it's clean, remove the hardware and remove the drawers.
Because I didn't use a chalk paint on this piece, I had to first apply a primer.  I used BIN primer that I had tinted gray at the paint store.  If you didn't know that you can have primer tinted, it's a good tip to know.  One coat of primer is all you need.  The primer will dry in approximately one hour.
Here is the paint that I used for this nightstand – Modern Masters Metallic Paint.   This was my first time using this paint and I was thrilled with the results!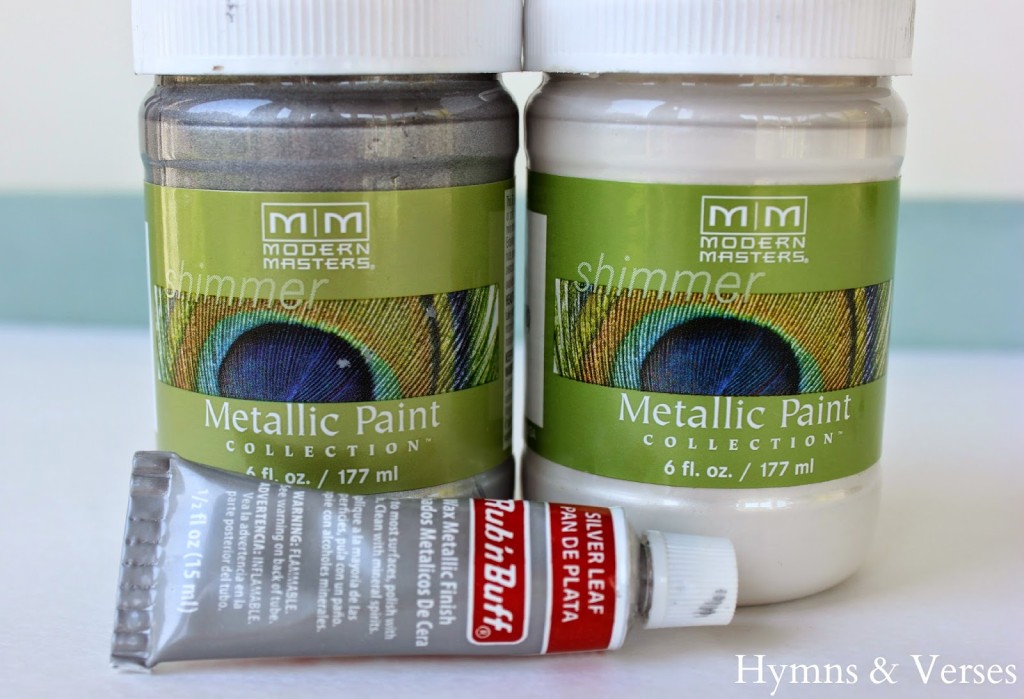 The Modern Master's Metallic Paint is amazing.  I purchased two six oz. jars and used less than half for this project!   I used about 1/2 the jar of the Snowflake and just a little of the Silver and had quite a bit left over!  A little really goes a long way.  The Modern Masters paint colors are labeled "opaque" or "semi-opaque".  The Silver color is an opaque and the Snowflake (a shimmery white) is a semi-opaque.  I mixed these two colors together to get the silver finish I hoped for!   It's an 80% Snowflake to 20% Silver mix.
I originally thought I would need to use a foam roller to get a smooth finish.  But,  when I applied a quick pass with the paint brush, I was amazed at how smooth this paint was.  I've never used a paint product with such a creamy texture that lays down so smoothly.  I ended up using the paint brush for the entire piece.  It did take two coats, but the paint dries pretty quickly – so it didn't take too long.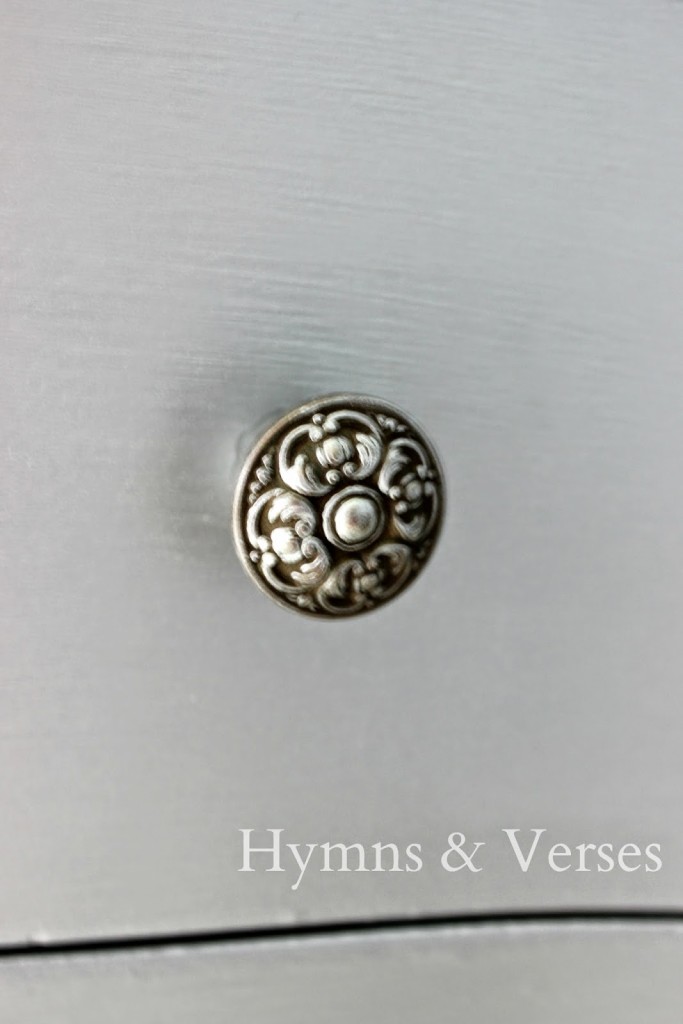 While I was waiting for the paint to dry, I worked on the drawer knobs.  They were a dark bronze color.  I used a teeny, tiny bit of Silver Leaf Rub 'n Buff on my finger and lightly rubbed it over the high points in the knob design.  If you've never used Rub 'n Buff, be sure to practice on a piece.  You only need such a small amount to get coverage with this product.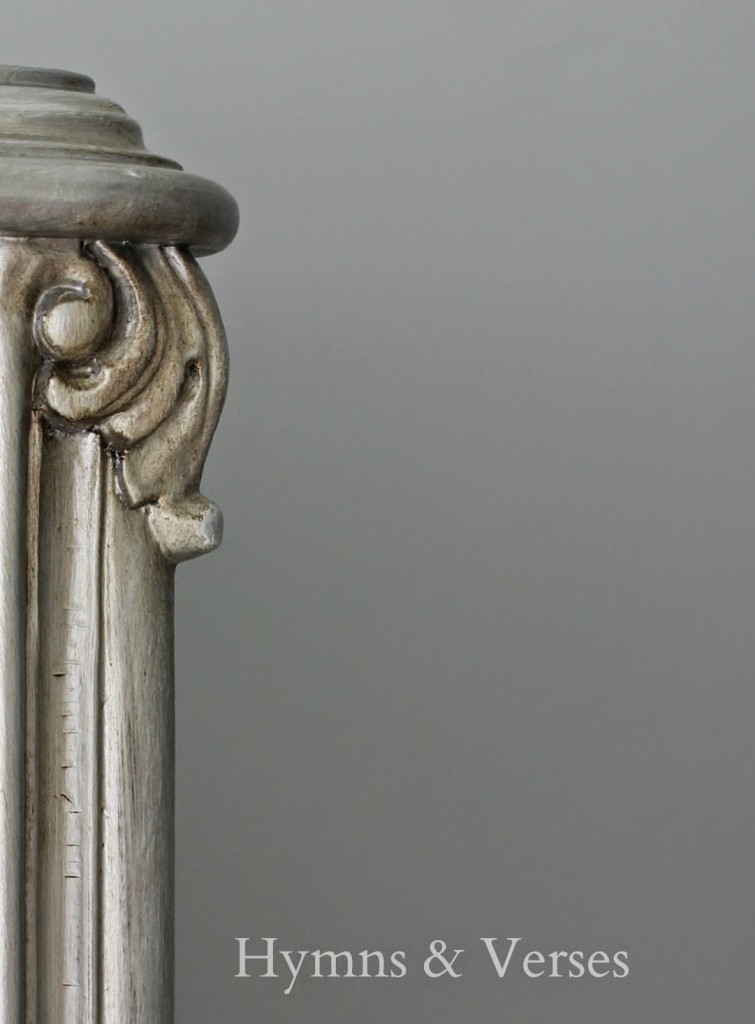 To highlight the pretty details on this piece, I used Annie Sloan dark wax, which I had on hand.  Any dark wax would work.  I used a stiff brush and very lightly went over the areas applying wax until I had the look I wanted.  I had a scrap of fabric that I used to rub it back in areas where I applied too much.  Again, it's best to use just a little of the dark wax and then build to where you have the look you want.  Dark wax goes a long way and if you get too much, it's hard to correct.  If you've never used dark wax, I would definitely practice on something else before using it on a piece of furniture.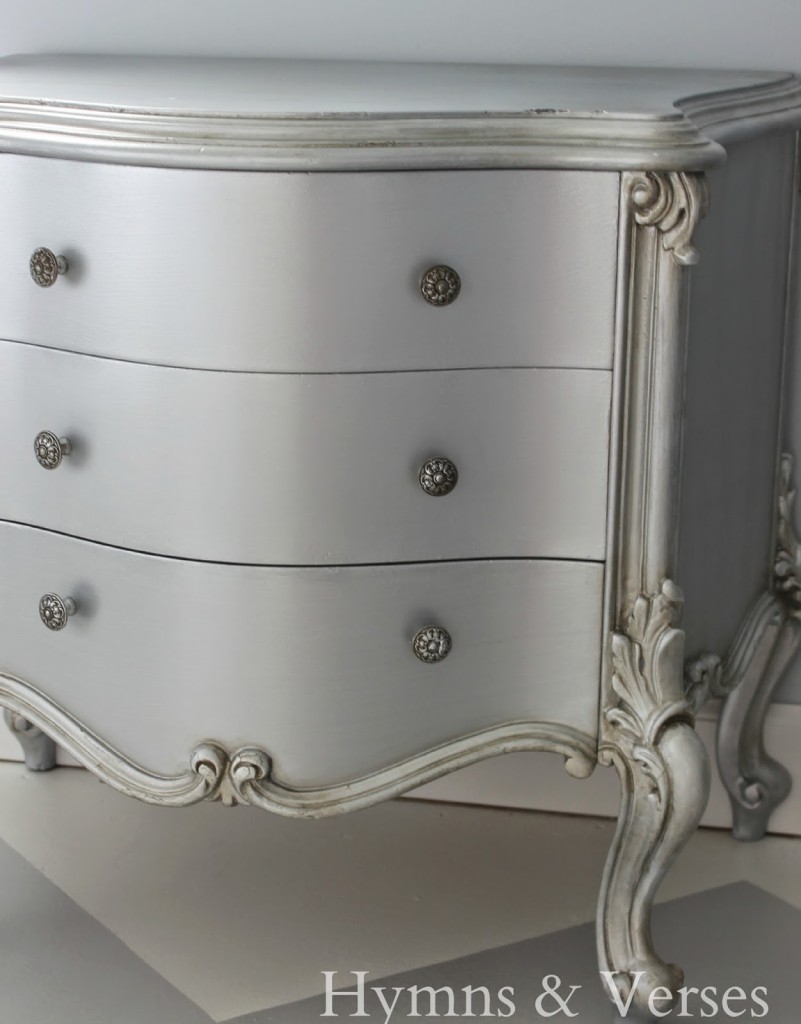 After a few days, I finished the piece with a water based poly in a satin finish.    I hope my French nightstand after shot gets a Wow – Ahhhh mazing! reaction!
If you like this metallic paint post, you might also like these furniture makeovers!