Happy Saturday and Happy June! Today I'm joining my Cozy Living blogging friends to share some inspiration for the month of June. When we think of cozy, it's easy to conjure images of snuggling under a warm blanket near a blazing fire in the cold winter months. But, a cozy environment is something we should aspire for our homes all year round. In the summer we definitely spend more time outdoors working on our landscape, having cookouts, swimming (if you are lucky enough to have a pool), etc. So, why not create a space outdoors to just relax and be cozy! When I think about the idea of being cozy and relaxing in the summer months, I immediately think of a hammock!
*This post contains some affiliate shopping links. Please see my full disclosure statement HERE.
Create a Cozy Outdoor Retreat with a Hammock
A hammock is a relatively inexpensive thing to add to your outdoor living space, and you just can't beat the feeling of laying in a hammock and looking up into the trees and sky. At night you can star gaze or watch the lightening bugs fly by! During the day, you can take a nap in the shade! What could be better? When I'm working outdoors, it's so nice to take a little break every now and then to sway in the hammock.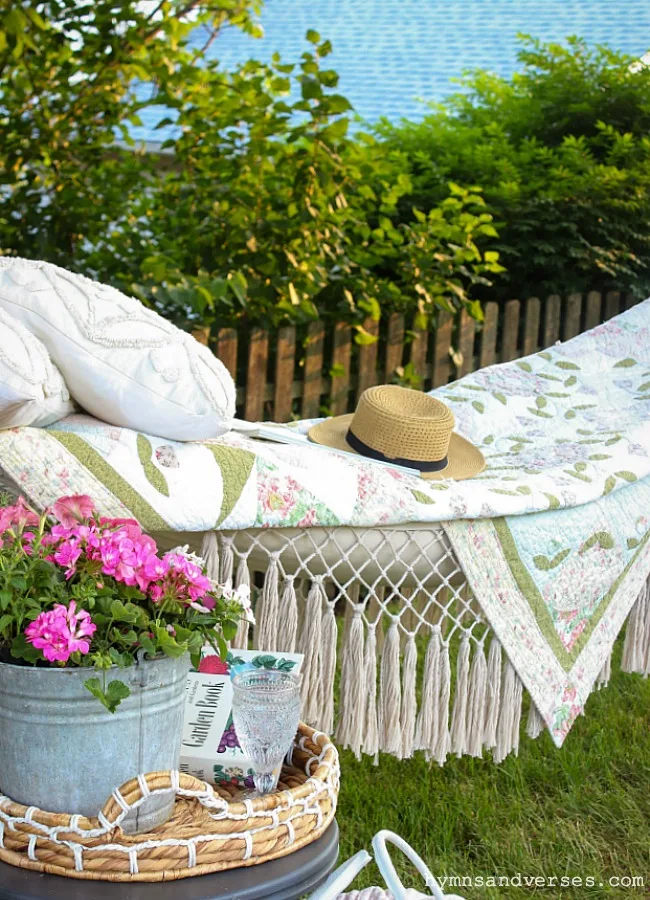 We've had a hammock between these two trees before. It was a more traditional, rope style and it was getting worn out after many years of use. So, this year I decided it was time for a new hammock, and I found THIS ONE with the macrame fringe details! This style of hammock wraps around you like a cocoon when you are in it, which I think makes it even more cozy!
We hung some inexpensive solar powered string lights above the hammock in the trees! And, I found these lanterns at HomeGoods last spring. I added some battery powered candles with timers and used THESE hooks to hang them from the tree branches. If you don't have trees to hang a hammock, you could always use a hammock stand.
For the photos, I just borrowed some pillows from my living room and the quilt from our bed. I obviously won't be leaving those outdoors in the elements! They are just there for a pretty picture and to provide some inspiration! I hope you'll think about creating a little space outdoors to be cozy and relax this summer! And, don't forget to check out the cozy living posts from my friends! The links are below!
Finding Silver Pennies |†Vinyet Etc. | Creative Cain Cabin
†
Hymns & Verses | Sincerely Marie Designs | Town & Country Living
You might also like these posts: