Happy Memorial Day weekend! For many of us, Memorial Day is considered the beginning of summer! And, it's the first of three patriotic summer holidays here in the US. Of course, the most celebrated is the Fourth of July, but as far as decorating, you begin to see the red, white and blue decor in the stores before Memorial Day! I was out at a few stores yesterday and picked up some adorable red, white, and blue items for these summer holidays and thought I'd share what I found, so you can take advantage of these great pieces before they are gone!
*This post contains some affiliate links for your convenience. Please see my full disclosure statement HERE.
You know I love a bargain, so these Target dollar spot items hopped into my cart! If you have a Target nearby, go there soon, because these items never last long! And, think outside the box! The fabrics in these items can be used for their intended purposes, but could also be used to make a fun fabric banner! You can see how I made this No-Sew fabric banner that won't fray HERE.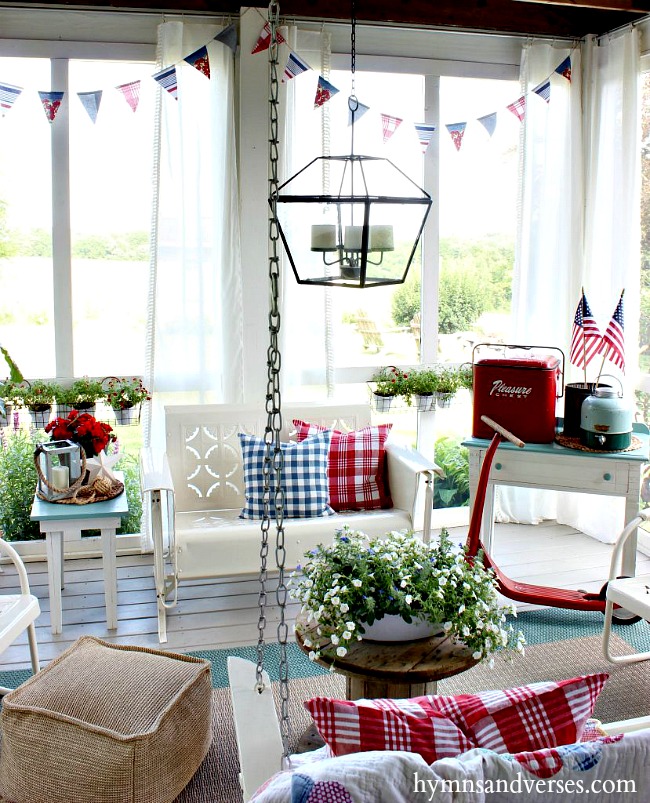 Target Red White and Blue Patriotic Decor
The dark blue runner with white stars and red tassels would make a terrific lumbar pillow! That is what I am going to use it for! Just sew the long ends and one of the short ends, stuff with THIS or use a pillow form, and then hand sew the other short end closed using a whip stitch! If you don't have a sewing machine, grab a needle and thread and whip stitch it together! The napkins shown here from the Target Dollar Spot could also be used for square pillows!
The pillows in the photo below were made using fabric napkins and a tablecloth! You don't have to be a master seamstress to stitch together pillow covers! And, if you really don't want to sew, try using a fabric glue! It's way cheaper than purchasing new pillows for each season!

Christmas Tree Shops Red White and Blue Table Linens
Speaking of tablecloths, here's a really fun one that I found at Christmas Tree Shops. Do you have this store near you? I don't go there often, but I do try to stop in occasionally to see what they've got! I was really impressed by their patriotic red, white, and blue tablecloths. They had several old-fashioned patterns that I was drawn to, but this seersucker plaid was my favorite! This 52″ x 70″ tablecloth was $7.99! And, the adorable patriotic whale placemats, will make another patriotic pillow at my house! They are square and made from a heavy canvas fabric, making them perfect for a summer porch pillow! The whale placemats were just $1 each!

Red White and Blue Target Dollar Spot Tableware
Finally, back at Target, I found these red and white checked melamine plates. They were packaged as 2 for $3. They are a thinner melamine and probably not dishwasher safe, so I'll just hand wash them to be on the safe side. For picnic food, these are much nicer, and I love that red and white gingham! They also had blue plates with tiny white stars that were super cute! The stacking custard cups were also $3 for a set of 2. I loved the stars and stripes words along with the stars and stripes patterns. I got four sets of these and four sets of the plates for my Fourth of July table!

And, these pinwheels are adorable! There were several patterns, but my favorite was the blue and white gingham with the red! You can make your own pinwheels using my template HERE, but at $1 each, why not get these and save them from year to year! I got three pinwheels to add to a centerpiece of flowers! Or, just stick them into you outdoor planters!
Other pieces I like to incorporate into my red, white and blue patriotic decor are flowers, white and red enamelware, red vintage toys – tricycles, scooters, etc. How about using some fun lawn game items as decor – like an inexpensive red, white and blue badminton set or balls! Get creative when you decorate for the summer patriotic holidays! It's more fun than buying ready-made decor that you will just store away in your attic! I hope you were inspired by these thrifty red, white and blue finds! Don't forget to get out soon to grab some for the summer patriotic holidays!

You might also like:
American Flag Wood Quilt Wall Art