If you've followed me for a while, you know that in early June each year I like to pull off a country road to cut some Queen Anne's Lace to bring home for an arrangement! I usually fill my trunk full of this lacy wildflower, or is it a weed? Good question!
*This post contains some affiliate shopping links for your convenience. Please see my full disclosure statement HERE!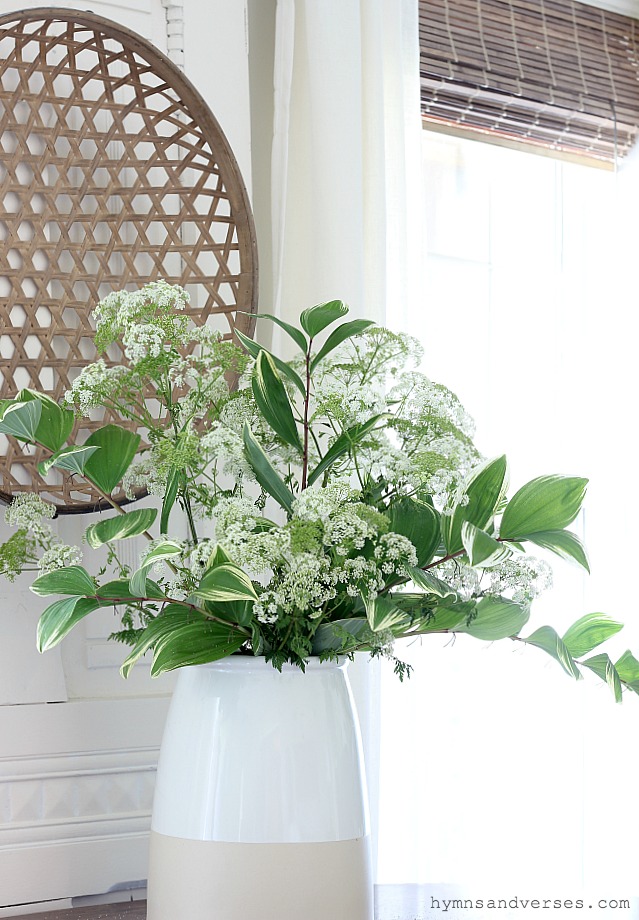 Queen Anne's Lace, Daucus Carota, is also commonly called wild carrot, bird's nest, and bishop's lace. The name seems to be attributed to Queen Anne of Great Britain, lace (which was common at that time), and the tiny red flower in the center is thought to represent a droplet of blood where Queen Anne pricked herself with a needle when she was making the lace. I was interested to read that Queen Anne's Lace was used as a companion plant to other crops. It provides shelter to nearby plants and attracts predatory insects that eat pests like caterpillars. In this case, it was referred to as a "beneficial weed".
The common native Queen Anne's Lace is quite invasive and not something you would want in your own flower garden. But, I did find a cultivar that is a distant relative called Ammi Majus. You can purchase seeds for Ammi Majus, which looks very similar to the wild variety, for your flower garden! It's a little late for this year, but I definitely want to get some of these seeds for next year!
Queen Anne's Lace Products for You and Your Home
For those of you who love Queen Anne's Lace as much as I do, I found some pretty items for you and your home! You can use the links below to shop any of these items! My favorite is the necklace!!!
Fine Art Print by James Christensen
Wall Hanging by Primitives by Kathy
So, based on what I discovered, the common variety that I see along the side of the road, is indeed a weed! But, it's pretty just the same! I will say that it really doesn't smell pretty. That's why I'm planning to purchase some Ammi Majus seeds for my flower garden next year! The arrangement shown above is simply two branches of wild Queen Anne's Lace and some Solomon's Seal branches from my own flower garden!

You might also like these posts:
DIY Flower Food to Keep Blooms Fresh Longer
Easy Tulips and Eggs Centerpiece
How to Make an Angel Vine Topiary