Do you have a room in your home that doesn't get a lot of natural light? These rooms are already "light challenged", but there are ways you can make these spaces appear lighter and brighter. So, here are my tips so you can learn how to brighten up a dark room.
paint the walls and trim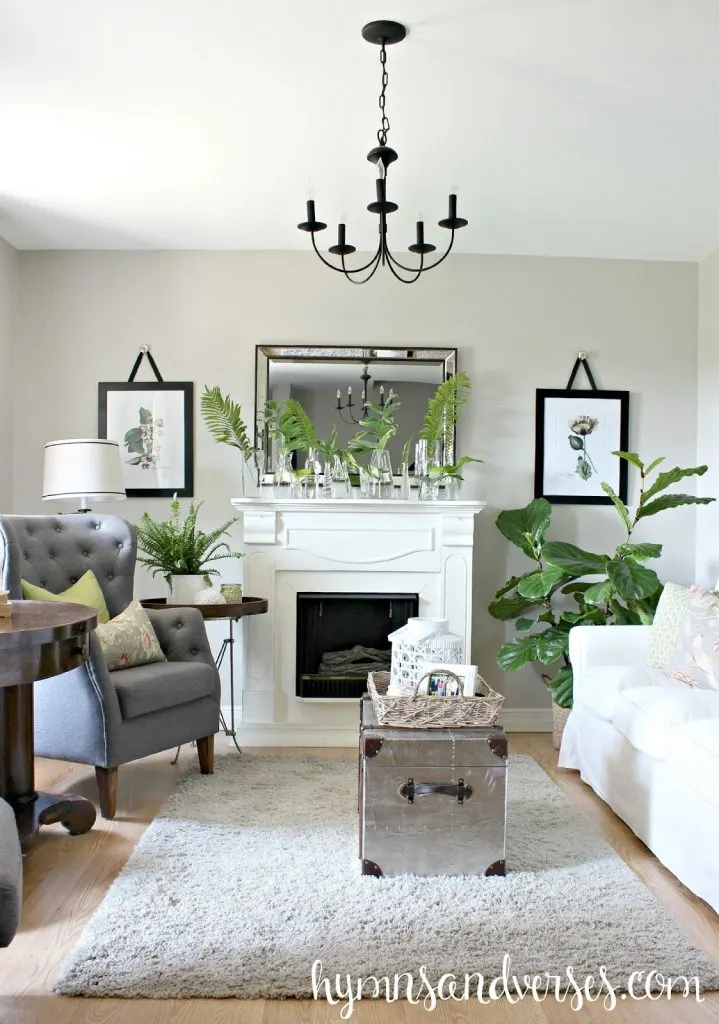 The most obvious way to brighten up a room is with paint! Choose a light paint color for your walls! It's amazing how much brighter your space will look with a lighter shade on the walls and finish it off with bright white trim! Most of the walls in my home are painted with Revere Pewter from Benjamin Moore.
It's a greige shade – looking gray in some lighting and more beige in other lighting. Below is a photo of this same color in my kitchen where it can look a little more beige. I'm not a fan of grays that lean to a blue or green tone, and that's why I love this neutral shade.
Tips for picking a paint color to brighten the room:
1. Stick to lighter shades – this will reflect light and make the room brighter.
2. Pick a neutral shade that is not too warm or cool, like Revere Pewter from Benjamin Moore, so it works with all types of decorating schemes. You could always go with white walls, but a little pop of some kind of color or neutral color on your walls is never a bad idea.
3. Use bright white trim instead of off-white shades to create contrast and make the room appear bigger.
4. Consider going a shade lighter or darker than your original choice – this small change can have a big impact on the overall look of the room.
5. Have fun with accent colors like an energizing yellow, calming blue, or cheerful pink – this will give you a unique look without overpowering the room.
6. Try a sample before committing to a full gallon – this will help you decide if the color really works for you.
7. If you're feeling overwhelmed, enlist the help of an interior designer – they have the knowledge and expertise to make your dream home come alive!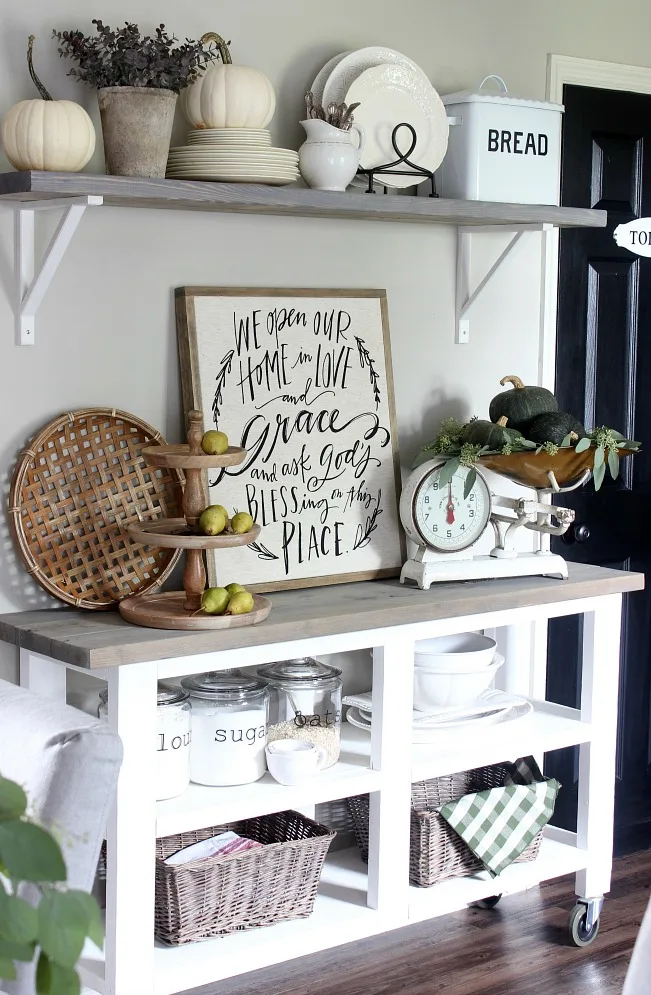 Regardless of the color you choose for your walls, make sure it's light and bright if your room doesn't get a lot of natural light. Test the paint color in multiple areas in each room, because paint can have a different look based on how much light that room gets. Also, look at the paint swatches at different times of day. For the white trim in my home, I use Benjamin Moore Simply White. It's a soft, warm white.
Light Colored Furniture
The next tip to brighten up a dark room is with your furniture. Choose lighter shades of upholstered furniture. When I began my blog, I had a dark green sofa. It was a good quality sofa and I liked the green color, but I really wanted to brighten up my living room. So, I sold that sofa and purchased an affordable option, the Ikea Ektorp sofa with a white slipcover. Here's a look at this space with the darker sofa.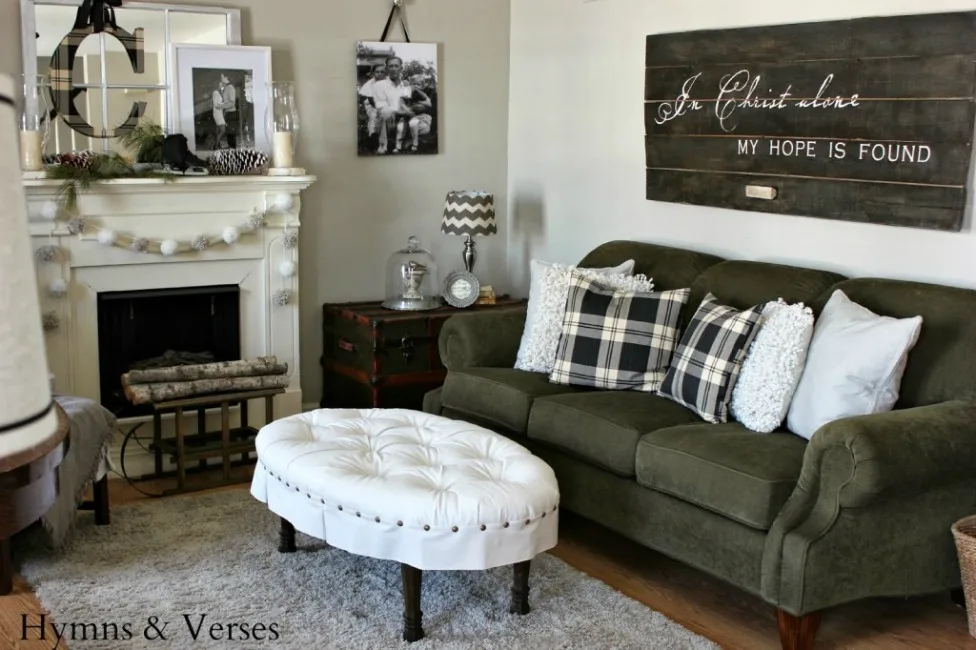 And, here's the same space with the white slipcovered sofa from Ikea.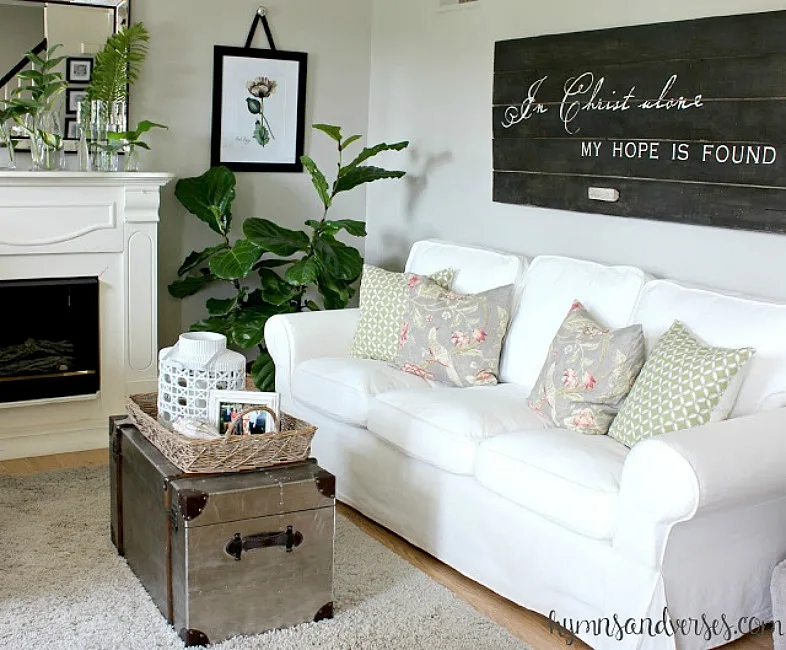 I just love how it brightens up the room! Even my husband, the skeptic, couldn't stop saying how nice it looked and he even said "you were right" more than once!
If you aren't up to selling and buying a new sofa, you can use some dye to change the color of a fabric chair or sofa. This is easier to do with a couch that has lighter colors that you might want to change up to a different pop of color.
Or, for another affordable option, instead of dyeing it, or buying a new one, keep what you have, but just add a slip cover over it. Simple changes make a big difference and change the overall room look.
Keep Accessories Light & Bright
Choose light and bright textiles for your space. Airy white curtains, sheer curtains or airy, light window treatments (maybe just omit the window treatments for small windows if you can, so more of the natural light can come in without being blocked), artwork with white space, and light colored fabrics for your pillows make such an impact in a room!
Paint a Piece of Furniture White
It's also okay to paint a piece of furniture white, or a lighter shade. In my living room, I painted the dark wood faux mantel in Simply White! I didn't want to paint my vintage library table or other wood pieces in my living room, so painting the mantel was an easy choice.
White paint can be your best friend, you can turn so many dark features of a room white, or at least lighter which can bring an airy feel to the room.
Add Flowers and Plants to Brighten a Space
Whether real or faux, adding plants to a space can really brighten up a space! It's one of the easiest ways that can make a huge difference in your room. If you're going to go with faux, make sure you get one that's as realistic as possible!
I chose to get a faux fiddle leaf fig after killing many real ones! It just became too costly to keep buying real plants that only lasted six months! So, in that case, a realistic faux gives me the look I want for the long haul!

ADD MIRRORS TO THE WALLS
Mirrors not only reflect light, but they can also make a room look larger and brighter. Mirros can also create an interesting focal point and open up the room more than anything else that you could have done. Its a great option that not only looks nice, but is a functional piece to add to any room.
Mirrors are great to add to a home office, dining room, bed room, bathroom, and more.
PAINT THE FLOOR WHITE
If you have dark floors or ugly floors, it's never been a better time to paint those bad boys white. This will definitely lighten up the room and make a dark space feel a lot brighter, even if only getting artificial light. This will also make the room look more spacious and inviting. Make sure to choose a paint that is durable, easy to clean and won't easily chip off.
If you are too scared of white, yu can always use a lighter color than whatever they are now. If painting the floors is totally not an option, check out our next idea that will also help give a similar effect.
Maybe painting the floor isn't an option, but you can replace the flooring. If that is in your room remodeling budget, choose new floors that are lighter in color.
USE A BRIGHT RUG
If you have a dark room with a dark rug, all you're doing is enhancing the dark room feel. So, instead, switch out the rug for something brighter, something with a pop of color would be good as well. Bright colors can give the room an illusion of being bigger, and if its a rug with a pattern it will add more depth to the room.
Choose something that matches the decor in your house and makes you feel cheerful. The best part is, this is easier and cheaper than painting!
DROP THE CURTAINS
Decide if you truly need those heavy curtains in your room. Natural light is the best way to brighten up a room (and the cheapest), so if you can, ditch the curtains to bring in so much natural light! If you can't get rid of curtains completely, at least trade them out for lighter, airier ones that increase the amount of light that gets let into the room. This simple swap can take the darkest room of your house and turn it into your favorite room with just a little natural light.
TRANSFORM THE CEILING
If you have a bleak, boring ceiling, add some glossy paint. The reflective quality will brighten the room and make it appear bigger. If you want to take your ceiling transformation up a notch, add some paintable wallpaper for a modern look.
CHANGE OUT THE LIGHTING
Getting new overhead lighting or changing out the overhead lights can help bring some artificial light to your room. You can also add some task lighting, like wall sconces or floor lamps to help create a soft glow in the evening. If you don't have the budget to completely change out the light fixtures, try just changing out the light bulbs.
What kind of light bulb makes a room feel brighter?
LED lightbulbs are a great choice for brightening up your room, as they produce more lumen per watt than standard incandescent bulbs. Make sure to get the right color temperature for the feeling you're trying to create. Warm white lights have a yellow tone and cool white lights have a bluish-white tone.
For an even brighter room, try using daylight bulbs to get the most natural light. ​
WHICH DIRECTION SHOULD YOU AIM YOUR LIGHT?
When aiming your lights, think about where you do most of your activities in the room and aim the lights towards those areas. For example, if you have a reading nook or desk area, point the light source at that spot for best illumination. You can also use up-lighting or wall-washing to make sure all surfaces are illuminated evenly.
WHAT ARE THE BEST BULBS FOR ACCENTS?
If you want to add a bit of drama to your space, consider using colored light bulbs. These can be great for creating moods in any room and can also be used to highlight special features like artwork or furniture. Make sure to use LED lights as they are more energy-efficient and will last longer.
HOW CAN YOU USE NATURAL LIGHT EFFECTIVELY?
Try to place furniture in a way that maximizes natural light coming into the room. Move things away from windows if they block too much of the sunlight, or use sheer curtains to diffuse it. You can also take advantage of the changing light throughout the day and add mirrors or other reflective surfaces to bounce more light around. Finally, you can install skylights in rooms with little natural light for an even brighter effect.
ADD GLASS SHELVES
Glass shelves can also reflect light and make a room appear larger. When it comes to decorating with glass shelves, it's important to make sure that you use tempered or safety glass as opposed to regular glass, which can be hazardous. Mirrored shelves can also have a similar effect and reflect natural light throughout the room. ​
PAY ATTENTION TO YOUR WINDOWS
This seems kind of obvious, but pay attention to your windows. Pay attention to their location in the room. Notice the direction that the sun comes up and where it sets in relation to your windows. Can you rearrange the room to help utilize the natural light that you are getting.
It's also worth mentioning to pay attention to the cleanliness of your windows. They can often be forgot about and become dirty fast, which can block some of the natural light that you could be letting into your space.
You'd be amazed at how much change you can get from a room by just cleaning the windows and arranging the furniture, fixtures, and layout of your room to go along with the natural light.
With all of these different ideas, I hope you can try one, or a few, to help brighten a dark room in your house!
You might also like these posts: