For September's Cozy Living Series Post, I'm sharing a fun way to preserve and display flowers year round in your home. I'm going to show you how to press flowers in the microwave!
Have you ever tried to press your own flowers? Maybe in an old book with something heavy on top to weight it down? Or, maybe you've even built your own flower press? But, have you ever pressed flowers the quick and easy way – in the microwave? This is a project I've been wanting to try for months. I first saw it mentioned on Instagram and decided to give it a try! If you like instant gratification and projects that don't take a long time, this one's for you!
For my flowers, I went out to a local flower farm where you can pick your own bouquet. I love doing that in the summer months! But, you could do this with a bouquet you purchase from the grocery store or flowers in your home's landscape. I picked several varieties including Zinnias, Rudbeckia (black-eyed Susan), Snapdragons, Celosia, Caryopteris, Salvia, and a few more. I brought them home and I cut the flowers off the stems. Now, you can definitely press the flowers with the stems, but I wanted to create a collage of all of the flowers, so I removed the stems.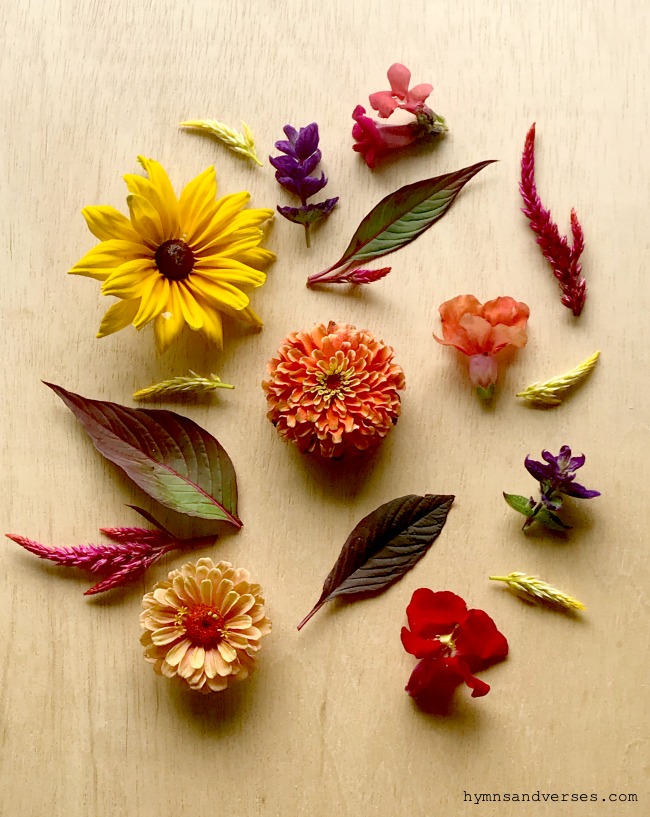 Now, to press these beauties, you will need some paper towels and either a book or something heavy that is microwave safe. Several articles I read said you could use a microwave-safe plate or a brick. Because I wanted to press a lot of small pieces at once, I used a large, old book that I got at a yard sale years ago. I opened it up to the middle and then opened a paper towel to cover the two pages. Then I arranged several flower pieces on the right side. After they were placed where I wanted them, I carefully folded the left side of the paper towel over to cover the flowers, and then carefully closed the book. I repeated the process until I had all of the flowers sandwiched between paper towels and sections of book.
Pressing the Flowers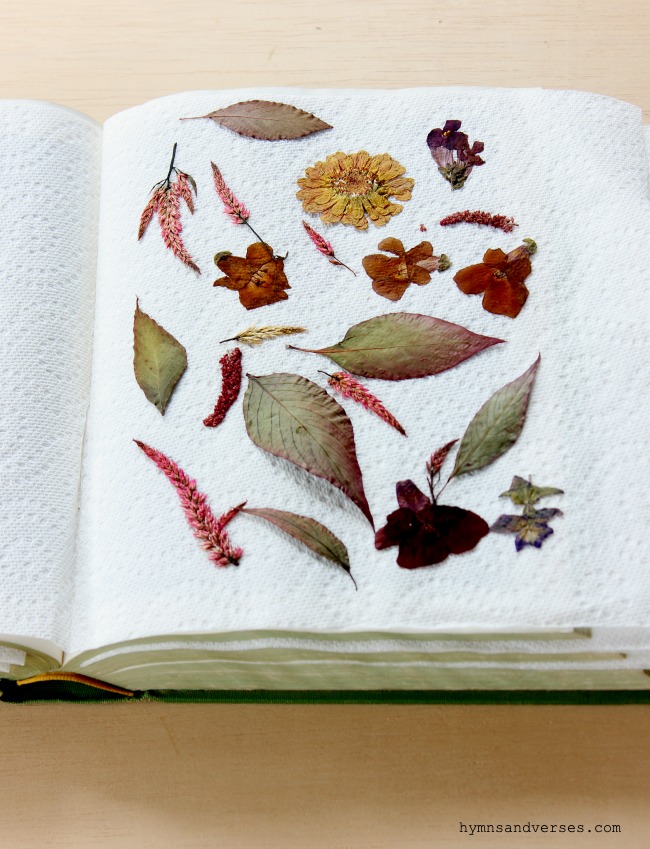 In this photo, you can see how many flowers I put on each paper towel and you can see the paper towel edges sticking out of other pages in the book. Now, here's where the microwave comes in. You place your book in the microwave and "cook" in 30 second increments. The thinner petaled flowers, like the snapdragons, pressed and dried out very quickly. I began by carefully checking the flowers after 60 seconds. The Black-Eyed Susans and Zinneas, took the longest time to fully press and dry out. You do need to be careful because the book could end up catching fire! See my book below after I ran it through several 30 second increments without checking!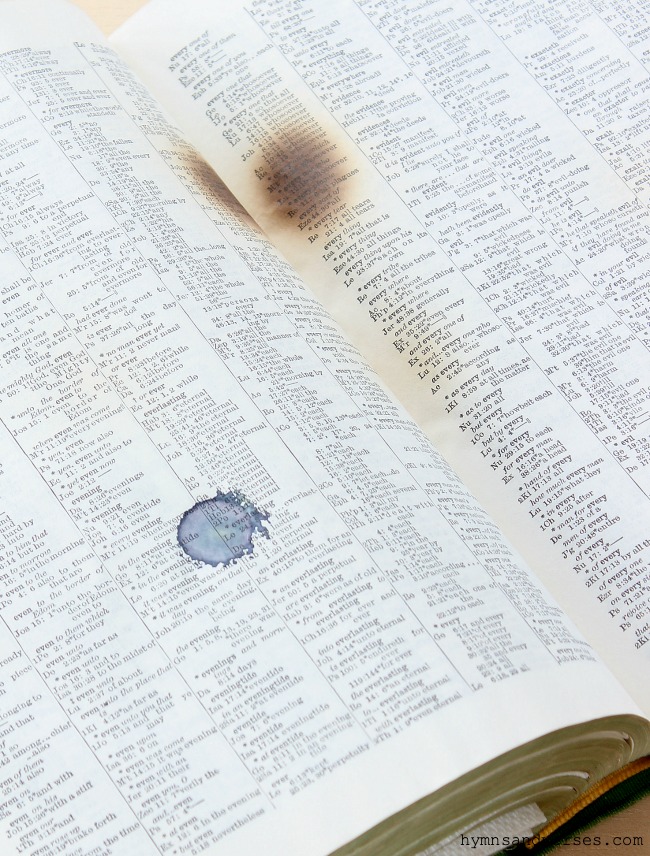 Yikes!!! The book was sooooo hot! The blue stain is from the center of the Black-Eyed Susan! So, don't use a book that has any value to you! When you open the book to check on the flowers, be very careful. Some petals were sticking a bit to the paper towel and when the flowers are completely dry, they are very fragile! I broke tips off a few flowers and some of my leaves cracked when I picked them up.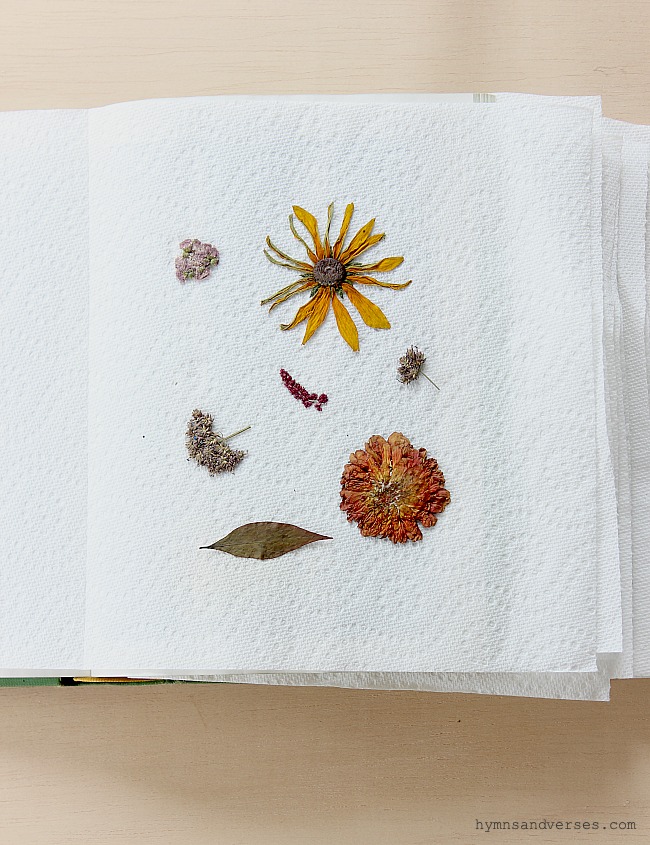 Of course, you loose some of the vibrancy, but I love these muted tones for fall! To display my pressed flowers, I used a hinged frame with glass on both sides and has a chain for hanging. It's a frame I've had for years, but I believe I originally purchased it at Home Goods. I opened up the frame and arranged the flowers on the glass. I did use a tiny bit of glue here and there to secure some of the small pieces. For a first time project, I'm pretty happy the result! It was fairly inexpensive, and I didn't need any special materials! You will be seeing this piece next week as part of my Fall home tour!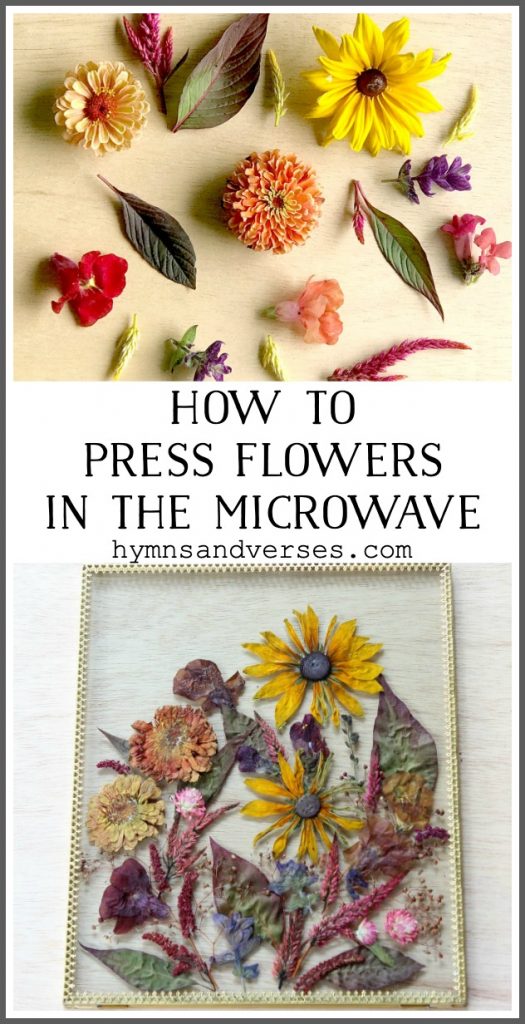 Thanks for stopping by on a Saturday! And, I hope you'll take some time to visit my "Cozy Living" friends to see what they are sharing for September! You can visit each one by following the links below!

Why Fall is Best Season to Enjoy Gardens / Roasted Summer Squash with Orzo / How to Press Flowers in Microwave / How to Hang Onto Summer

September in the City / How to Knit Kitchen Dish Cloth / Fall Dining Table