Do you live in a builder grade home and long for some character like you would find in an old farmhouse? I do! Consider changing out one of your interior doors with a vintage door. An old door will add charm and character to any space!
Today I want to share another project in our downstairs family room. It's our basement, I just like to call it "downstairs". It sounds less basement-like! When you live in a small home, every inch is precious! And, we use this space to its fullest! It's where our boys little boys played with legos and teens gathered to hang out! And, now, it's where Mark and I relax and where the kids come to watch the big games on Mom and Dad's big screen TV!
*This post contains some affiliate links for your convenience. Please see my full disclosure HERE.
We've made some changes to this space this past year to make it more cozy. One of those changes was to replace the builder-grade laundry room door with a vintage door with windowpanes. I wish my photos were better, but it's so hard to capture a good picture in a low light area. So, I ended up just using my iPhone for these shots and the quality isn't that great!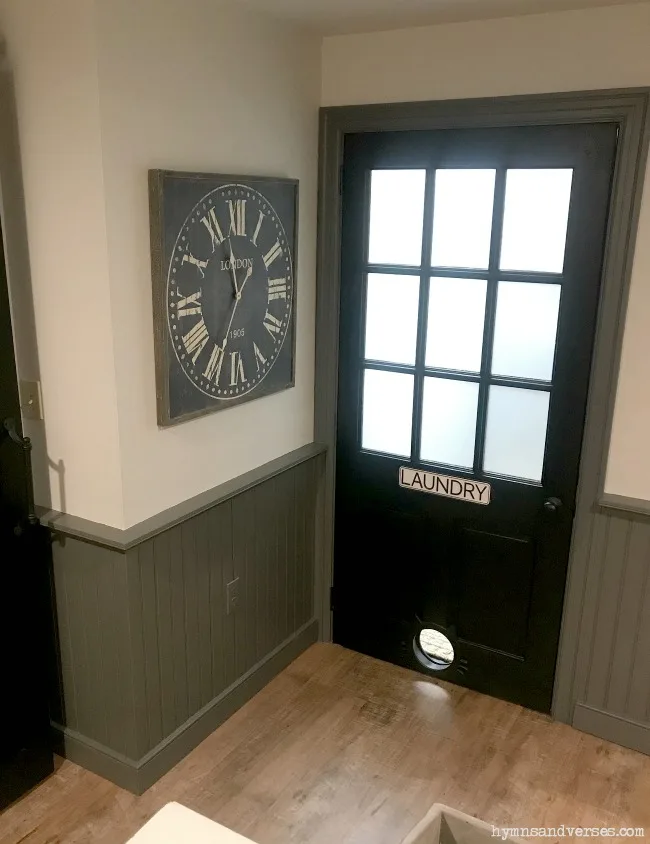 This photo was taken from the staircase as you come downstairs. I will be sharing the actual laundry room at some point, but it's still a work in progress. For now, let's focus on the cute vintage door! I really wanted a vintage door with some glass for the laundry room. I searched for a while until I found this one. It is solid wood and super heavy! I gave it a good cleaning, sanded the shellac down a bit, primed and painted it black. I use THIS PAINT for all of my interior doors.
When you replace a door with a vintage door, make sure you take good measurements for the old door (or door frame). We measured carefully and Mark still had to trim a bit off the side of this door to make it fit. I picked up the enamel laundry sign at Michaels, but I don't see it online. I did link some similar enamel laundry signs at the end of the post.
FROSTED GLASS WINDOW PANES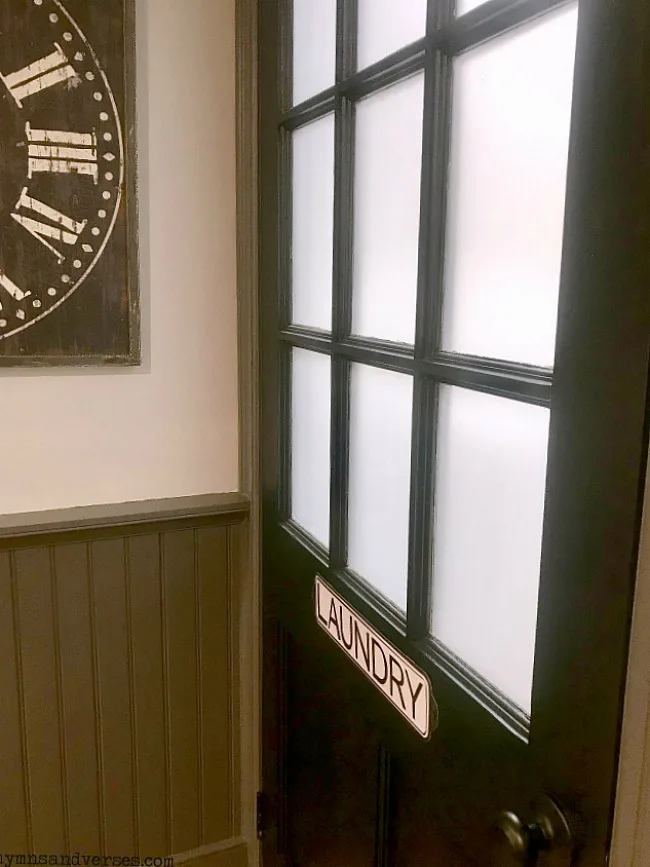 Since laundry rooms aren't normally a room you want to show the world, I decided it would be best to have the windows frosted. I used THIS WINDOW FILM. The only tool you need is a pair of scissors and some water. It was a super easy process and it can easily be removed without any damage to the glass. I really love how it looks. You can see the light through the panes, but that's it!
Adding a Cat Door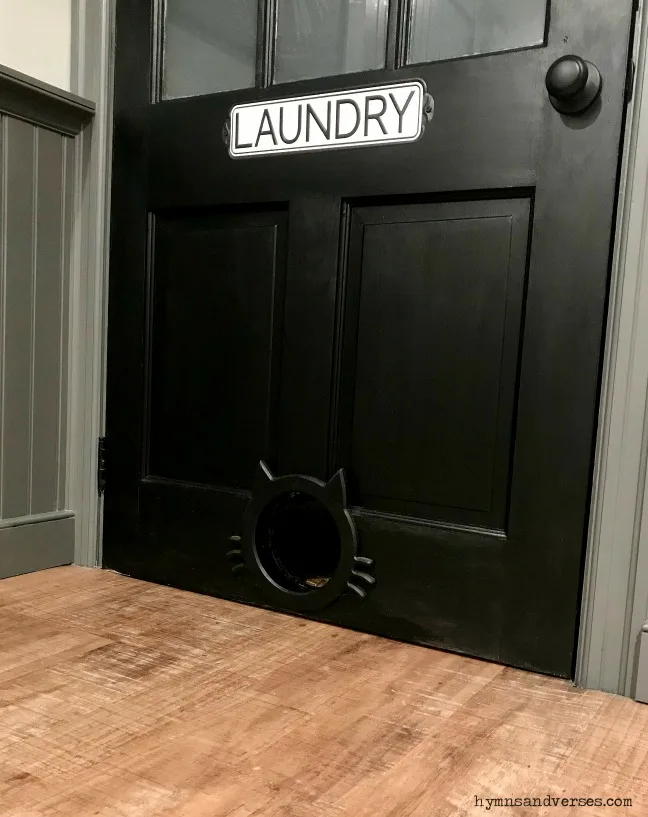 I'm sure you also noticed the hole in the first photo. Sadie's litter box is in our laundry room. I absolutely hated having to leave the door open, even just a little bit, for her. So, I definitely wanted to put a pet door in this new door. Because this is an interior door, I didn't really want a door with a flap. I just wanted a pass through for her. I decided THIS DOOR would be the best option, and it's super cute too!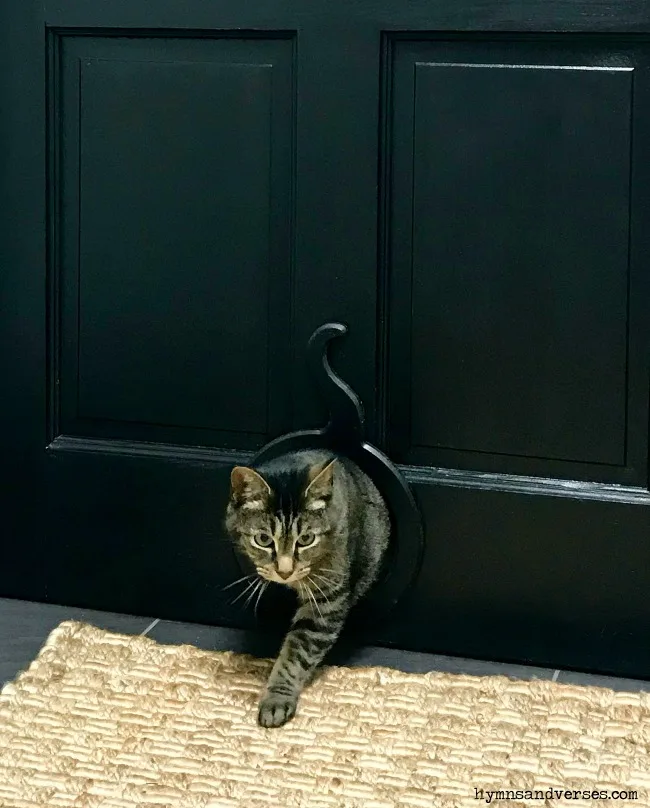 This shot was taken inside the laundry room with Sadie coming through the door! I love that the two sides of this pass through door! And it was so easy to install. It comes white, but once we had it installed, I painted it right along with the door.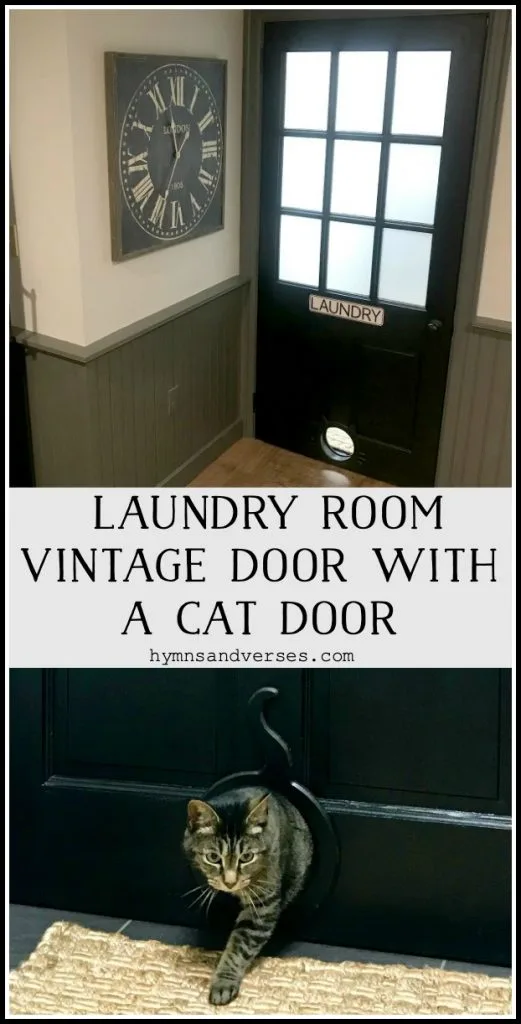 I'm so happy with how this door turned out. And, because this door is solid, it really blocks any noise made from our washer and dryer. I'd love to here your thoughts about this vintage door!
If you like this post, you might also like:
DIY Hanging Window Basket Cat Perch