Welcome to my home. Today I'm sharing my fall kitchen and dining room. In all honesty, I had planned to also share my living room and porch. But, I came down with a fall cold last week! I'm not sure if it was congestion or cold medication, but I have had the hardest time making decor decisions! So, I finally threw in the towel and decided to focus on the spaces that were giving me the least difficulty!! My fall decor this year is inspired by nature! Instead of faux pumpkins and faux florals, I tried to stick to natural elements this year.
And, really, I don't have the traditional decor bins for Fall. I do have one with mercury glass pumpkins that I've had for years and I'm actually thinking about selling those. Why? Well, when I think about fall I think about nature! Fall leaves, grasses, seed pods, nuts, apples, pears, and pumpkins of course! And, living in Lancaster County, Pennsylvania, with a farmer's field at the edge of my backyard, all of those natural elements that I love are so readily available! Now, if I lived in Southern California or Arizona, I could see that gathering natural elements for your fall decor would be more difficult!
Before we begin the tour, I'd like to send a special thanks to Linda from It all Started with Paint blog for stepping up to organise this week long Fall Tour of Homes. This tour is usually hosted by my friend Marty of A Stroll Thru Life. But, Marty has been through an especially difficult time and wasn't able to organise this seasonal event that she is known for. Marty is sharing her own home later this week, so I hope you'll stop by to see it and give her a bit of encouragement. If you're here visiting form Thistlewood Farms, welcome! KariAnne is a bright ray of sunshine, and her home is stunning!
*This post contains some affiliate links. Please see my disclosure statement.
Inspired by nature fall dining room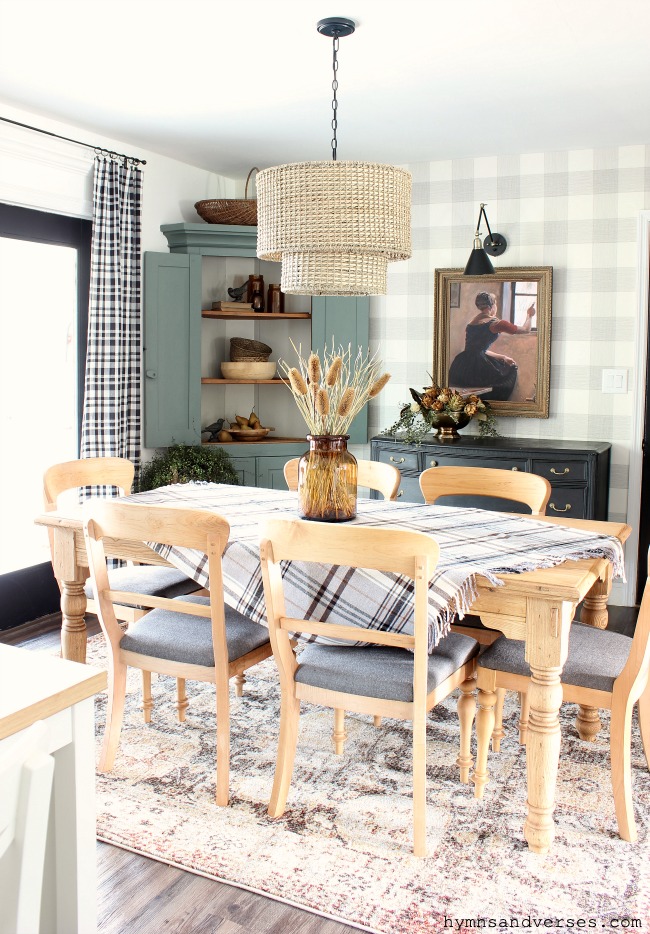 First things first, if you are one of my regular followers, you'll notice some changes in this space! A few weeks ago I refinished my Pottery Barn dining room table! You can see what it looked like before in this post. It was a lot of hard work, but I'm thrilled with how it turned out! I'll be sharing all of the details in another post! Once the table was finished, I decided to sell the black ladder back dining room chairs. They were really beautiful chairs and so well made, but were a bit overwhelming for my small dining room. I picked up these locally handcrafted maple chairs and the scale is much better for my room. Right now they are finished to match the natural wood table, but I am thinking about painting them black? I'm going to live with them like this for a bit!
And, I also sold the Pottery Barn light pendant that I've had since I began my blog in 2012! It was time for a change! I knew that I wanted to something more casual and after looking for quite a while, I ended up purchasing this rattan drum pendant from Lowe's. I used a fall plaid throw blanket on the table as a tablecloth. And, a large amber vase filled with natural fall grasses and prickly teasel serves as a casual fall centerpiece.
The vintage print of a lady writing on a dusty window reminded me of my grandmother! I purchased the vintage print from BFF Print Shop and framed it with my favorite vintage frame. I made this fall arrangement using dried artichokes, leaves and branches.
And, here's a look at the corner cabinet. I tried to keep it simple with more amber glass jars, wooden bowls and baskets, and some pears from the farmer's market.

I've had these iron birds for many years and love to use them in the fall. The patina just says fall to me!

We've been having some very fall weather here so, I've started to bring the plants in from my screen porch. This wire vine has grown quite a bit this summer, and I hope I can keep it alive through the colder months! I put beside the corner cabinet where it can get some morning sun from the porch doors.

inspired by nature fall kitchen
In the kitchen, I didn't change a whole lot. Just a few nods to the fall season. I gathered this gorgeous Amaranthus from a local flower farm. Isn't it amazing, especially in the black vase!

And, this pumpkin with the "warts" is called a Teddy Bear pumpkin!

I hung a small landscape painting above the range and replaced a plant with some golden dried stems in the corner.

And, what's better than some homemade apple cider donuts in the fall?

On the opposite wall, I added a few fall touches to the kitchen peg shelf.

That wraps up my part of this fall home tour event! Up next on the tour schedule is Amber from Follow the Yellow Brick Home! And, she is sharing her new kitchen all dressed up for fall!

And, here are all 29 homes participating in this Fall Home Tour
Monday
Tuesday
Wednesday


Thursday
Friday