I wanted to share today's project with you so you can get excited about those leaves that will soon to be covering the ground! It's a leaf wreath using real leaves that have fallen to the ground or picked from the tree! I used oak leaves for the one that I made, but you could use any fall leaves that have a pretty color! Maple tree leaves would be just gorgeous!
I made this pretty wreath in 2015 and I'm planning to make one again this year! I've already told my mother-in-law to tell me when the leaves from their oak trees begin to drop! Make sure you use freshly fallen leaves that haven't dried out. I don't think this would work as well if the leaves were already crisp and crunchy!
welcome to home and decor encore
I'm sharing this leaf wreath as part of our Friday Home and Decor Encore series where my blogging friends and I share posts from our blog archives! Because, many of our newer readers have never seen these posts! I hope you like this feature as much as we do! And, right now we're sharing so much fall inspiration! There's always a variety too! This week, Lori from The Stonybrook House is showing us how to make cute wooden letter blocks that spell "gather" for your fall decor! Christy from Our Southern Home has an apple pound cake recipe that is perfect for fall! Cristina from RemodelaCasa has tips for fall harvest table decor! And, Laura from Duke Manor Farm has some fall DIY projects using spray paint! There's something for everyone!
I hope you'll take a moment to visit each one and maybe choose one project to work on this weekend!
HYMNS & VERSES | DIY REAL LEAF WREATH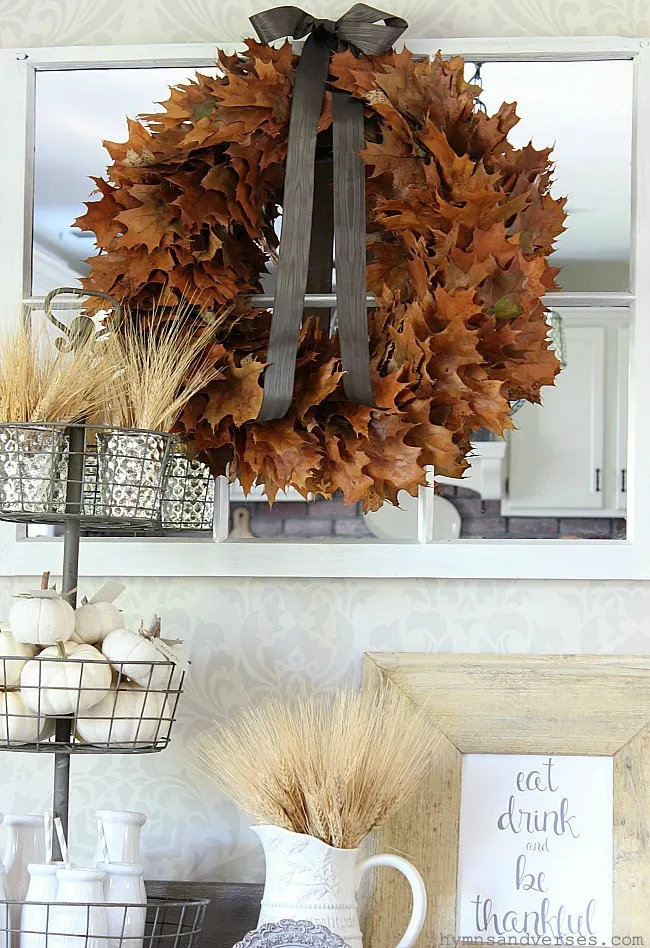 THE STONYBROOK HOUSE | DIY LETTER BLOCKS
DUKE MANOR FARM | FALL CRAFTS USING SPRAY PAINT
REMODELACASA | FALL TABLESCAPE
OUR SOUTHERN HOME | APPLE POUND CAKE
If you missed my fall kitchen and dining room yesterday, you can see it in this post! And, there are also links to all 29 Fall Home Tours at the end of that post!