Hi, Friends! It's the beginning of a new week and new month! And, do I have the perfect project for this time of year – a DIY fall oak leaf wreath.
My inspiration was this oak leaf wreath that I saw on Pinterest from Crate and Barrel. I checked the website and they no longer sell it. I loved the look of the oak leaves, but alas, we don't have any trees in our yard that have nice fall color.
But, yesterday I was at my inlaw's house and they have a lot of trees! With all the rain and wind we've had the past few days, there were tons of pretty oak leaves in their yard! So, when I was getting ready to head home, I asked my mother-in-law for a few grocery bags so I could gather up some leaves.
supplies to make a real oak leaf wreath
You only need 3 things to make this fall wreath:
A straw wreath form. (I purchased mine at Michaels using a 50% off coupon)
Leaves
I put together a bundle of leaves and then pushed the U pin into the straw wreath to hold the leaf bundle in place. Then I did the same on the right and left sides of that original bundle. Now, begin a second row – slightly overlapping the leaves so the stems don't show. Continue the process the entire way around the wreath.

This makes for an incredibly full and lush fall wreath. The leaves will dry and crinkle, but I think I'll like it that way as well. If you live in a cooler climate, it would last longer looking like this if hung outside in the cool air.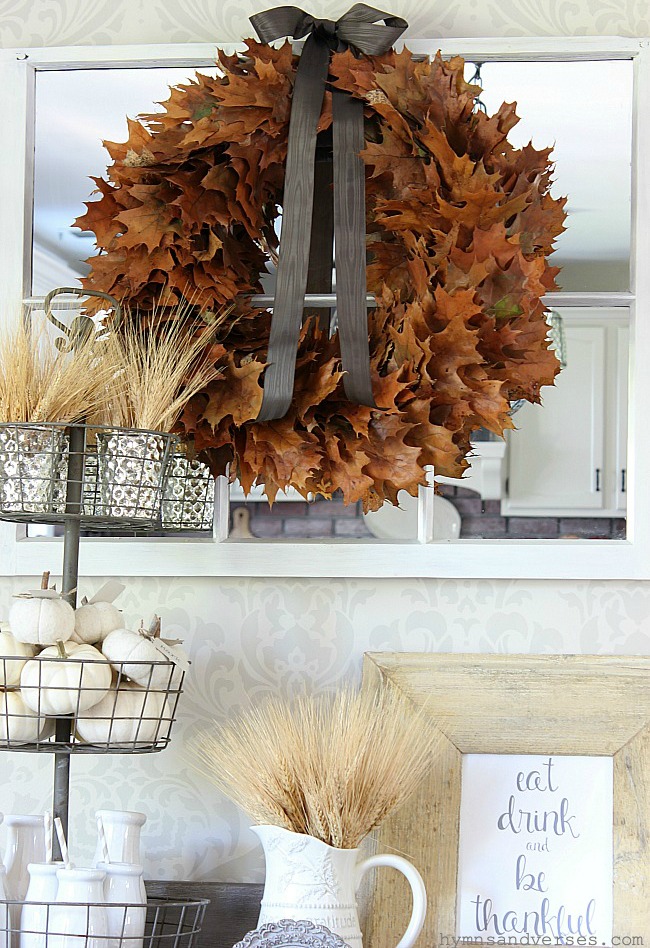 Of course, you could use faux leaves, but they cost money! I hope you enjoy making your own! Let me know how it turns out!!!

You might also like these fall posts!

Corn Shock Wreath

Apple Dumpling Recipe

Black Cat Pillow