Happy Mother's Day!
Today I wanted to share a few things that remind me of my Mom. She died in 2005 of lung cancer – having never smoked one cigarette in her life. It was a long and drawn out illness that has made it hard to remember Mom without those terrible memories – until recently. Now I find myself remembering Mom in everyday things and circumstances and it makes me smile! So here are a few things that remind me of Mom.
a Typewriter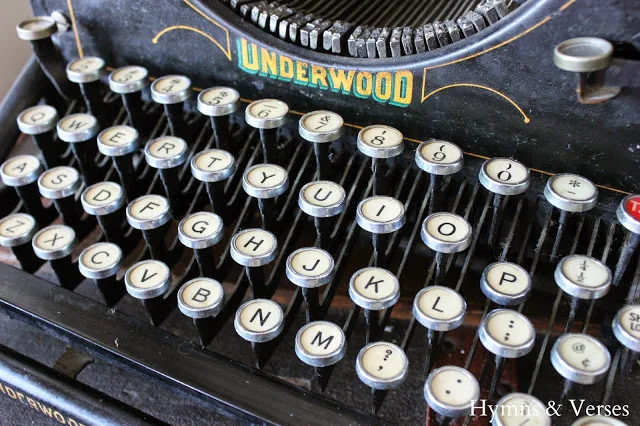 Mom was a high school business teacher. She taught typing, shorthand and business English; and I had her as my teacher for all three classes. To most, that would seem awful, but it wasn't too bad. I grew up in a very rural area where some kids were on a school bus for an hour. Most of the teachers in the school lived within the district, so it was likely that at some point they would teach their own kids. I had many classmates whose parents were also teachers, so it wasn't such a big deal. But, back to typing – when I was in typing class (back in the day of the IBM Selectric with that silly ball, white out, and carbon paper copies) we learned the typewriter key placement by touch –
A S D F ; L K J
and there was NO looking down at your hands! I loved typing and those skills served me well. I was a medical transcriptionist for nearly 16 years and was able to work from home when the boys were young. Now, I just love anything typewriter related – typewriter fonts, vintage typewriters, typewriter key jewelry, etc. I actually have Mom's Royal typewriter and case that she used when she was in college at Shippensburg University back in the late 1940's.
Shorthand
Mom also taught Shorthand. That is something that I only used a bit at my very first job as a secretary. It seems so foreign now to think that just 25 years ago I was sitting with my steno pad in an office scribbling swirly characters. Mom and I would send each other notes in the mail written in shorthand. It was a fun thing that just the two of us knew how to read – like a secret code! When she was sick, she sat me down and showed me the back of her checkbook ledger. There were shorthand notes about money she had saved that my dad didn't know about, but she wanted me to know it was there in case it was needed!
The Tonight Show
Mom ended each day with Johnny. She wasn't a big Jay Leno fan, but I think she would be up watching Jimmy Fallen if she were still here today!
A Dairy Queen Dilly Bar
Mom had a sweet tooth, but wasn't a big ice cream eater (that was my dad's vice). Once in a while, as a special treat, we would stop at a Dairy Queen. My favorite was a chocolate milk shake made with vanilla ice cream and they would top it off with a little DQ vanilla curl! YUM! Mom – she always got a Dilly Bar. I could never figure out why oh why with all of the wonderful things offered at DQ, would she get a silly Dilly Bar? Now that I am older and realize the amount of calories in all things Dairy Queen, I see why Mom got those silly Dilly Bars!
The Royals
I remember Mom and I setting our alarm clocks to get up in the wee hours of the morning to watch the Royal Wedding of Charles and Diana. We sat there in the dark and commented on how gorgeous Diana's gown was and how innocent and sweet she seemed. It was magical. I know she would totally be following Will and Kate and their new family today.
The Sound of Music
Mom loved musicals and watched them anytime one was on TV. I grew up watching Singing in the Rain, Oklahoma, Meet Me in St. Louis, and many more! But, her absolute favorite, was The Sound of Music.


A Yellow Cat
Mom was a crazy cat lady (well maybe not quite a crazy cat lady), but she was a cat person! When my grandmother died, her yellow cat came to live with us. It was a "scary cat or scaredy cat". It was afraid of it's own shadow, but would let Mom hold her. Now, I'm the crazy cat lady with a yellow cat – Scout, a black and white cat – Oreo, and a spoiled tabby girl- Sadie!
Red Velvet Cake
Each year for Christmas, Mom would make a homemade red velvet cake. Oh my, it was soooo good with layers of rich, dense red cake and white creamy frosting. I have her recipe and have made it a few times, but it doesn't seem the same. Maybe it's just nostalgia, but Mom's red velvet cake was the best I've ever had and I've given up trying to recreate it!
A Cup of Tea & Company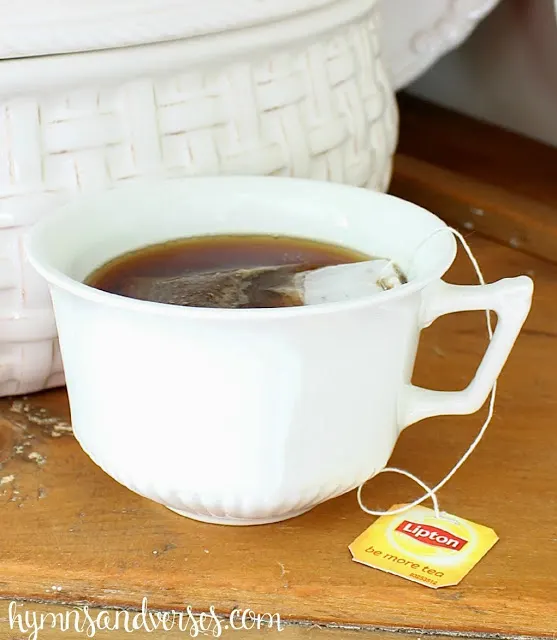 Mom was not a coffee drinker, but boy did she like her tea. She always had a cup of tea nearby and in the summer, it was cold glass of iced tea. And, she always let people know our home was open anytime and it wasn't unusual for people to just drop by! Mom was always ready to share whatever was on hand and if nothing else, there was always a cup of tea or coffee.
An Old Hymn
Mom loved to sing at church and sang in the choir. One particular song reminds me of her each time I hear it – it's one that she choose to be sung at her funeral. "When We All Get to Heaven".
It WILL be a day of rejoicing when we all get to heaven! I know Mom's there rejoicing at the feet of Jesus!
HAPPY MOTHER'S DAY!