Today I'm sharing the new Mary and Martha Fall and Winter Catalog for 2019. If you're new here, Mary and Martha is part of the Dayspring/Hallmark company that focuses primarily on home gatherings. If you'd like to learn more about becoming a Mary and Martha consultant, please feel free to reach out to me!
I recently received the new Mary and Martha Fall and Winter Catalog. There are a few new items that I picked up that I wanted to share with you! The first one is a woven basket with a faux leather tag embossed with the word LOVE. There is a set of three woven baskets with the embossed tags – FAITH, HOPE, LOVE. They nest inside one another and the largest is the LOVE basket (isn't that appropriate)!
*This post contains affiliate links for your convenience. Please see my full disclosure statement HERE.
I picked up the LOVE basket to hold extra throw blankets! It is large and measures 12″H x 16 1/2″D. Here is a photo of mine holding three throw blankets!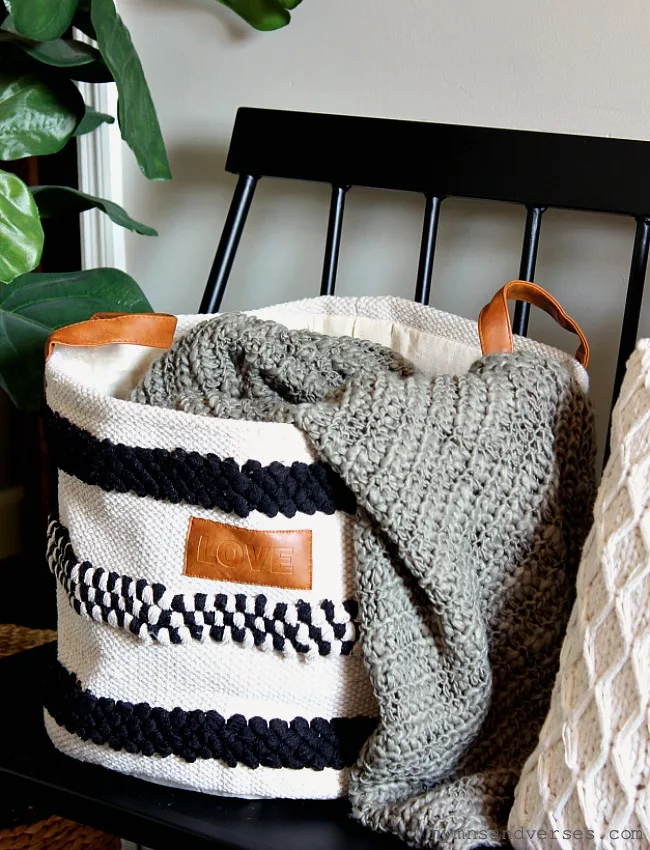 This was taken in my office, but I think I'm eventually going to move it to my downstairs family room! It's always chilly down there and when the girls come over, they are always grabbing a blanket! This will be a nice piece to keep them tidy! But, with my neutral decor, I could use these baskets in any room of my home! Now, here's the BEST part!!! Right now, you can get the largest LOVE basket for $25 (with a $35 order). That really makes it much more affordable and that's how I purchased mine – because I love a good deal!!! So, now I want to show you the other items I ordered from the new catalog to make my total over $35 to get the basket for $25!
I purchased the HELLO HOPE LINED NOTEBOOK SET for $18. And, here's why! I love the artwork on these notebooks! For two of the notebooks, I removed the pretty covers and popped them into gold frames I picked up at Target! I will be using them in my fall decor! I laid the frame flat to give you a good look at how pretty it is!
HERE is the frame and mat I used for this one.
And, another notebook from the set. These notebooks are a nice size to pop into a tote or larger handbag. And, this photo also shows the other item I ordered to bring my order over the $35 threshold to get the LOVE Basket for $35! It's a Wood File Box that holds a set of 65 "Encouragement Cards". This Wood Box with 65 Encouragement Cards is $34. Each card has an encouraging scripture verse or sentiment based on scripture. And, there's a file tab divider for the set. The cardstock these are printed on has a beautiful texture. I'm going to keep this set at my desk for those moments when I'm having a technical problem and need a bit of encouragement!
And, you can add to the box with other card sets that are available – HOPE FOR THE HEART CARDS, WALK IN PEACE CARDS, JOY FOR THE JOURNEY CARDS. Each $10 set of 45 cards has it's own file divider. You can also get the File Box and "Encouragement Cards" in stained wood.
So, here is my example order:
HELLO HOPE LINED NOTEBOOKS – $18
WOOD FILE BOX AND ENCOURAGEMENT CARDS – $34
TOTAL = $52
+ $25 for the LARGE LOVE BASKET
You can look through the New Mary and Martha Fall and Winter Catalog HERE. There's quite a bit new along with old favorites. Because I know I'll get this question, there aren't any new tiles for the Vintage Announcement Board. I'm disappointed about that. But, I will tell you something I'm super excited about . . . The Christmas Catalog!!! I can't share it yet, but the Christmas items for this year are soooooooo good! Mary and Martha partnered with Candace Cameron-Bure who designed a collection of Christmas decor pieces titled "Simply Christmas". Each piece is full of style while sharing the real meaning of Christmas!
I'll be placing an order the end of September so I can share my favorites with you. I'm also hoping that Mary and Martha will hold some sales in October and November so we can get some of these great pieces at a discount!