Botanicals used in decor is anything but new, but botanical decor is definitely on trend! Just look at some of your favorite home decor magazines, blogs, Pinterest, or Instagram and you will be sure to find botanicals in fabric design, artwork, and of course, live plants in the home!
Have you noticed the love for the fiddle leaf fig and other house plants on your favorite HGTV design shows, in print, and online? Live plants just brighten up a space! The photo below is from my living room last summer. Oh, I am so tempted to just replicate the look this year. It is one of my very favorite styled rooms to date and the reason I love it so much is the life brought into the space by live plants – a fiddle leaf fig plant in the corner, ferns, Solomon's Seal, and Hosta cuttings from my garden on the mantel, and a classic fern in a white crock. Here is a close-up view of the mantel showing these simple glass vases I picked up from thrift stores and HomeGoods. This look is simple, yet high in style at the same time!
Now that we've talked about the obvious – live plants. How about botanical designs in fabric. Below is a collection of affordable pillows that are available for sale online. I've listed the sellers below.
Botanical Pillows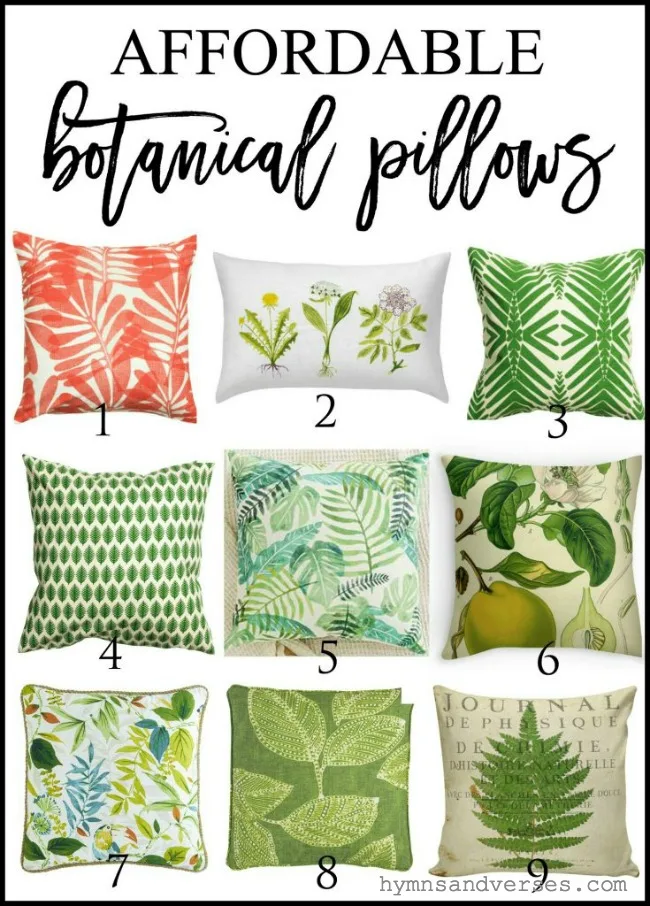 Pier One (no longer available)
Pier One (no longer available)
Botanical Artwork
Now, let's look at artwork for the home. I love to use botanical artwork in my home and most of it is DIY. Here are a few examples of designs I've created to use in my decor. These prints (and more) are available to download in my FREE Printable Library.
Finally, I've curated a Pinterest board full of botanical decor inspiration! I hope you'll follow me on Pinterest to see the over 200 ideas in this collection! I was inspired while building the collection, and I'm sure I'll be visiting this pin board often for inspiration! Let's bring the outdoors inside with house plants, prints, and decorative pillows and fabrics. Yes, it is "on trend", but it's really a classic in my mind!