This peach homemade ice cream is the perfect end-of-summer treat! It's a no-cook recipe that you can whip up in a matter of minutes and freeze using an electric ice cream maker!
Hi, Friends! I hope you have been having the best summer! It seems like the summer is flying by! Here we are in August and the kids will be heading back to school and the next thing you know it, we'll be heading into the fall season! And, I won't even mention how quickly that season goes by! So, my message today is to enjoy each summer day that we have left to the fullest! And, as part of the cozy living series, hosted by Jennifer at Town and Country Living, I'm sharing one of my family's favorite summertime treats – homemade ice cream!
*This post contains some affiliate links for your convenience. Please see my full disclosure statement HERE.
Making homemade ice cream holds a bit of nostalgia for me! Growing up on a dairy farm, we didn't want for fresh milk and ice cream was my dad's weakness! His favorite flavor was grapenut. My mom would whip up the ice cream recipe and then dad would use the electric ice cream churn to turn that milky liquid into ice cream! I can remember sitting by the churn, watching the ice and rock salt go round and round, anxiously waiting for the machine to stop! Then, my mom would pull the large beater out of the ice cream freezer and put it into a large bowl. And, I would grab a spoon to get every last bit of ice cream that came out with the beater!
Peach Ice Cream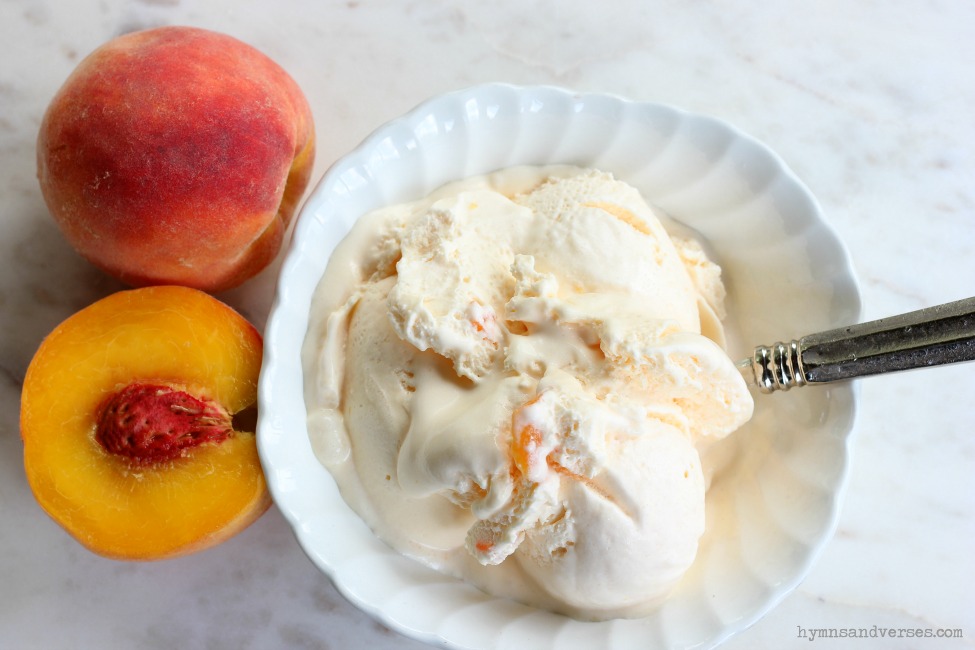 The homemade ice cream recipe that I'm sharing today is one that I found several years ago in Southern Living magazine. It's one that I always pull out when peaches are in season here in Pennsylvania! And, the peaches are plentiful at the farmer's market right now! Making your own ice cream is not difficult and there are more modern countertop ice cream freezers, if you don't want to mess with ice and rock salt. Below, is the ice cream freezer that I use, a countertop Cuisinart ice cream maker, a freezer container to store your ice cream, and my favorite ice cream scoop!
Here's the recipe for this easy and delicious ice cream!
Peach Homemade Ice Cream

This homemade ice cream with fresh peaches is the perfect end-of-summer treat! It's a no-cook recipe that you can whip up in a matter of minutes and freeze using an electric ice cream maker.
Ingredients
4 cups pealed and diced ripe peaches (about 8 peaches)
1 cup sugar
1 12 oz. can evaporated milk
1 3.75 oz. vanilla instant pudding mix
1 14 oz. can sweetened condensed milk
4 cups half and half
Instructions
Combine peaches and sugar. Let stand for one hour. Process the peach mixture in a food processor until smooth, stopping to scrape down the sides.

Stir together the evaporated milk and pudding mix in a large bowl. Stir in the peach puree, condensed milk, and half-and-half. Pour the mixture into the freezer container for a 4-quart hand-turned or electric ice cream freezer.

Freeze according to the freezer manufacturer instructions. Spoon into an airtight container and freeze until firm. Or, if you can't wait, scoop some in a bowl and eat it fresh from the freezer. It will be softer, but oh so delicious!!!
Recommended Products
As an Amazon Associate and member of other affiliate programs, I earn from qualifying purchases.
And, I hope I've inspired you to make some homemade ice cream before we say good-bye to summer! It's not just the end result that is so sweet, it's the entire process!
And, here's another peach dessert you might enjoy: Peach Crisp in a Mason Jar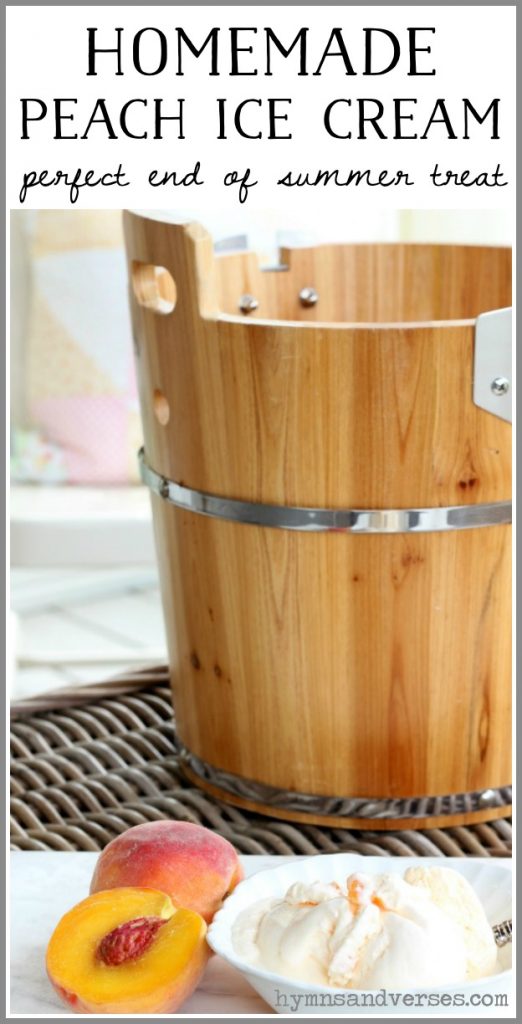 Take some time this weekend and visit my friends to see their "cozy living" tips for August!

Creative Cain Cabin / Town and Country Living

Sincerely Marie Designs / Hymns and Verses / Vinyet Etc.