Outdoor pillows are a great way to add a touch of comfort and style to your patio, deck, or garden. Unfortunately, they can also be vulnerable to moisture and wear-and-tear if left unprotected. But don't worry! With a few simple steps, you can keep your outdoor pillows looking their best for years to come. In this blog post, we'll explore a few easy ways to secure outdoor pillows so they withstand the elements and I'll share a tip on keeping them looking their best. Read on to learn more!
I love having my screen porch and decorating it seasonally. But, the screen doesn't keep the sun from shining in or keep wind-blown rain out. So, I need to be careful where I place things that can get damaged by the sun or rain.
If I know it's going to rain, I move my pillows, outdoor cushions, and books to the center of the porch. Even with the worst storms, the center of the porch usually stays nice and dry.
And, the areas closer to the house, are usually safe too. But, I'm not always home to move things, so I want to show you how I specifically protect and secure my outdoor pillows.
*This post contains some affiliate links for your convenience. Please see my full disclosure statement HERE.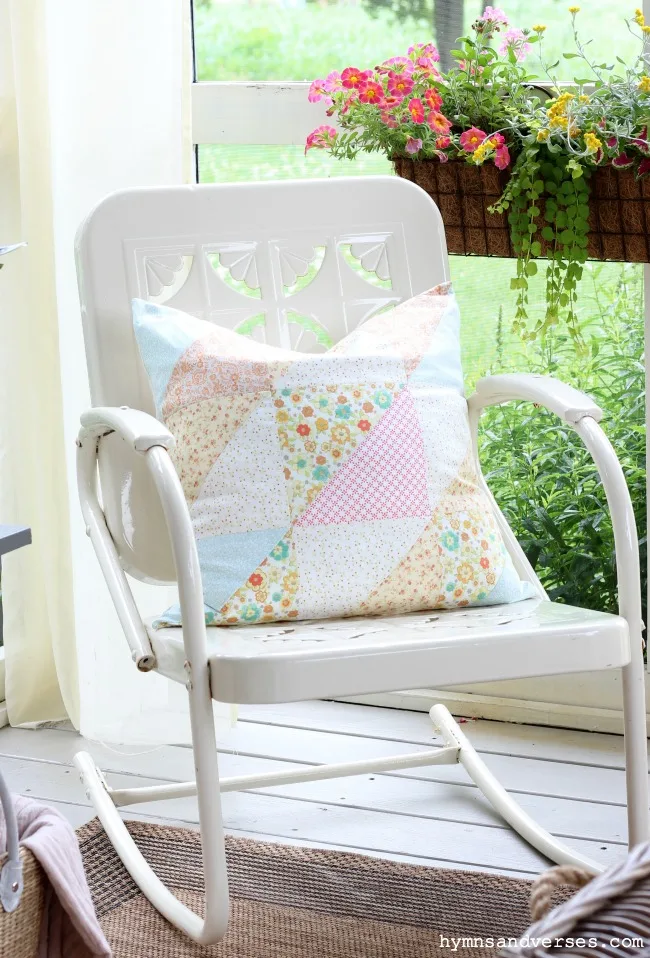 HELPFUL TIP FOR PREPARING YOUR OUTDOOR PILLOWS
You can use these tips on any pillows, cushions or other outdoor furniture covers. I like to prepare my pillows with a sealant to help protect the fabric and actual pillows. I have found that using the following fabric seal is quite possibly the easiest way to prepare your outdoor furniture accessories.
I use Thompson's WaterSeal Fabric Seal to protect the textiles I use out on my porch. Spray it on and it protects against water damage and, as a bonus, it resists color fading from the sun. An application of two coats are recommended. So, if I'm out and a thunderstorm rolls in, I don't panic about the pillows on my porch! The water will bead up and roll off.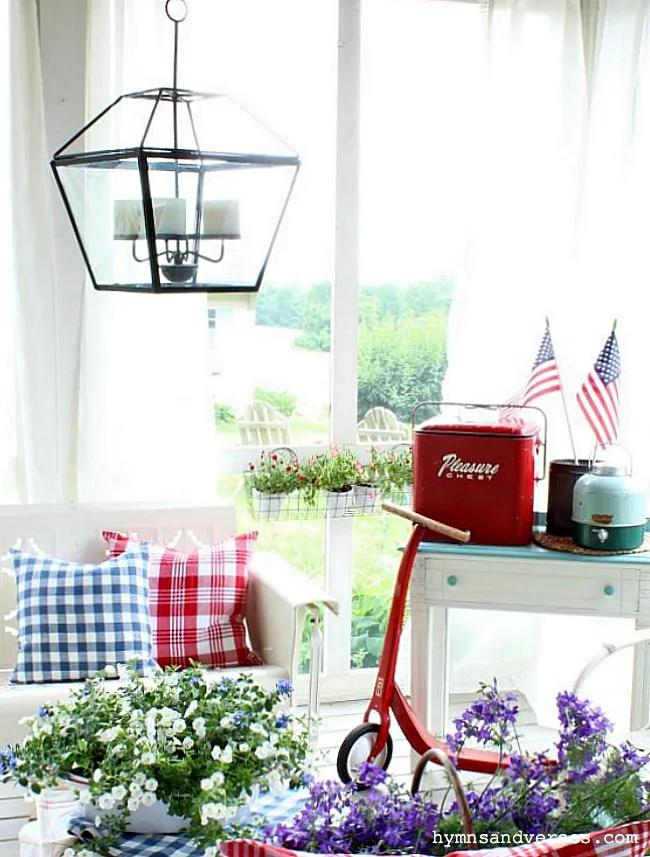 Now, this product isn't going to help much if your outdoor pillows get deluged by heavy rain. If your outdoor pillows are not under any cover, like an open outdoor deck or sitting on your patio chairs, then I would recommend you purchase pillows that are made strictly for outdoor use. Or, you could make your own pillows using Sunbrella fabric.
In my case, I'm more worried about protecting the fabrics from mildew and fading when in direct sunlight. And, this product does do a good job. One year I forgot to spray my outdoor pillows and by the end of the summer, those pillows were so faded from the sun. It was a good lesson for me to remember to spray those pillows each time I make a change.
Another year, I made fringe curtains for the porch. But, I didn't do anything to protect them from the rain. Those curtains got very mildewed by the end of the summer season! Since then, I use a very thin, mesh-like fabric for my porch curtains because it dries quickly if it does get soaking wet!
The WaterSeal keeps any rain water from soaking through the fabric to the pillow form. In the same way, it also protects from an accidental spill from a drink.
There are many products like
Thompson's WaterSeal
on the market. Here are a few that get good reviews:
You can also sew some removable covers to help make washing the pillows easier. Instead of washing the pillows or cushions, just remove the covers and wash them instead. ​
Now that we have discussed an easy way to help preserve your pillows, let's chat more about securing your pillows and ways to keep them safe from blowing away or getting lost.
If you are looking to find ways to help secure your outdoor pillows to the piece of furniture, I have quite a few suggestions.
When choosing which option to try, think about the conditions, are you just expecting a little rain and wind, or are you anticipating high winds (when things should be brought inside or tied down in your outdoor space)? These are great questions to ask yourself when choosing which ones to use. ​
How to Secure Outdoor Pillows Safely
1. Use Velcro
Get some velcro and cut a few 1-inch by 1-inch pieces. Attach one side of the velcro strips to the pillows and couch cushions and attach the other side to the piece of furniture that you wish to keep it attached to. Then carefully secure the velcro pieces between the outdoor furniture cushions, pillows, and furniture pieces together so everything is held together safely.
2. Use Double Sided Tape
Just like you would with the velcro, cut a few strips of double sided tape. Apply a few strips on your pillow and again on the piece of furniture. Then stick them together.
3. Use heavy weighted objects
If you have some strong winds planning to come through, it may be time to get some heavy objects and place them on your cushions and pillows so they don't get tossed around in the wind. Heavy rocks, heavy potted plants, or heavy outdoor sculptures all may be great ideas to use. ​
4. Utilize U-shaped fasteners
U-shaped fasteners are a great way to keep your outdoor furniture cushions and pillows secure to the furniture. Simply slide one end of the u-fastener through the cushion or pillow, loop it around the furniture and then snap it shut. This is one of those great ways to keep your pillows and cushions secure without breaking the bank.
5. Secure with Bungee Cords
Bungee cords are another great way to keep your cushions and pillows in place, especially if you don't want to do anything too permanent or use u-shaped fasteners. To secure the bungee cord, loop it around the furniture frame and then secure the bungee cord loop to itself after you've wrapped it around the pillow and furniture. It's a simple solution to keep your pillows secure when dealing with some incoming wind.
6. Use a Tie-Down System
If you have a lot of pillows and cushions that need to stay in place, you can use a tie-down system. These come in various sizes, but they all essentially work the same way — you attach one end of the strap to your furniture frame and then loop the other end around a cushion or pillow. You can get these at your local hardware stores or Lowe's, or Home Depot.
​ This system is great for ensuring that your pillows don't fly away in extreme wind conditions.
7. Place Weights on the Bottom of the Cushions and Pillows
If you have heavier cushions or pillows, you may want to consider placing weights on the bottom of them. This will help keep them from blowing away in the wind from your patio space. You can get small weights at craft stores or online, but you may have to improvise if you don't have any available.
8. Anchor Furniture and Decorations with Sandbags
Another way to protect your outdoor furniture from the wind is by anchoring it down with sandbags. These bags are filled with sand and placed around the furniture to keep it in place. You can find these at most home improvement stores or online.
They are a great way to make sure your patio items stay exactly where you want them. This tip is more for larger furniture items rather than just your smaller outdoor pillows and outdoor patio cushions.
9. Put Away Outdoor Furniture When Not in Use
Lastly, one of the best ways to protect your outdoor furniture from the wind is to just put it away when you're not using it. This will ensure that your outdoor space looks great, and that your furniture is safe. This is truly the best method to keep all your outdoor pillows and cushions safe if you are expecting a storm of any sort.
Simply toss them in your deck box if you have a big and secure one to store them in. You can also store them in a tote container or just put them in big black trash bags and bring them inside until the storm is over and it's safe to return them outdoors.
If you need to store for a long time, I suggest looking into some sort of storage box or storage system that can help prevent rodents from getting in and destroying your pillows and cushions. Proper storage is the best way to help prolong the life of your outdoor throw pillows and other new patio furniture.
Additionally, you can store your larger furniture in the garage, storage space, or storage shed if you fear that may start to move with a storm, wind or other harsh weather. This is the best option to store it for long-term storage. ​
While so many different ways to secure and store your outdoor pillows and furniture, there's no reason not to pull out those new outdoor pillows and chairs when you get some nice warm weather to enjoy them! You no longer have to fear of how to store them if the weather turns dreary. Just pick a simple method from the above listed great options and take care of your pillows.
When you share my posts on Pinterest, Facebook and Instagram, it helps me so much! Thank you!