When I was little, I remember singing "Here Comes Peter Cottontail, Hopping Down the Bunny Trail, Hippity, Hoppity Easter's on its Way!"
*This post contains some affiliate links. Please see my disclosure statement.
Do you remember it too? And, do little ones today sing it too? I wonder? I know I'll be singing it with my grands! But, today's all about setting a pretty Easter table and somehow I got swept down a bunny trail with this Peter Cottontail themed tablescape!
It began when I picked up some daffodil and grape hyacinth plants at Walmart for $1 each! If you haven't spotted them at your local store, check in the garden center! They are small pots, but perfect to put by each place setting or, as I did, create a little tabletop garden for the center of the table!
I planted the small daffodils and grape hyacinths in this oblong wooden bowl. You could use a dough bowl, a long tin container, or really any shallow container. I lined my wooden bowl with a plastic trash bag so it wouldn't get wet when I watered the plants. Once I had the plants arranged in the bowl, I added some preserved moss to cover the soil.
Then, when I was looking through my bin of Easter decor, I spotted this little felted rabbit that I made about 10 years ago. It was during my primitive decorating phase whenI made hand hooked wool rugs, punch needle crafts, and some needle felting to sell online. I sold most all of the things that I made, but held onto this little guy! When I saw him in the bin, I thought it might be fun to add him to my planter. It looks like he's hopping through a garden with his backpack of Easter eggs! Under the planter is a macrame table runner.
Easter tablescape details
On the table I used these plates from the Studio McGee line at Target. And, layered these egg salad sized plates on top. Both of these plates are stoneware. And, the Studio McGee plates are quite substantial and well made. This style plate in other stores are sold for way more than this set of four sold at Target. And, I can see me using these stoneware egg plates for many years to come!
Instead of cloth napkins, I decided to go with paper this year when I saw these adorable bunny print dinner napkins. And, they match the color of the egg plates perfectly! I've had these Pioneer Woman goblets for many years! They are nice and heavy the quality is amazing! I actually just ordered another set since our family is growing!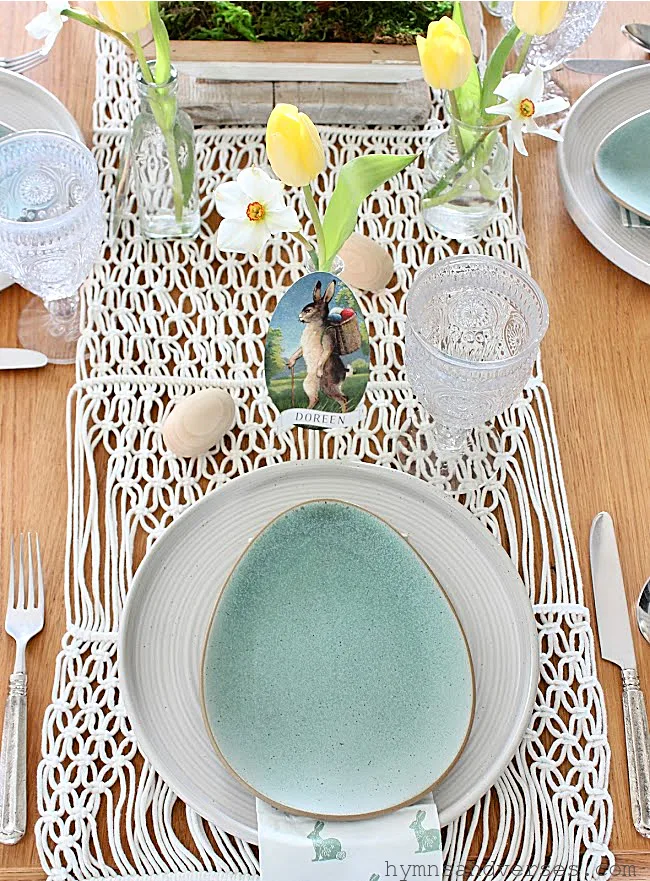 Scattered around the table are tiny glass bottles/vases that I picked up from Hobby Lobby when they were half off. I have quite a collection of these glass vases. They are great to group on a table for parties or showers with some fresh cut flowers! For my Easter table, I used these gorgeous white daffodils from England with some yellow Dutch tulips! I picked them up at Wegman's! And, I scattered some wooden eggs around the table as well.
Printable Place Cards
To complete the Peter Cottontail themed tablescape, I made place cards using a vintage Easter postcard Rabbit image that I found online. And, this rabbit also has a backpack of eggs, just like my needle felted rabbit! I have them available for you to use for your Easter table too! You can find them in my Free Printable Library. I had mine printed at Office Max on 12 lb. coverstock and cut them out. With the sturdy coverstock, they stand up perfectly propped against the little glass vases.
For today's photos, I have my table set for six, but we'll be adding the leaf to extend the table for Easter Sunday when we'll have nine! Here's a look at the entire table.
And, I had to share a close up of the vintage Easter basket full of Forsythia branches! I ran outside earlier in the week and clipped these branches! Even though the Forsythia only blooms once a year in early spring and the blooms are short lived, I'm so glad I have one in my yard to enjoy both inside and out!
I hope I gave you some ideas for your Easter table today with my whimsical Peter Cottontail tablescape! And, don't forget to download and print the Easter Bunny Placecards!