Here are some random notes for your Saturday!
This past week I discovered a new series that I am totally hooked on called, "Escape to the Chateau". It's free to watch on Peacock and follows a British couple who leave a small flat in England and buy a worn down Chateau in the French countryside! The show chronicles how the couple update and renovate the chateau for their home and as a wedding and event space. The husband is an engineer and so industrious and the wife is crazy creative in her decor! I love it because they mostly repurpose things they have found at the chateau into decor and find most other things they use at flea markets and second hand stores. Can you tell I'm hooked on this show!!! Check it out and let me know what you think!
Are you a manicure person? I love to treat myself to one, but I don't go regularly to have my nails done! I'm more of a special occasion manicure person (ha, ha). I'm also not really very good at doing my own nails. I get impatient and usually mess them up! I recently found these press on nails and I love them! I've tried the ones you buy at Walmart or the pharmacy stores, but they never lasted more than a day or two for me. But, I was willing to try this new brand when they had a sale. And, I'm actually pretty impressed. They lasted a week for me and I'm really hard on my hands with DIY projects and gardening, etc. And, you can cut and file them once you put them on. I like my nails shorter and more square, so I loved that you can do that. It took me about 10 minutes to put them on and that beats the drive and appointment time at the salon for me!
Easter is next weekend and I've been picking up things for the granddaughter for her Easter basket. Last year was her first Easter, but . . . we couldn't get together! So, this is like her first Easter for me! I'm planning an egg hung for her like this:
source: Celebrations at Home Blog
And, here are a few things I got for her Easter basket:
And, this won't fit into her basket, but oh my, grandpa and I couldn't resist! This will be enjoyed when she comes to our house! I have to say that the quality of this is amazing and hope that we have many more grandbabies who will ride on it over the years!
I saw this adorable Easter cupcake idea over on Instagram and knew that I needed to share it with you!
Easter Basket Cupcakes from Blue Sky at Home
And, here are some past Easter posts from me:
FORTUNE COOKIE EASTER EGGS – EGGS WITH A SECRET MESSAGE INSIDE
PRINTABLE EASTER CARDS
EASTER KOKEDAMA
DIY "HE IS RISEN" EASTER BANNER
"CHRIST THE LORD IS RISEN TODAY" PRINTABLE
THE VELVETEEN RABBIT PRINTABLE WALL HANGING
And, finally, this last week a group of bloggers held a Pinterest Challenge where they were asked to recreate an idea that was found on Pinterest. And, guess what? They chose this project of mine as their inspiration!!!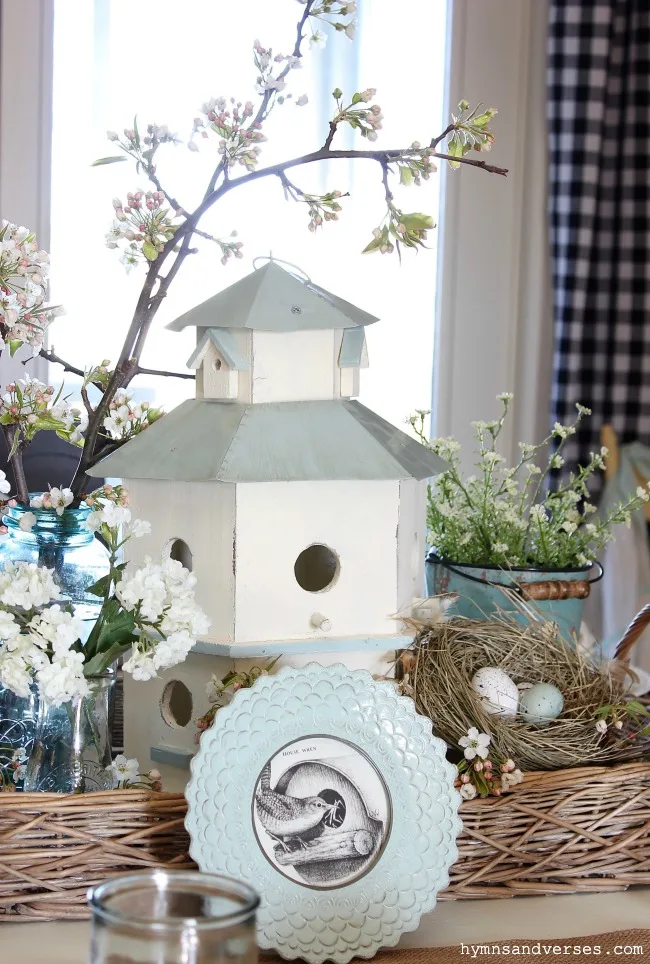 You can see all of their versions by starting here at Country Road 407. And, my Spring bird house tablescape can be seen in this post.
That's it for this week's Saturday Notes! I hope you'll enjoy this new Saturday edition from me! Have a great weekend!