Happy Wednesday! Wow, time flies when you are busy! I'm back today to share another page for your printable planner – a Pray Big prayer request page and also a Pray Big printable chalkboard. (If you missed my post on Sunday, I shared a free printable planner and calendar with inspirational scripture verses – you can see it HERE).
This post contains affiliate links. Please see my full disclosure HERE.
I don't know about you, but prayer is another area I want to work on in 2016. This year, I'm going to write down prayer requests so that I can pray over them each day. And, I'm putting this in my planner so I see it, not only in my quiet time, but also throughout the day. Below is the Pray Big Printable for your planner. To print, just click on the bold titles and you will be taken to the download page.
PRAY BIG PRAYER REQUEST PRINTABLE
For the chalkboard printable, you can print it as an 8″ x 10″ from you home printer or take it to your local copy and print shop (I use Staples) to have them print it as an 18″ x 24″ engineering print for under $5. I used double sided tape to attach the engineering print to an 18″ x 24″ piece of foam core board and then taped it to the back of a simple frame that Mark made for me from inexpensive 1″ x 4″s. I used Minwax Gel Stain in walnut to stain the frame and I will reuse the frame for other printables in the future.
To make the print look even more realistic and like a chalkboard, I used a piece of chalk and ran it over the black areas and wiped it off gently with a cloth. To attach the framed chalkboard to the wall, I used my favorite tool for keeping my walls free of nail holes, Scotch Command Strips.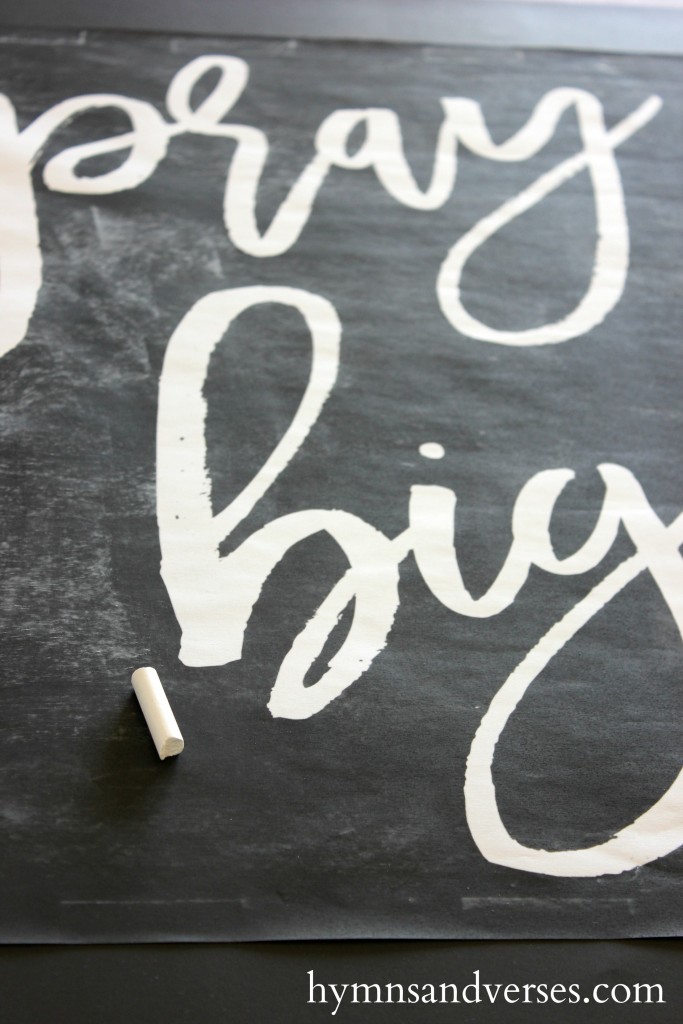 I hope you like and will use the planner printable with me this New Year and remember to Pray Big!
Find the Pray Big chalkboard print and prayer request page in my FREE Printable Library by subscribing to get my posts in your email inbox.
You may also like these posts with free printables!
Free Snow Printable for Christmas Gallery Wall
Feather Wall Charts and Watercolor Feather Printables
"Christ the Lord is Risen Today" Easter Chalkboard Printable