Today is a look back over the past year of the main rooms of my home that I share with you here. It's fun for me to look back over the rooms, what I changed, and sometimes – how much they didn't change. I didn't realize that I never did a spring home tour in 2015? But, there will be one this year and it's already scheduled – Yay!! Here's to a more organized 2015!
As I looked over the photos, I realized that I didn't always share the changes made in our bedroom. I have no photos of our bedroom in the spring or summer? I'm not quite sure why, because I had some amazing pillow covers that I made for our bed that you didn't get to see – well, you will see them this year!
And, it also confirmed the fact that I don't take a lot of photos of our kitchen! Our kitchen has horrible lighting and even though we did a mini update to our kitchen a few years ago, there are things that we want to change – so I guess that's reflected in just how few photos there are of the kitchen!! That is an area that we want to focus on this year – new appliances and that farmhouse sink that's been calling my name! Maybe if I have a shiny, white farmhouse sink, I'll take more photos in there!
So clearly, my favorite place to decorate is the living room. Here it is from June. This was right after we sold our green sofa and got the white Ektorp from Ikea. I have to say, I don't regret that for one minute!
The spring and summer mantel was one of my very favorite things from the year, but so simple – just fresh green botanicals from the yard in simple glass vessels! As they would fade, I would bring in fresh clippings.
Here's the same space in September/October. The DIY feather prints were a hit with you all.
I've also had a lot of questions about what's in the white jug – it's dried ocra on artificial branch stems.
And, here's this year's Christmas living room. All the Christmas is put away. If you follow me on instagram, you know that when I asked the hubs to take out the Christmas tree, he took it outside and sat it (in it's stand) right in the front yard! I didn't notice it until late the next day!
Now, moving onto the dining room. First, is the dining room in early summer. A few things have changed in this room. I sold the little cottage style dresser and no longer use the black chairs. And, I just noticed that I was in between rugs in this shot!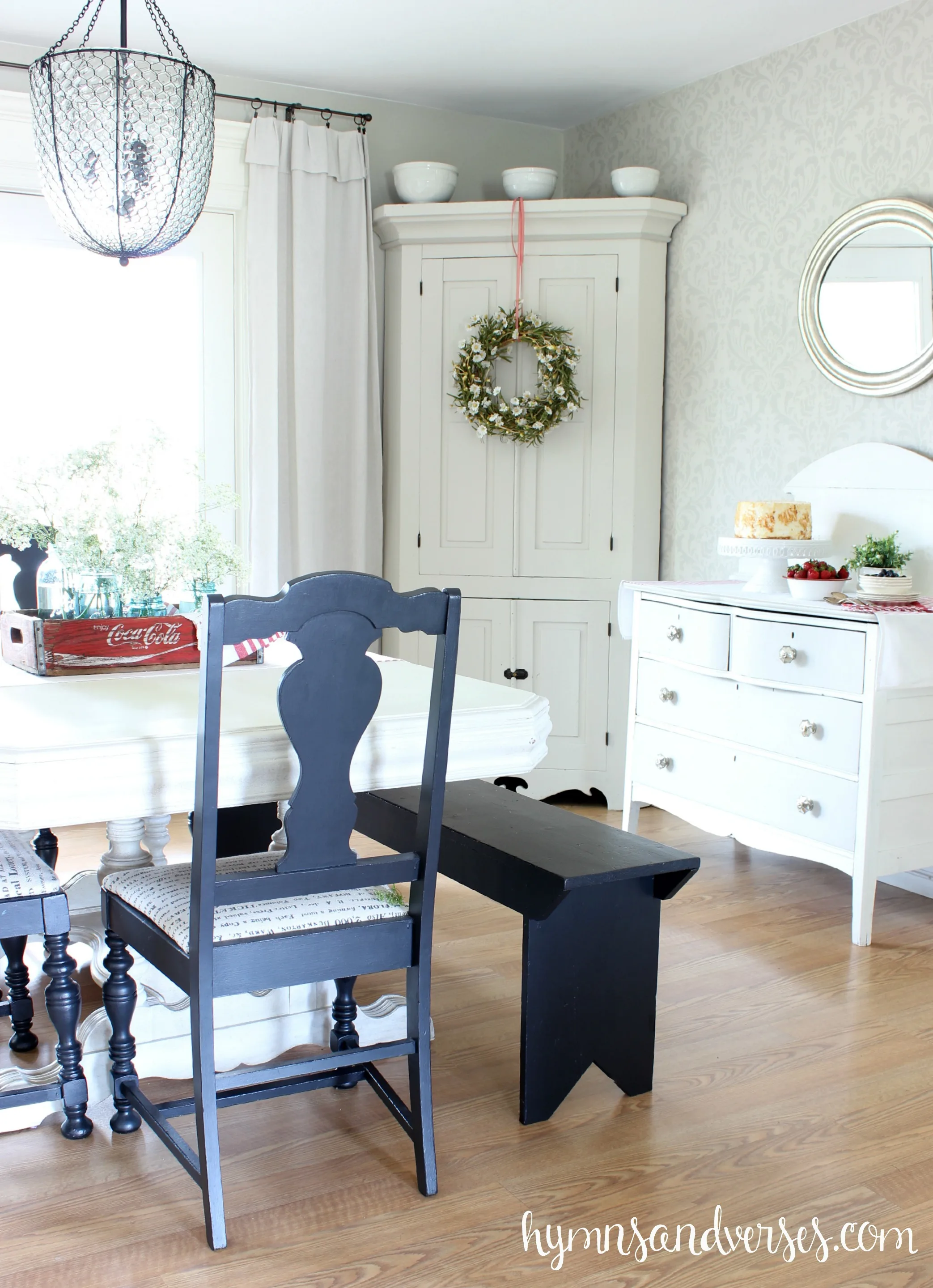 Here's the dining room in September – early fall decor. Here you can briefly see the new slipcovered chairs. And Mark and I made a farmhouse table top that we attached to the table's trestle base.
And, again at Thanksgiving. There are a few changes and a better view of the chairs and sisal rug. You can also see that I stripped the black paint from my antique farm bench. I love it like this.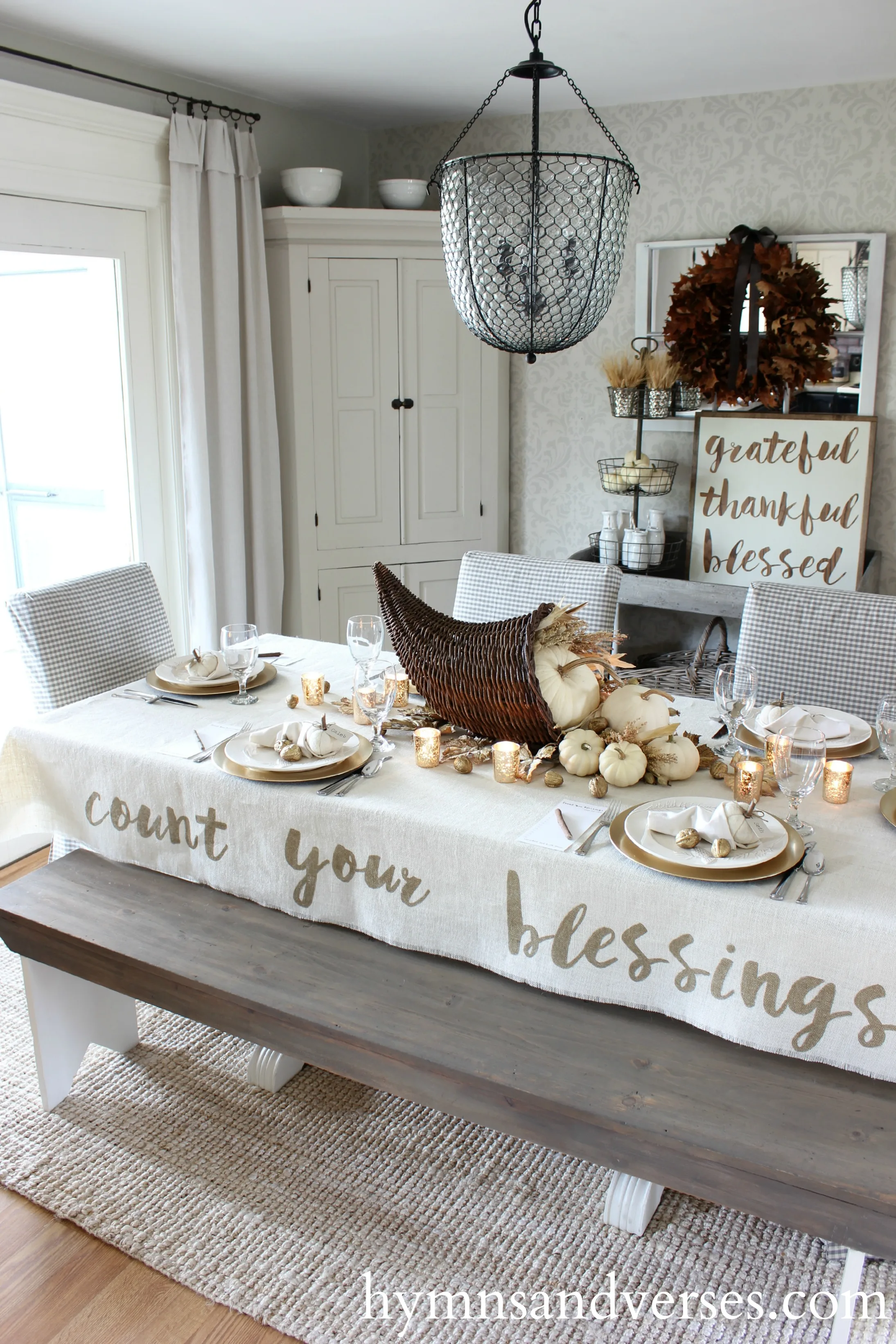 There weren't a lot of changes in our bedroom over the year. This photo was taken last January.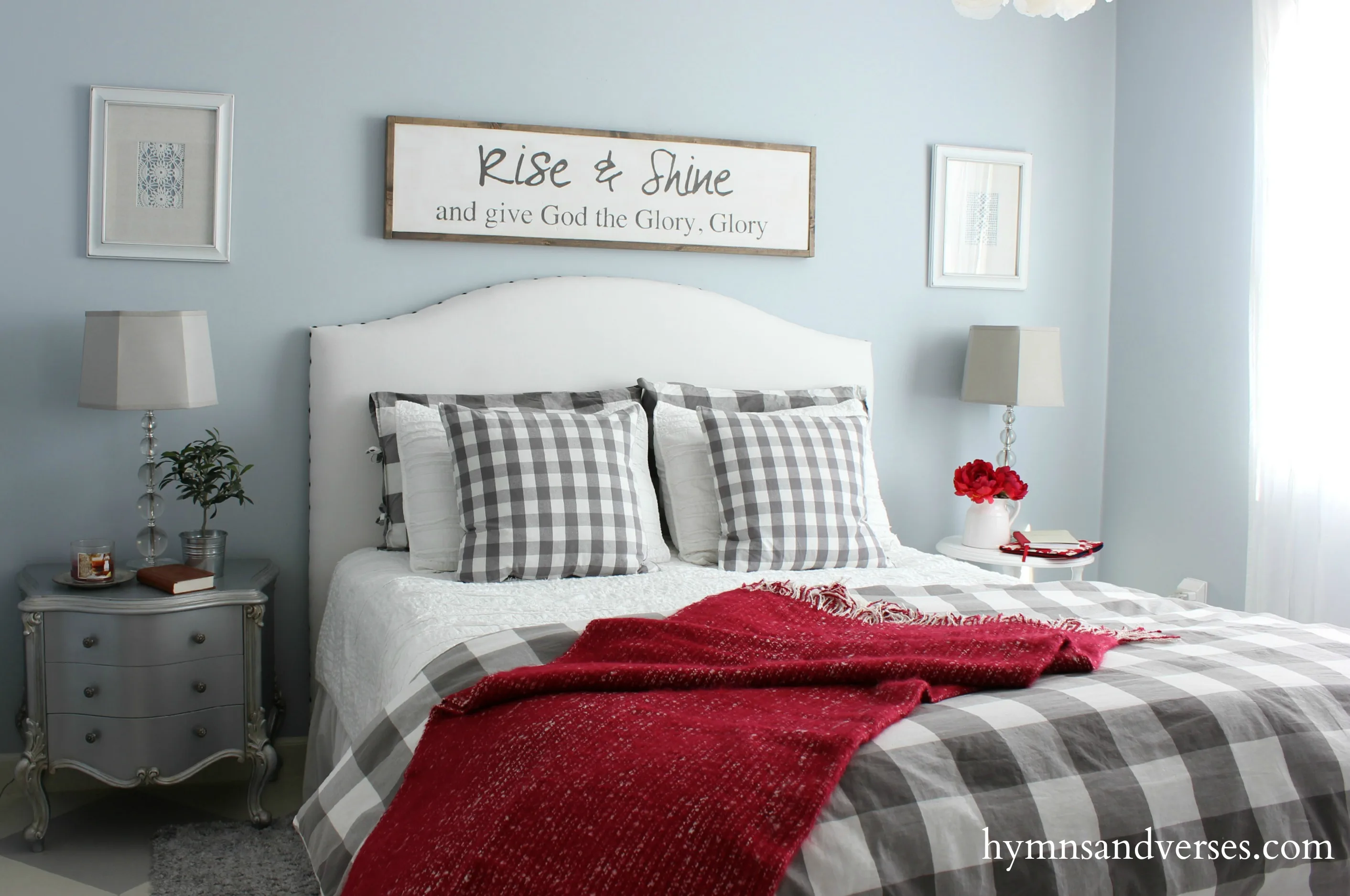 And, here's the bedroom how it is today. A change in bedding – the white quilt was changed out to a gray quilt, faux fur euro pillows, and polka dot flannel sheets! We did get a new rug in here.
And, the porch! Truly a fun space to decorate! Here it is in June. The rug was new this year and I made the fringe curtains from drop cloths.
And, here's the porch in early fall. The curtains were taken down for fall and winter.
And, here's the porch right before Christmas with a s'more and hot cocoa station. So far we've had a very mild winter. No snow in sight – in fact, some of my perennials are still holding blooms! So strange for Pennsylvania!
I hope you enjoyed this year in review of my home. I'm so looking forward to 2016 to see what changes it will bring!
If you'd like to see the full home tours, you can click the links below: