The way to create a home that is uniquely yours is by using things that you love. I love to use vintage and antique items in my home. Some because they are sentimental and some that just spark something inside that makes me happy! And, that's how I felt when I spotted an antique headboard at a local shop! I knew exactly how I would repurpose this piece!
There are times when I see something and it's potential that others (ie. my husband and kids) don't see! That's how it went with this headboard! I tried to explain my vision to my husband at the shop, but he couldn't see it. He kept saying, "just keep looking and maybe you'll find something else". For me, I was done! I had found what I was looking for, but I humored him! I finally won him over because the headboard was "on sale" and really a great price.
Once we got the headboard home, I took him step by step through how I wanted to repurpose this headboard into a shelf of sorts to hang over our sofa in the living room. I first showed him some inspiration photos that I had pinned on Pinterest. Here they are:
I wish I had sources for the first two photos. I've had them pinned for quite some time because I thought either style would look great over my sofa in the living room. I thought Mark and I could recreate these with new wood. He could do the making and I could do the painting to look old. The third image is another one that i found on Pinterest. This one is an actual headboard that a creative Etsy seller made and sold. The hooks used on this headboard make it so great! But, the first two were my inspiration pieces for my headboard/shelf.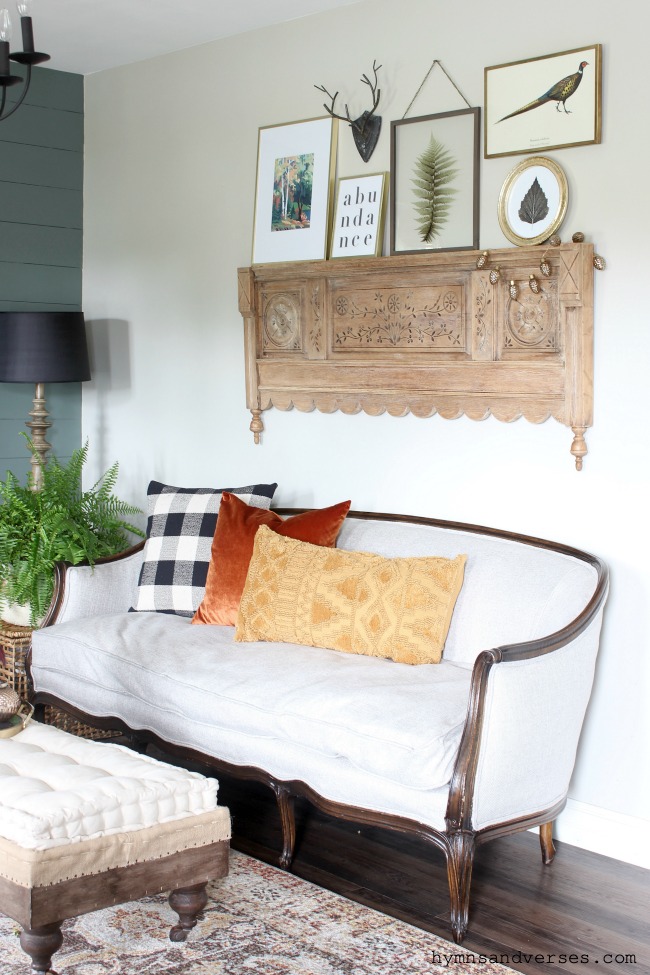 DIY ANTIQUE HEADBOARD SHELF
Here's the headboard laying out on our dining table before we got started . The arrow is pointing to the bottom of the headboard. There is a piece of molding that runs the entire width of the piece. When turned upside down, that decorative molding creates a little ledge that's now the top of the shelf.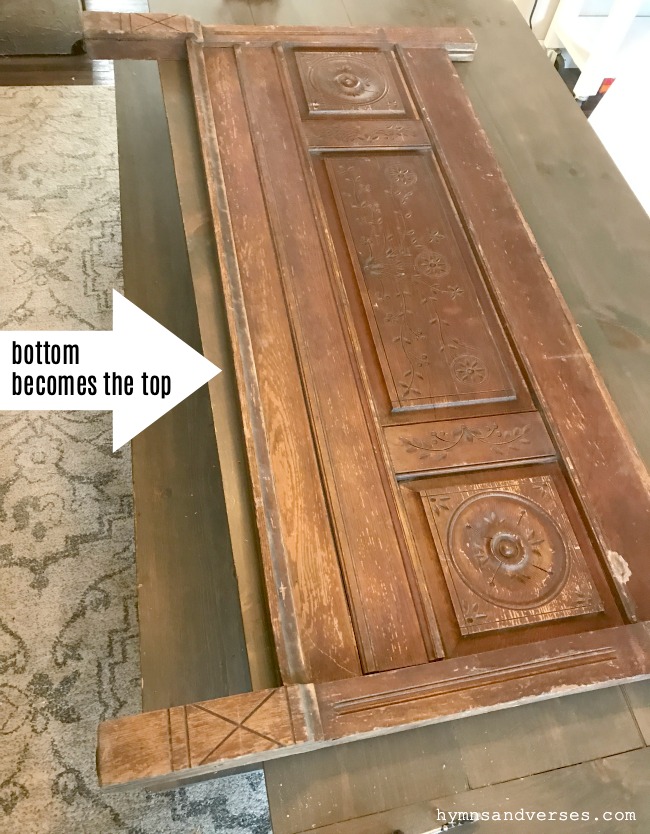 Next, we pried off the top, decorative "X" piece on "what was" the headboard's legs. In the second photo, I showed how we cut the bottom legs off so they would be even with the "ledge". Then we put that decorative "X" piece back on to line up with what is now the top of the shelf. You can see this clearly on the finished piece lower down in this post.
This next photo shows a template that I made on my computer to create a scalloped edge on "what was" the top of the headboard. Now, the bottom of the shelf. I traced the template onto the wood and Mark used a jigsaw to cut it for me.

The final step was to find some wood finials for the bottom of the shelf. I searched on Etsy and found the absolute perfect finials! They were around $10. While I waited for the finials to arrive in the mail, I took the piece outside and used Citristrip to strip off all of the old stain and varnish. I think it really shows off all of the carved details so much better! Below is the finished piece with the finials in place!

I hope that by sharing the steps we used to repurpose an old headboard into a unique wall shelf, will inspire you to look at things with fresh eyes. When you see something unique at an antique shop or flea market, think about how you can repurpose it to use in your home!