Welcome to summertime on my screen porch! The focal point is the sign hanging above the vintage glider that reads: "Summertime – and the liv'n is easy".
* This post contains some affiliate links for your convenience. Please see my full disclosure statement.
Summertime Screen Porch
The "Summertime" sign is one I quickly made from an old cabinet door that I had in the garage! Can I just say I'm so thankful for a very patient husband who climbs up and down the ladder for his wife to hang curtains and a sign from the porch rafters!
I used a red and white colour theme and a lot of the fabrics are from unique sources. The floral pillows on the glider above were made from napkins found at HomeGoods. You can make two pillow covers from a set of four 20 x 20 square cloth napkins. The striped lumbar pillow was made from two heavy weight, cotton tea towels also from HomeGoods.
And, the fringed red and white striped pillows on the chairs were also made from a set of napkins from HomeGoods. I found this striped cotton rug that I love, even though I wish it were one size larger. Then, I brought my DIY chicken coop coffee table out of storage and it's the perfect size for the porch.
I picked up this watermelon to use in my photos and my family has waited patiently for me to finish so they can devour it! Don't eat my props – ha, ha!!!
And, what says summertime more than an old Radio Flyer red wagon! And, it looks so cute filled with plants and flowers.
Galvanised Accessories
This adorable galvanised woven basket is from one of my favourite local shops. I think the planter of red geraniums looks perfect in it! You can see the basket better in some of the pictures above. I planted some fresh herbs in small galvanised pots inside the hanging window planters. I love the smell of the fresh herbs on the porch. And, since the porch is right off my dining room and kitchen, it's super convenient to have them there! I made herb labels using chipboard tags and an alphabet rubber stamp set and attached them in front of each herb container with red and white baker's twine.
I like to make sure there are plenty of places to sit a drink when you're out on the porch on a hot summer day. On this side of the glider I used an old wire spool from the local telephone company.
The two tired galvanised serving stand is filled with new and old baseballs and these amazing real goose feather badminton shuttlecocks that I found at a local antique shop!
The red plaid pillow is one that I made years ago out of a plaid tablecloth! As you can tell, I'm always stalking the table linen aisle for great fabrics! And, I found the striped throw on the swing at Target.
At the entrance into the house, I created a little drink station using a large galvanised tub.
I made the "look alike" Rae Dunn bottles using $1 glass bottles from the Target Dollar Spot and black vinyl letters that I cut using my Silhouette Cameo cutting machine.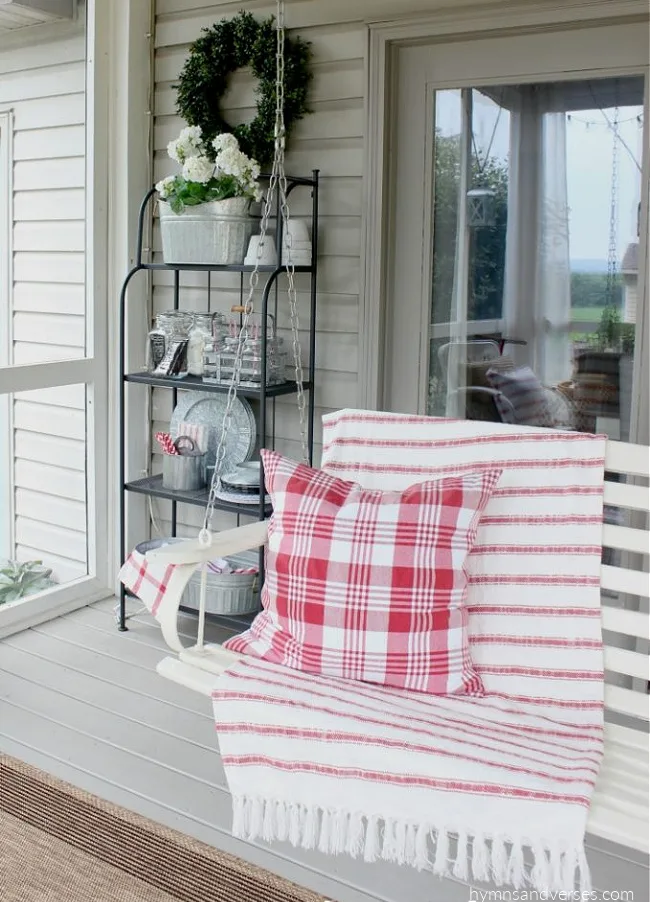 In the opposite corner, I purchased this inexpensive outdoor shelving unit from Ikea. It's the perfect size for this spot and holds a lot of supplies for outdoor entertaining!
ready for Outdoor Entertaining
It's sturdy, but also has brackets that you can attach it to the wall.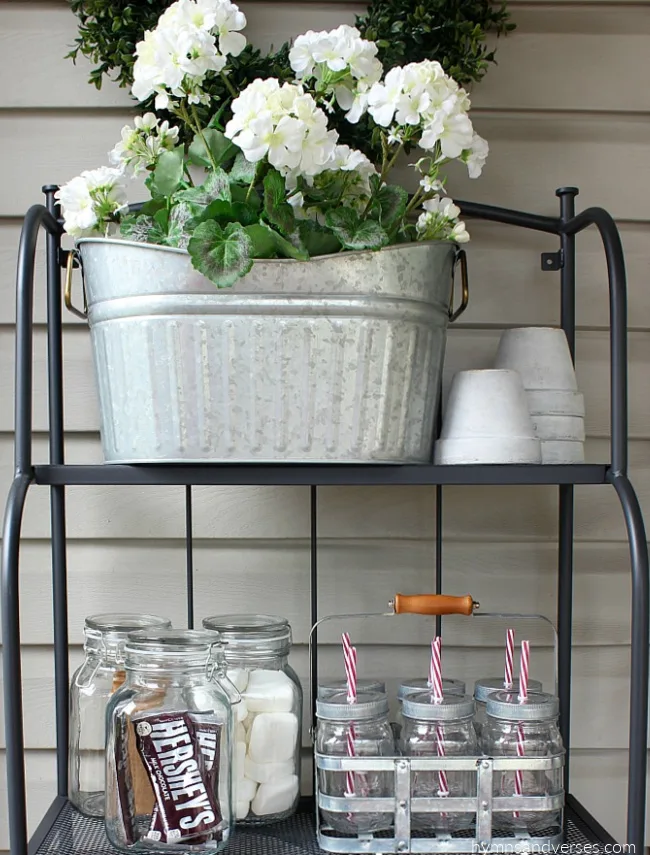 All of the galvanised pieces were purchased at either Walmart of HomeGoods. Both stores have amazing outdoor dinnerware this time of year.
I hope you enjoyed this look around my summertime screen porch! If you need me, you know where to find me – on the porch swing!
You might also like these posts:
Summer Screen Porch Designs Through the Years