Hi, friends! It's summer and that means it's picnic time! I love picnics and outdoor gatherings in the summer! Whether you're the host or attending a picnic and need to take a dish, I've got a great one for you today! It's easy and a crowd favorite – Pennsylvania Dutch Macaroni Salad.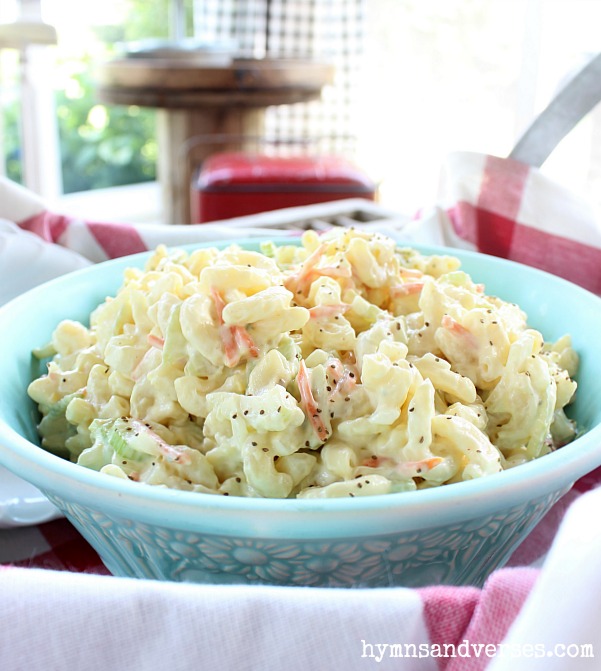 Like most of you, I have gotten most of my recipes passed on to me from family or friends. This one was given to me by my friend, Cindy! And, I think it was passed on to her by another friend of hers! Recipes are like that – the good ones anyway!! You're at a gathering and taste something amazing and you MUST get the recipe! And, this is one of those recipes!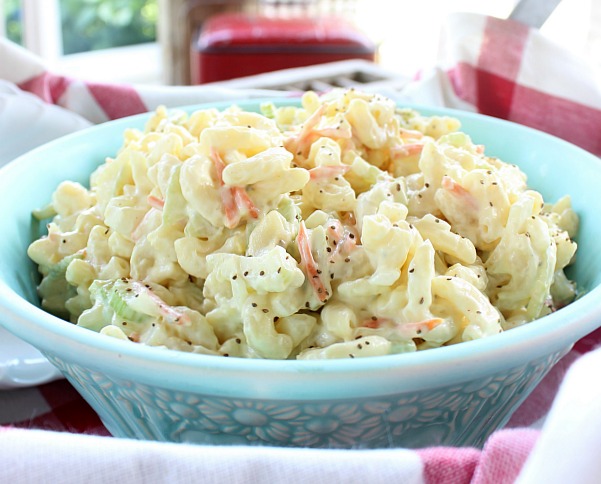 This is a Pennsylvania Dutch version of the classic summer macaroni salad. What makes it "Pennsylvania Dutch" you may ask? I think it's the combination of dressing ingredients that give this macaroni salad a sweet and tangy Pennsylvania Dutch twist. The dressing uses Miracle Whip, instead of the classic mayonnaise, a little bit of sugar, vinegar and yellow mustard.
Pennsylvania Dutch Macaroni Salad
4 ribs celery – diced
1 medium onion – diced
shredded carrots
3 hard boiled eggs – chopped
2 cups cooked elbow noodles
2 T sugar
2 T vinegar
1 T mustard
2 cups Miracle Whip salad dressing
Sprinkle of celery seed
Cook the macaroni noodles, rinse with cold water and drain. In a large bowl combine the cooked and cooled macaroni, diced celery, diced onion, shredded carrots (to your liking) and chopped hard boiled eggs. Then mix the dressing ingredients together – Miracle Whip, mustard, sugar and vinegar. Fold the dressing mixture into the macaroni mixture. Mix well and sprinkle with celery seed. I like to make this a day early so there is time for the flavors to blend together.
I hope you'll give this recipe a try for your next summer picnic or party!
Here are a few other traditional Pennsylvania Dutch recipes you might also like:
Pennsylvania Dutch Pickled Eggs