Hi, friends! It's summer and that means it's picnic time! I love picnics and outdoor gatherings in the summer! Whether you're the host or attending a picnic and need to take a dish, I've got a great one for you today! It's easy and a crowd favorite – Pennsylvania Dutch Macaroni Salad.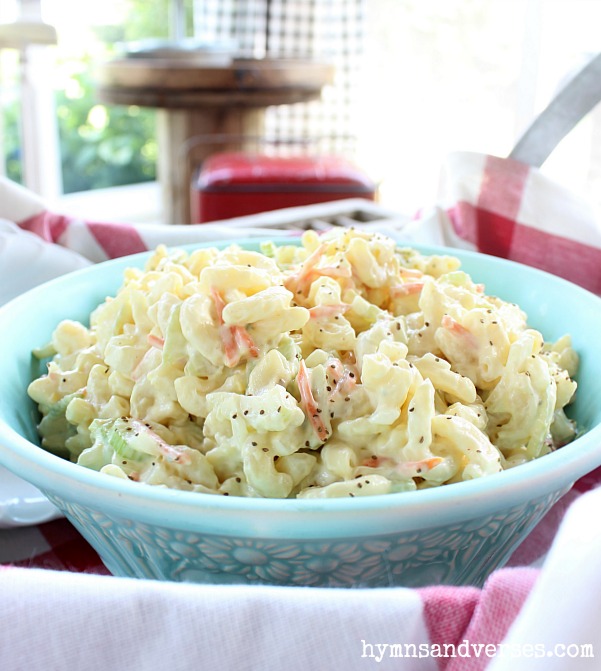 Like most of you, I have gotten most of my favorite and "go to" recipes passed on to me from family or friends. This one was given to me by my friend, Cindy! And, I think it was passed on to her by another friend of hers! Recipes are like that – the good ones anyway!! And, this is one of those recipes!
I think I was at a graduation party at Cindy's house when I first tasted. this macaroni salad. First, you should note that I don't really like macaroni salad. Nope! I don't care for it! Especially the kind you find in the deli section at the grocery store! But, Cindy was raving about this recipe and insisted that I give it a try. And, she was right! This macaroni salad was different from any that I'd had before! And, I loved it!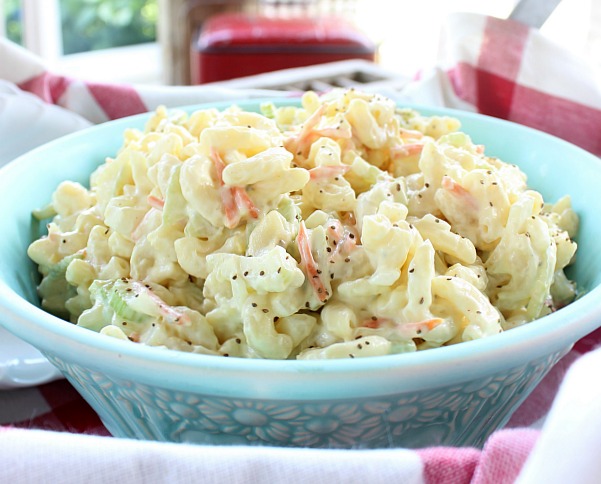 Pennsylvania Dutch Sweet & Tangy Macaroni Salad
This is a Pennsylvania Dutch version of the classic summer macaroni salad. What makes it "Pennsylvania Dutch" you may ask? I think it's the combination of dressing ingredients that give this macaroni salad a sweet and tangy Pennsylvania Dutch twist. The dressing uses Miracle Whip, instead of the classic mayonnaise, a little bit of sugar, vinegar and yellow mustard. I will also say that I typically don't care for Miracle Whip. If I have a choice between a sandwich with mayo or Miracle Whip, I will always choose the mayo. But, in this dressing combination, I like it!
Pennsylvania Dutch Macaroni Salad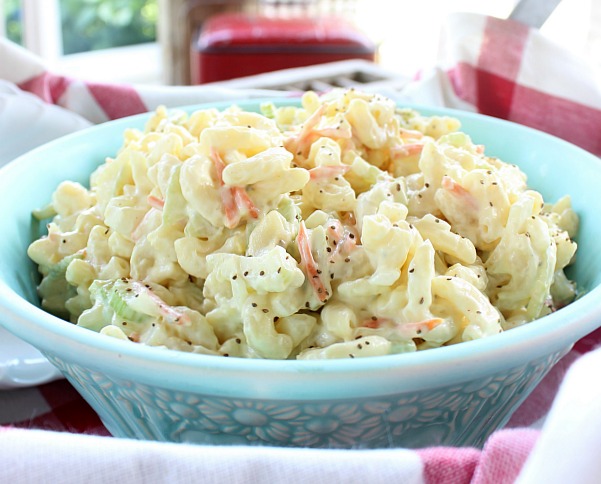 A sweet and tangy Pennsylvania Dutch twist on traditional macaroni salad!
Ingredients
4 Ribs Celery
1 Medium Onion
Shredded Carrots
3 Hard Boiled Eggs
2 Cups Elbow Cooked Elbow Noodles
2 TBS Sugar
1 TBS Mustard
2 TBS Vinegar
2 Cups Miracle Whip Salad Dressing
Sprinkle of Celery Seed
Instructions
Cook the macaroni noodles. Rinse with cold water and drain.
Dice the celery and onion.
Chop the hard boiled eggs.
In a large bowl, combine the cooked and cooled macaroni, diced celery and onion, and chopped eggs.
In a separate bowl mix together the Miracle Whip, mustard, sugar, and vinegar.
Fold the dressing mixture into the macaroni bowl.
Sprinkle with celery seed.
Store in refrigerator until ready to serve.
Notes
I like to make this a day early so there is time for the flavors to blend.
I hope you'll give this macaroni salad recipe a try for your next summer picnic or party!

Here are a few other traditional Pennsylvania Dutch recipes you might also like:
Pennsylvania Dutch Pickled Eggs