The sun is shining here in Lancaster County and it just makes me want to sing! It's been dreary and rainy for days and it's so good to be able to get outside! I've been working on my screen porch for the summer months and am making headway! Today I'm going to share a little area on the porch that I've styled using a recent antique shop find – a vintage bird cage!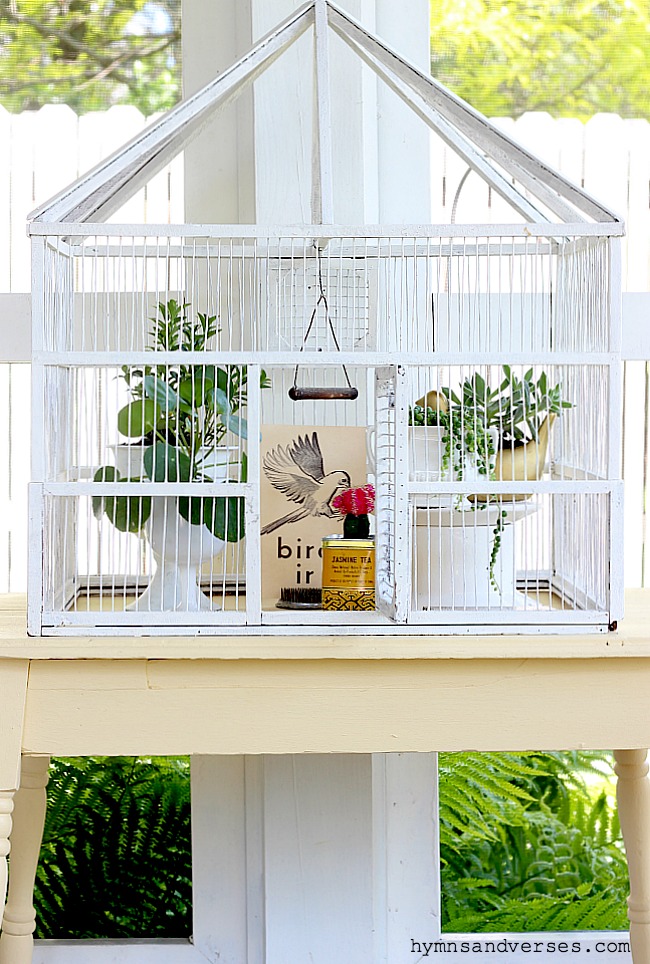 *This post contains some affiliate shopping links. Please see my full disclosure statement HERE.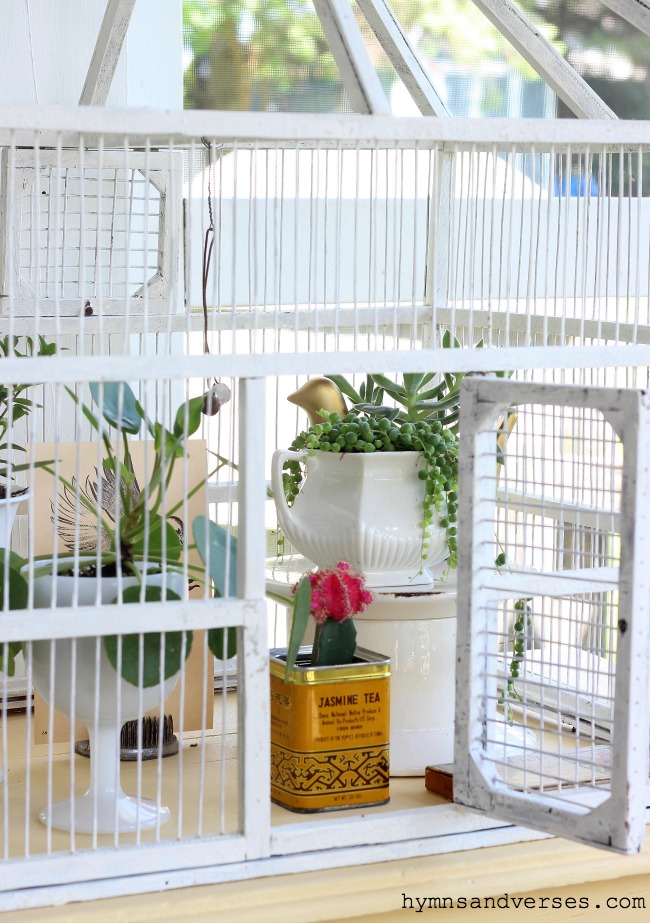 I found this bird cage several weeks ago at an antique shop. Mark was with me, which is not the norm, and agreed that it would look great on the screen porch! He doesn't always see my vision, but with this piece he did! At the same shop I picked up this little book on birds … that I knew would be great styled with the vintage bird cage!
In addition to the little book, I added a vintage "bird" flash card from a collection that I have. I displayed the flash card using a vintage floral frog.

My plan for the bird cage was to have it be a showcase for some unique plants. So, I've been visiting some local greenhouses and picked up a few new plants and let's hope that I can keep them alive! They will get lots of sun out on the porch, so I just need to keep them watered!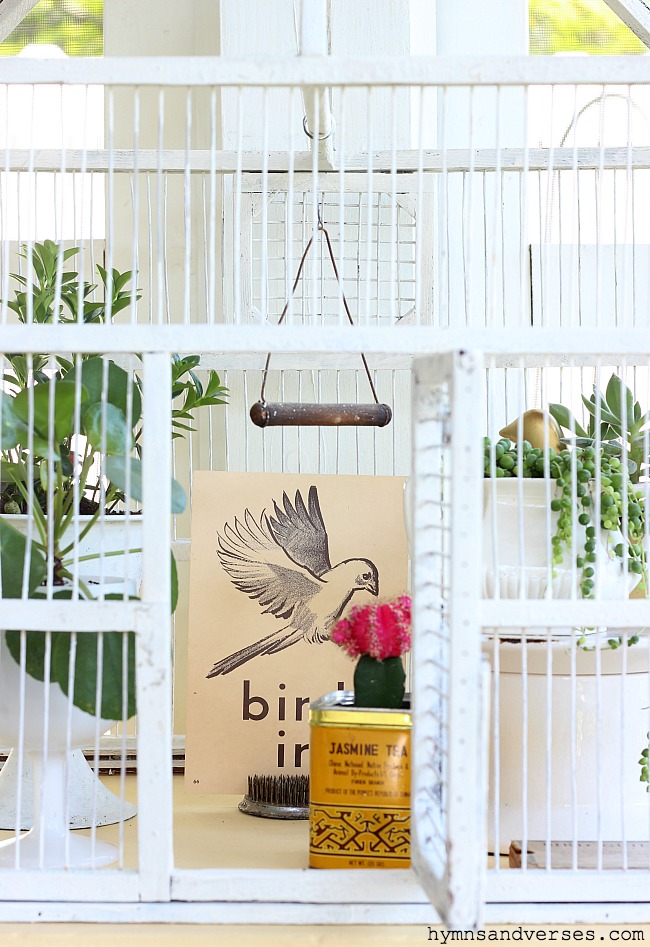 PLANTS AND VINTAGE OBJECTS
The succulents and little cactus don't require much water and should thrive in the summer days to come. The Pilea (left front) is potted in a milk glass goblet. The String of Pearls succulent (sitting on the pedestal) is in an ironstone sugar bowl. The other succulent is in THIS brass bird planter from Target. The plant behind the Pilea is a Goldfish plant. The bright orange petals look like tiny gold fish! In the front is a tiny Pink Moon Cactus in a vintage tea tin.

I did make some modifications to the vintage bird cage. When I purchased it, the roof top and part of the bottom of the cage was covered in rusty mesh screen. Since I wanted to have easy access to water plants, I removed the mesh screen. I also removed the tin that was on the bottom of the bird cage. And, I gave the entire piece a fresh coat of white paint. The little, yellow table is another recent find.


I recently attended a local auction and won quite a few bids. In fact, my garage is quite full of projects for the summer! This little table was just $3!!! I painted it using Maison Blanche Vintage Furniture Paint in the color Miel.

I found a similar bird cage from Antique Farmhouse HERE, but it's currently out of stock. If you are interested, I'll keep you posted if I see it become available again! Just let me know in the comments below! Thanks for stopping by today! I'll be back on Friday with something new and hope to get back to my regular Monday, Wednesday, Friday posting schedule next week!

You might also like these posts:
Good Day Sunshine Summer Bedroom
Simple Summer Style Living Room