Decorating with a string of beads or a bead garland has been a trend for a few years now. From wood bead garlands to strings of recycled glass beads, they are another way to add interest and texture in any room. And, there are plenty of tutorials for making your own wood bead garlands. But, what about a garland made from walnuts? Way back in 2013 I had the crazy idea to string together walnuts and make a garland to hang from my mantel! But, back then, I was pretty terrible about actually showing someone how to make the things that I was making. In other words, I'd show you something I'd make, but never show YOU how to make it. Today, I'm sharing how I made that walnut bead garland from seven years ago! I rewrote the blog post and updated the photos. And, I bought a new bag of walnuts to photograph how to make one yourself!
And, that's the whole purpose of our weekly Friday series, Home and Decor Encore. My friends and I are updating our old blog posts to make them relevant to today! Would I use this walnut bead garland today? Absolutely! In fact, the simple fall mantel where I used this garland is one of my absolute favorites! I would also consider using just a strand of the walnut beads layered on top of a stack of books or on a tray (just like you would use other decorative beads).
Welcome to Home and Decor Encore
For this week's Home and Decor, Lori from The Stonybrook House has a recipe for Crockpot Fajita Soup that looks delicious! Cristina from RemodelaCasa is showing us how to make leaf shaped placemats that would be perfect for Thanksgiving! And, speaking of Thanksgiving, Laura from Duke Manor Farm is sharing a pretty copper and plaid fall tablescape! And, Christy from Our Southern Home is sharing some different ways to decorate with cake stands! To view each post, just click on the bold title above the photo. As always, please pin from the original blog post and not from the images here. Of course, we love to hear your thoughts and comments! It makes our day when we hear from you!
HYMNS & VERSES | DIY WALNUT GARLAND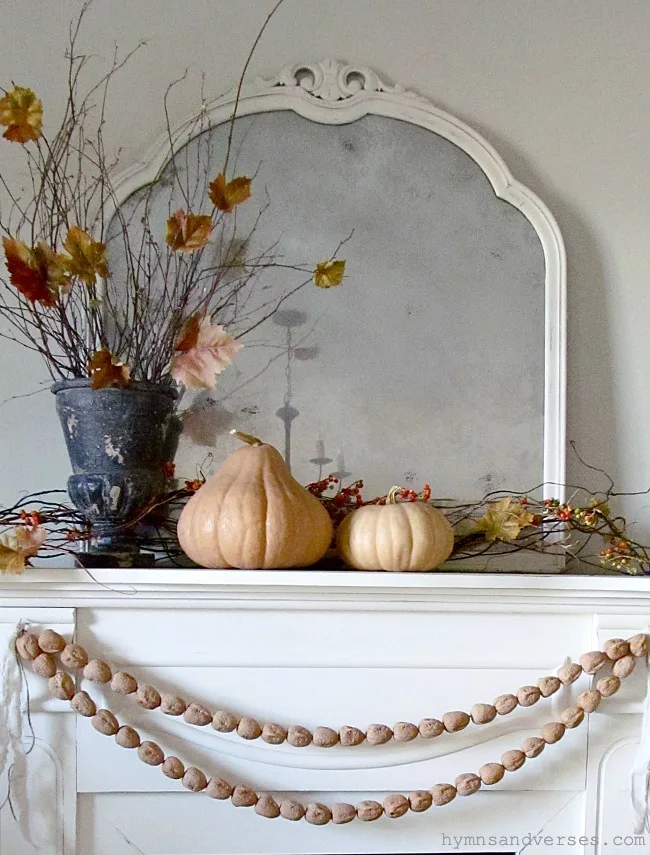 THE STONYBROOK HOUSE | CROCKPOT FAJITA SOUP
DUKE MANOR FARM | COPPER AND PLAID THANKSGIVING TABLE
REMODELACASA | WOOD LEAF PLACEMATS
OUR SOUTHERN HOME | DECORATING WITH CAKE STANDS