It's been a while since I've shared new products from Mary & Martha. If you aren't familiar with Mary and Martha, is part of the Hallmark/Dayspring family. You can read more about them on my shop page here. I recently received the new Mary and Martha Fall and Winter Catalog and wanted to share what's new and some of my picks from the new line! I've also added a clickable shop image to the blog's homepage!
As an overview, it seems to me that Mary and Martha are focusing on home entertaining and adding pieces that provide a meaningful statement at the same time. There are now three lines of dinnerware offered and complimenting serving pieces. There are several wooden trays, boards, baskets, and a tiered tray. Everything coordinates beautifully. There are also some new home decor pieces that are very on trend.
My only disclaimer is that I feel these pieces are priced fairly high. You know I like to shop when things are either on sale or at a discount store, like HomeGoods, where things are sold at a cheaper price. So, if spending money on higher priced dinnerware is a concern for you, then I would recommend waiting for a sale. That's what I'm going to do. And, I'll be sure to share sales with you as well by email! When Mary and Martha does have a sale, it's usually a good one! So, here's what's new at Mary and Martha for Fall and Winter!
what's new at Mary and Martha
DINNERWARE
When I was first introduced to Mary and Martha, they had a Grace & Gratitude dinnerware collection. I loved the large plates from that collection! But, they discontinued them before I had a chance to get them! They kept a few of the first pieces of that collection, like the Grace and Gratitude pitcher that I have and the mugs. Then, they added to those pieces with some really nice serving pieces shown below. The large, footed serving bowl, casserole, and platter are all on my list!
In the new catalog, they've added new dinner plates, salad plates, and bowls, and more serving pieces for this collection. I absolutely love the soft pink, floral rimmed salad plates. I've ordered one dinner plate and one salad plate so I can see the quality first hand! But, if they are like the original pieces, like the pitcher, then I know the quality will be top notch! I'll be watching for a sale on these pieces!
There are two new pedestals (or cake stands). And, a smaller footed bowl that reads "Grateful for Life's Simple Joys".
TEA TOWELS
One of the most popular items that I've shared from Mary & Martha are printed tea towels that can be made into art by attaching them to an artist canvas and framing. You can see more in this post, How to Frame a Mary and Martha Tea Towel. Well, there are two new tea towels that are really beautiful. These tea towels are really large at 29″L x 24 1/4″W, making them perfect for turning into large scale art.
WALL ART
One of the other Mary and Martha tea towel designs that was very popular, is now an art piece in the new Mary and Martha catalog: "We open our home in love and grace and ask God's blessing on this place". So, if you're not into DIY, this 18″ x 24″ wall art is at a good price point of $55. The smaller sign is 14″ x 14″ and is $40.
FOR THE MEN IN YOUR LIFE
If you have boys in their 20's or 30's like I do, there's a new leather valet to hold keys and change! It's genuine leather and embossed with "Be Strong and Courageous" and the Joshua 1:9 verse is perfect! Again, I think this piece is a little overpriced, so I'll be watching for a sale on it! It will be a perfect extra gift for my guys at Christmas!
FOR KIDS
For the kiddos, I love this Fruit of the Spirit play set. What a great gift this would be for a preschool or elementary school Sunday School class! It would be an excellent, hands on teaching tool!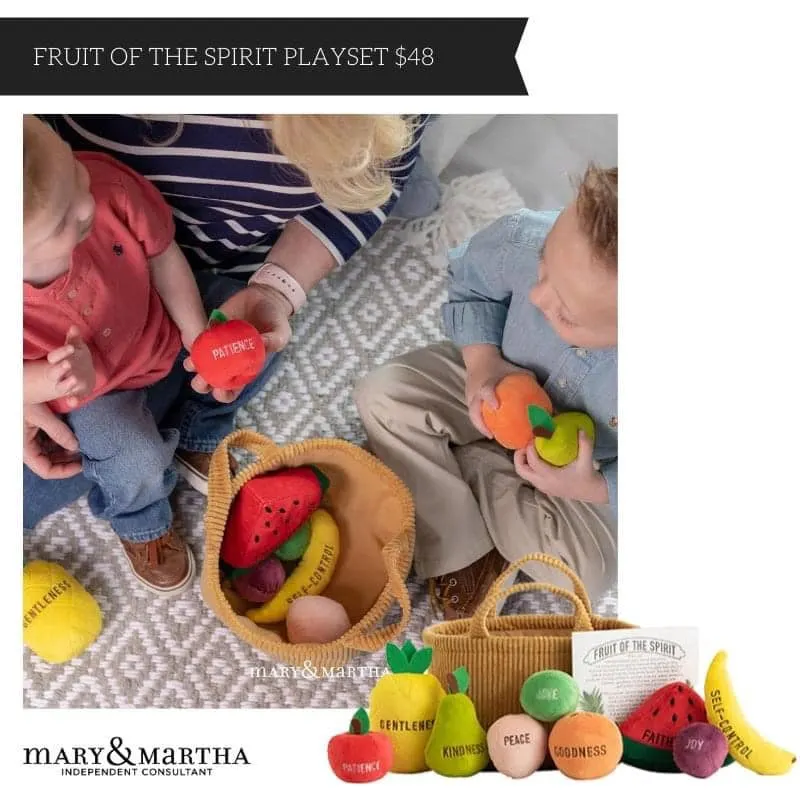 Also, for the kids, are two new Christmas products that are also excellent teaching tools for sharing the real story of Christmas! The Jesus is Born Nativity Ornament Book is just $20 and the Jesus is Born Nativity Wooden Bible Box is just $24. I'm buying both of these! I know Daphne will still be too young for both of these this year, but I don't know if these products will be back in future years. So, I'm getting them now!
CHRISTMAS CARDS
And, lastly, there are two new Christmas card sets that I really love! Each set of six cards has a detachable Christmas ornament on the front of the actual Christmas card. The first set has a pretty, rose gold nativity ornament.
The second set is a special Compassion International ornament card featuring children that Compassion supports. If you have a Compassion child, you could send them one of these cards this Christmas! We support two Compassion kids and our son also supports a child. So, I'll buy a set that we can all share!
You can see all of these new products and more in my online Mary and Martha Shop, where you can place an order and have your order shipped directly to you! There are some new decor items (that I haven't shared here) that aren't available yet to purchase, but can be seen in the online catalog. These items will be available to order by mid-August! I hope you enjoy seeing all the new, even if you aren't able to order anything right now! I just wanted to share what's new at Mary and Martha and those items that are on my radar! Thanks for stopping by today!