Hi, Friends!  A week or so ago I received the March Pottery Barn catalog in the mail.  I love Pottery Barn and have many items that I've purchased there over the years (like the large ceramic cut out egg in the catalog photo below)!  In fact, I was just at our local Pottery Barn Outlet Store yesterday looking for deals!  But, there are some things that I love, but I'm not willing to pay the PB price.  Like this adorable "Happy Easter Burlap Banner" that I spotted in the catalog.  It's $29.50 – yikes!!!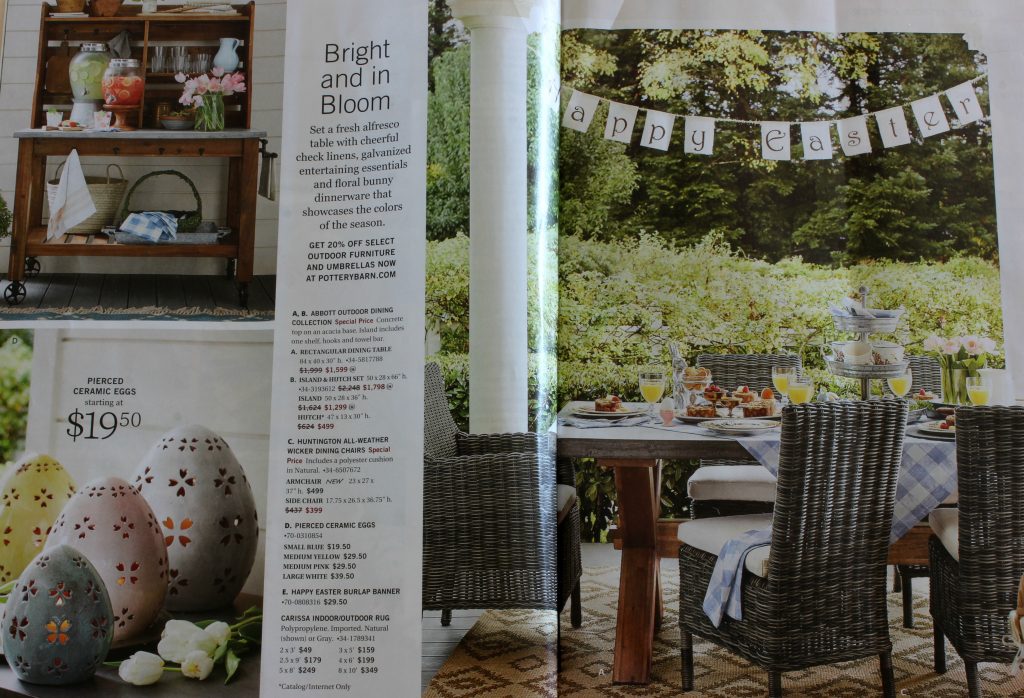 I debated making one from burlap for myself, but then decided that I'd go a step further and create the look on paper as a printable for you to cut out and use too!  I made a little change to the shape of my banner – I like the little points at the bottom better than the straight edge of the Pottery Barn original.  When I saw the banner in the catalog, the font caught my eye and I knew that I had that same font in my computer font files.  I had purchased it for a previous project years ago.  Having the same font made this even easier to replicate.  I just needed a burlap background and found one on Etsy that is a close match to the color and look of the Pottery Barn original.  It's kind of hard to see the texture of the burlap background in my photos, but it's much more apparent in person!
I printed the banner pages on white card stock, cut out each piece and punched holes in each corner.  Then, I strung some jute twine through the holes.  You can hang it as one long banner (as shown in the Pottery Barn catalog image) or break it into two smaller banners like I did.
To print the banner pages, just click on the image above and it will take you to the download page.  It's just one pdf file with all of the lettered pieces to make your banner. Just download and print it on your home printer. Here's to decorating for spring and Easter AND saving some money!!!