Five flowering shrubs that look great in the landscape and whose cuttings can be used to make floral arrangements for inside the home.
I just love this time of year when everything is getting greener by the day it seems! We are getting ready to do some outdoor landscape and garden projects around our house, and I can't wait to get started! Over the years we've added plants and shrubs to our landscape. And, I've learned over time that I'm happiest with a tree or shrub that does double duty. What I mean by that, a shrub that looks good in the landscape and one whose branches can come indoors for pretty arrangements! So, today, I'm going to share five flowering shrubs that I have in my landscape that fit that description!
Today's post is part of the April Cozy Living Series hosted by Jennifer at Town and Country Living. For me, the Hygge or "cozy feeling" in the springtime comes by working in my flower beds or creating floral arrangements from plants and shrubs in my landscape! At the end of today's post, you'll find links with more cozy living ideas for spring that you can visit!
5 Flowering shrubs for Indoor Flower Arrangements
"Never underestimate the healing power of a quiet moment in the garden" –unknown
BRIDAL WREATH SPIREA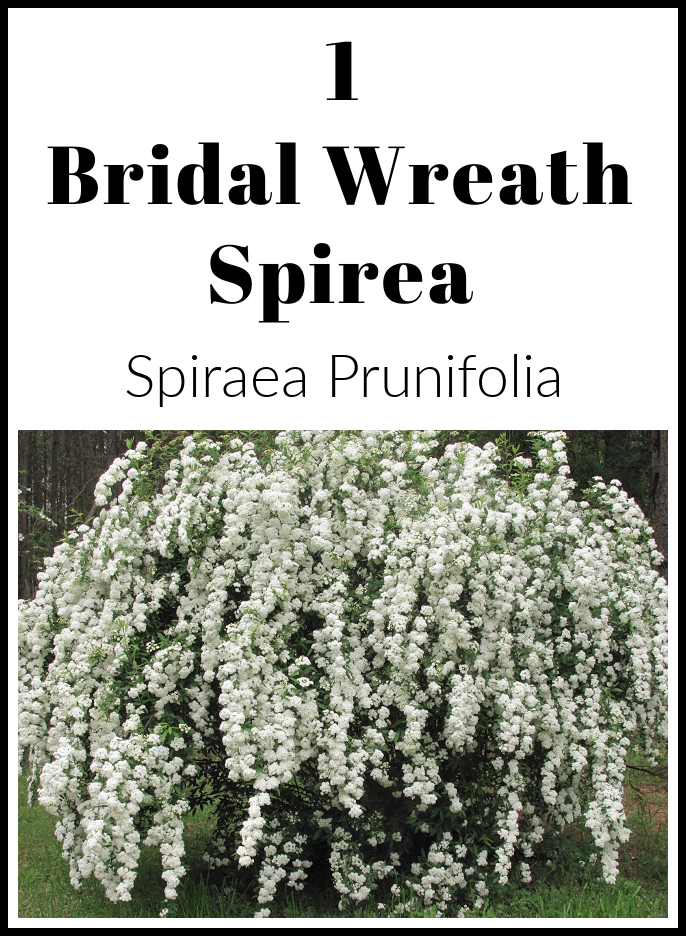 This is one of the first flowering shrubs that we purchased for our landscape and it is still going strong today! It's pretty obvious how it gets the name "Bridal Wreath" spirea! And, you might also hear it called "Bridal Veil" spirea. The delicate branches full of tiny white flowers arch and drape gracefully down to the ground! Once the flowers on this shrub fade, you are left with delicate branches of tiny green leaves that are perfect to use as a bouquet filler!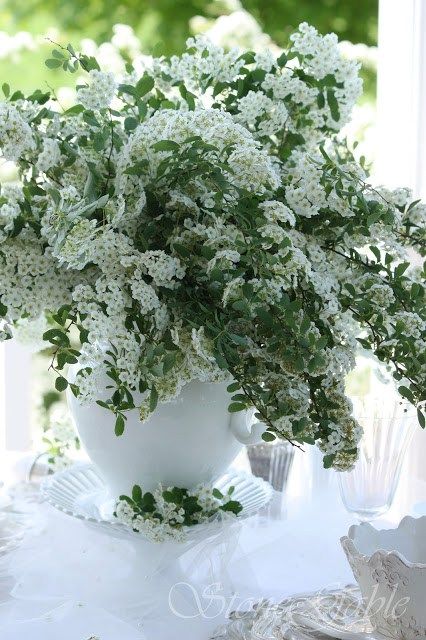 Way back in my early days of blogging, my friend, Yvonne, at Stone Gable created the most beautiful tablescape using a vase filled with Bridal Wreath spirea for the centerpiece!
FORSYTHIA

There's nothing like seeing these bright yellow blooms each spring! I've had a forsythia bush for years and love it. These woody shrubs can get quite large and unruly if not trimmed up as needed. But, I kind of like the unruly look! We planted ours near the back of our yard where it can grow and be wild! But, it does need to be kept in check and we do prune it way back about every other year.
We pruned it last fall and it's looking rather formal to me right now, but I was still able to gather a nice basket full of branches this spring! And, it doesn't take long for it to grow out!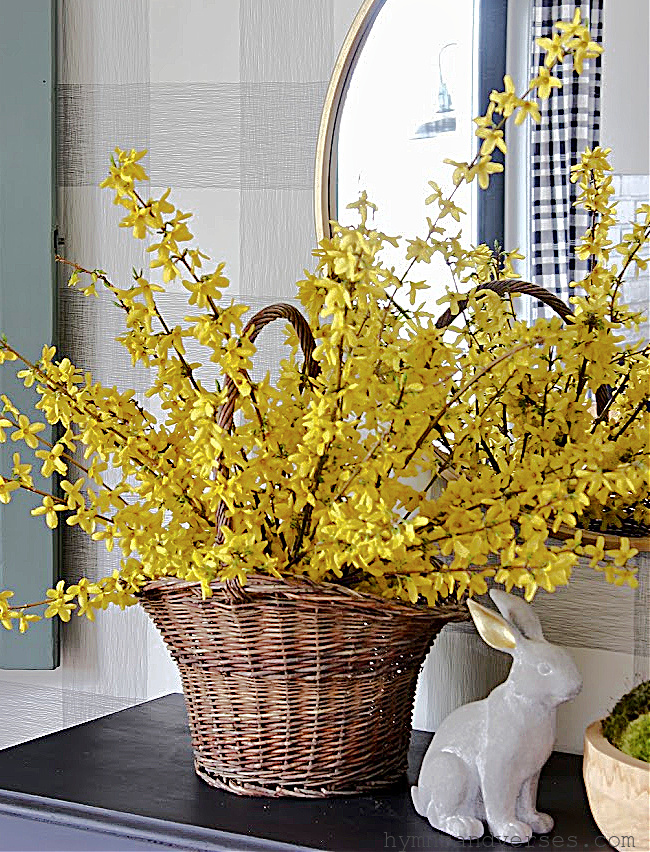 Whether a basketful of branches or a vase with just a few branches, the bright yellow forsythia makes a statement in your spring decor!
LILAC

The lilac is a must on my list. A lilac in full bloom reminds me of my grandmother who had two large bushes around her farmhouse. And, there's nothing like the smell of lilacs on a warm breeze. Now, I have to admit, I've not had the best luck so far with lilacs. But, I think that's been entirely my fault and not the plant. A lilac needs to be planted in full sun and mine wasn't getting what it needed. So, we dug it up and moved it to a sunny spot two years ago.
Last year it looked pretty pathetic. And, I honestly thought I was going to dig it out this spring. But as I looked at it the other day, it's full of green leaves and tiny blooms, so I'm holding out hope that it is beginning to like it's new spot! There are a lot of different varieties of lilac including smaller, dwarf varieties and those resistant to disease and pests. But, one thing they all have in common is the fragrant cone shaped clusters of flowers!

SNOWBALLBUSH

Up next is Viburnum or Snowball bush. This one can be a bit confusing. So, I'm going to share what I know and the two varieties I have. First, there are many viburnum that are called "snowball". And, it's pretty obvious why they are called that! The flowers are like round snowballs! The original viburnum that I have is the Viburnum Carlesii or Korean Spice Viburnum. This variety smells amazing when it blooms! And, the blooms begin as a gorgeous blush pink that fade to white. I love to cut some branches each year to bring indoors when it's in bloom!

The other snowball bush I have is a Viburnum Opulus 'Roseum' or the Old Fashioned Snowball Bush. This variety has leaves that resemble a maple leaf and has large, white snowball blooms in the spring. This variety is not fragrant like the Korean Spice Viburnum. But, the blooms are much larger and pure white. Mine is still quite small, but it should grow to be quite large, up to 12 feet tall.

hydrangea

Hydrangeas are a summertime favorite! I currently only have one hydrangea. It's the Endless Summer variety that sets out blooms all summer. This variety also sends more blooms when you trim it. So, bringing in flowers for a summer floral arrangement is encouraged! The flowers on my hydrangea range from pink to blue, depending on the pH in the soil. Here's a bouquet from the 4th of July a few years ago. But, last year the flowers were more pink/purple!

This year I'd like to plant two new hydrangea varieties. First, the Annabelle hydrangea. It has very large white flowers up to 12 inches across! And, the other I'd like to plant is a Limelight hydrangea. Limelight blooms begin as chartreuse in the summer and turn pink in the fall.
I'm anxious to get these new plants into our landscape this spring and watch them grow and flower for years to come! I hope that this round up of flowering shrubs has inspired you to plant something new in your landscape!

And, here are more cozy living ideas for April!

Duke Manor Farm / Creative Cain Cabin / Finding Silver Pennies / Town and Country Living

Vinyet Etc. / Hymns and Verses / A Stroll Thru Life