I absolutely love to decorate my home for the seasons!   The spring season brings fresh flowers and bright, crisp textiles.  Summer has a more laid back vibe with softer tones and textures.  In the winter, it's all about enjoying the comforts and coziness of home.  But .   .   .  I think I love Fall most of ALL!  And, today I'm sharing some autumn inspiration for your home with some ideas from my Fall living room.
Today's post is part of the Fall Home Tour series hosting by my friend, Marty from A Stroll Thru Life.  There are 30 amazing fall tours this week and I'll be sharing links to them all at the end of today's post.  If you're here visiting from Southern Hospitality, Welcome!  I just loved all the beautiful fall touches in Rhoda's charming home!  This fall season is especially busy for me.  I've been doing more floral design work and it's wedding season!   And, my youngest son is also getting married next month!  So, today I'm showing you my fall living room space.  Stay tuned for my dining room and kitchen.  And, I also hope to add some fall touches to my screened in porch!
Autumn Inspiration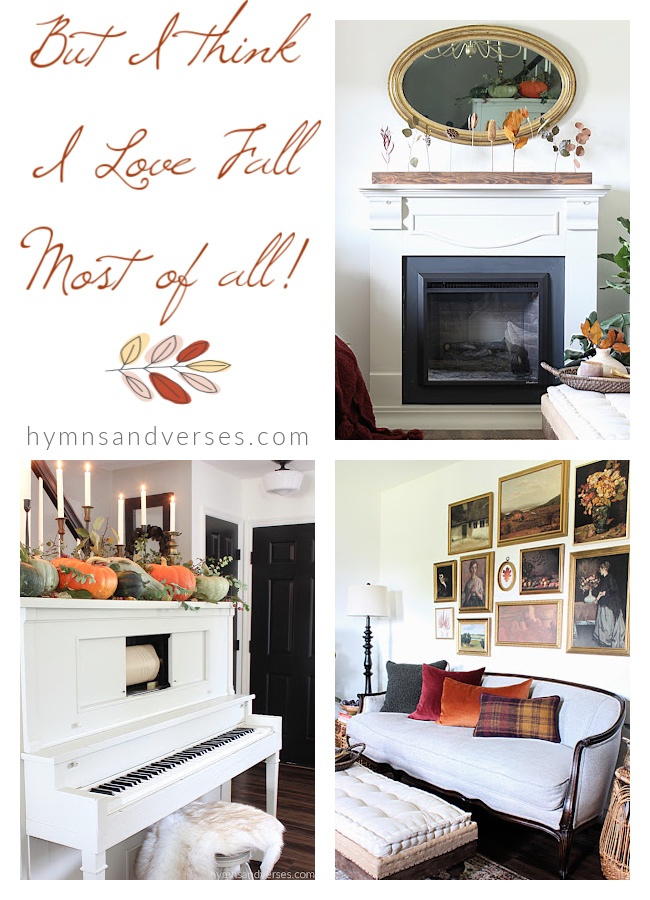 FALL  Mantel
Whenever I decorate this space, I always begin with the mantel!  And, this year I found my inspiration for the mantel while scrolling the Etsy marketplace for some dried florals.  I was intrigued when I saw a listing for a "dried flower bar".  It looked like something new that I hadn't seen before, which is rare these days with blogs, Instagram, and Pinterest!  The flower bar looked like a simple piece of wood with holes drilled in it and dried florals placed in the holes.   I could have supported the seller, but they were kinda pricey, so I decided to make my own!
The wood I used began as a 4″ x 4″ cut to a good length for my mantel top.  But, I ended up having Mark shave an inch off to make it a 3″ x 3″.   I stained the wood with some dark walnut stain that I had in the garage.  Then we drilled holes about half way through the board and five inches apart across the board.   Then, you just need to find some dried stems for the holes.  I had picked up a dried arrangement earlier in the season at HomeGoods that had a variety of different stems.  So, I just used some of those stems.  But, you could totally take a walk on a trail, the woods, or search your back yard this time of year and pick some dried stems for free!  Here's a closer look at the top of the board and the stems.

The gold oval mirror above the mantel is a vintage mirror that I found on Facebook Marketplace!  I absolutely love this mirror.  It's got loads of character with specks of black on the mirror itself from age and I love that!
Fall Gallery Wall
Next, I updated the gallery wall over the sofa with more moody, fall vintage images.  I'll be sharing all of those sources soon so you can download and print them too!  If you want to see my process for creating a gallery wall, I have a great step-by-step tutorial that you can see in this post!

On the little rattan table to the right of the sofa, is my Raven ZZ plant that had been out on my screened porch.  Soon, all of my plants will need to be moved indoors!  And, I love these small, deep green acorn squash!  And, this little wooden mushroom was a Hobby Lobby find last fall.

Since there's so much going on with the art over the sofa, I kept the pillows simple in fall jewel tones.  The green pillow is from Target and the small plaid wool pillow is from Home Goods.    I'm so happy that Target has started to make pillows with zippers so you can remove the covers for cleaning and storing away!  The burgundy and orange velvet pillows are pillow covers from Ikea.

I like to have a tray on the ottoman to hold a candle and a few simple pieces of decor.  The gold wishbone is an Amazon find and love it for now through Thanksgiving!

I brought my blanket ladder back into the living room for the fall season and loaded it up with fall throw blankets.  I also added some heavier drapes to the living room windows with these burgundy velvet panels from Ikea.  On the library table I made an arrangement using the remaining bunch of dried florals from HomeGoods.  Honestly, it's mainly leaves, but I like all of the different dried shades and textures.

These two pheasant figures have been in my fall collection for many years.  It's been a while since I used them, so I brought them out this year.  But, I did gave them a little makeover.  They were an antique silver and I gave them a little update with some gold Rub 'n Buff.  You can see them on my Fall mantel from 2015 in this post.
Vintage player Piano
As an afterthought, I decided to add a little bit of fall to my vintage player piano!  It began with a variety of candlesticks.  Then I picked up a few heirloom pumpkins and layered them in front of the candlesticks.  I could have stopped there, but I added some branches from my yard.

It's probably a bit "over the top", but I love how it turned out!   Just a tip when using real pumpkins indoors, be sure to put something underneath your pumpkins.  You don't want them to accidentally damage any furniture by leaving them too long and they begin to rot.  Don't ask me how I know this!!!

  Thanks for stopping by to see my fall living room and hopefully find some autumn inspiration for your own home!   The next tour on today's schedule is from a Pretty Life in the Suburbs.  I know I can't wait to see Jo Anna's home all ready for fall!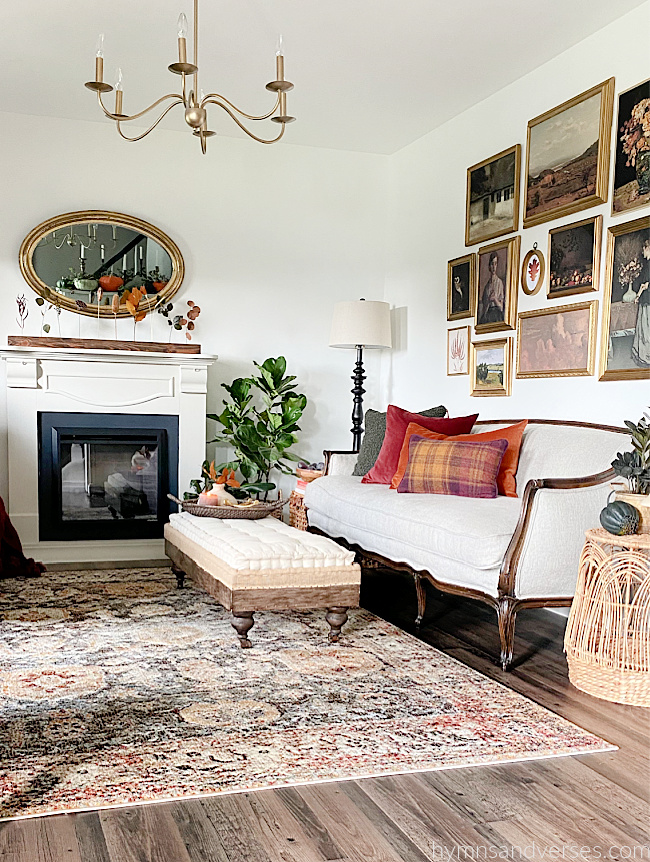 And, don't forget to check out all the links below for the Monday through Wednesday tours.  And, be sure to stop back here tomorrow for the Friday line up!
30 FALL HOME TOURS
Monday Sept 13

A Stroll Thru Life – Inspiration for Moms – Worthing Court

Pink Peppermint Style – Clean and Scentisible – LeCultivateur
Tuesday Sept 14

Southern State of Mind – This is Our Bliss – Cuckoo4Design

11 Magnolia Lane – Decor to Adore – Noting Grace
Wednesday Sept 15

Grace In My Space – Remodelando la Casa – Whispering Pines Homestead

Up To Date Interiors – The Stonybrook House – Thrifty and Chic
Thursday Sept 16

CitrineLiving – Our Southern Home – Southern Hospitality

Hymns and Verses – A Pretty Life in the Suburbs – DIY Beautify
Friday Sept 17

Golden Boys and Me – StoneGable – Quarters One

The Woodgrain Cottage – White Arrows Home – Chalking Up Success